Our commitment to sustainability.
As a purpose-driven company, under our corporate vision of 'Progress for Humanity' Hyundai understands that recycling and sustainability aren't trends, but rather a need for our society. Beyond providing zero-emission mobility solutions on land, we are continuing our research into more sustainable material options for car interiors and exterior paints, and have partnered with the NGO 'Healthy Seas' to help clean up our oceans.
Healthy Seas
Partnering with Healthy Seas..
By partnering the European NGO 'Healthy Seas', Hyundai is furthering our commitment to real actions that benefit our local communities, and go beyond mobility alone. With Healthy Seas' expertise in protecting marine ecosystems, we share a vision in making the world a better place for future generations.
Abandoned fishing nets endanger wildlife.
Hyundai and Healthy Seas work with volunteer divers from the 'Ghost Diving' charity to recover abandoned fishing nets from reefs and shipwrecks. These 'Ghost Nets' continue to kill marine wildlife underwater for decades. By removing marine debris, Healthy Seas ensures the survival of a healthy underwater ecosystem for a sustainable future.
Children change the future.
Another important aspect of Healthy Seas' efforts is in education. Through the organisation of events, and outreach programmes, Healthy Seas works closely with local schools to emphasise the importance of protecting vulnerable marine ecosystems. Through these programmes, children can learn more about the negative effects pollution can have on both marine and human life.
Fishermen take responsibility.
Healthy Seas collaborates with fishermen, fish farms, and local communities to prevent fishing nets from ending up in landfills or the environment. Together, they work on solutions to dispose of the nets responsibly.
Future projects.
In 2021 Healthy Seas and Hyundai are partnering up to organise beach-clean ups and educational programs across Europe – from Ithaca via Newcastle and Sylt to Costa Brava. Stay tuned for more!
Materials
Innovative raw materials and eco-friendly process.
By pioneering a more eco-friendly dyeing process, or using recycled PET plastic bottles in the production of certain interior parts, Hyundai is working on improving the sustainability of our interior materials, without compromising on safety or durability.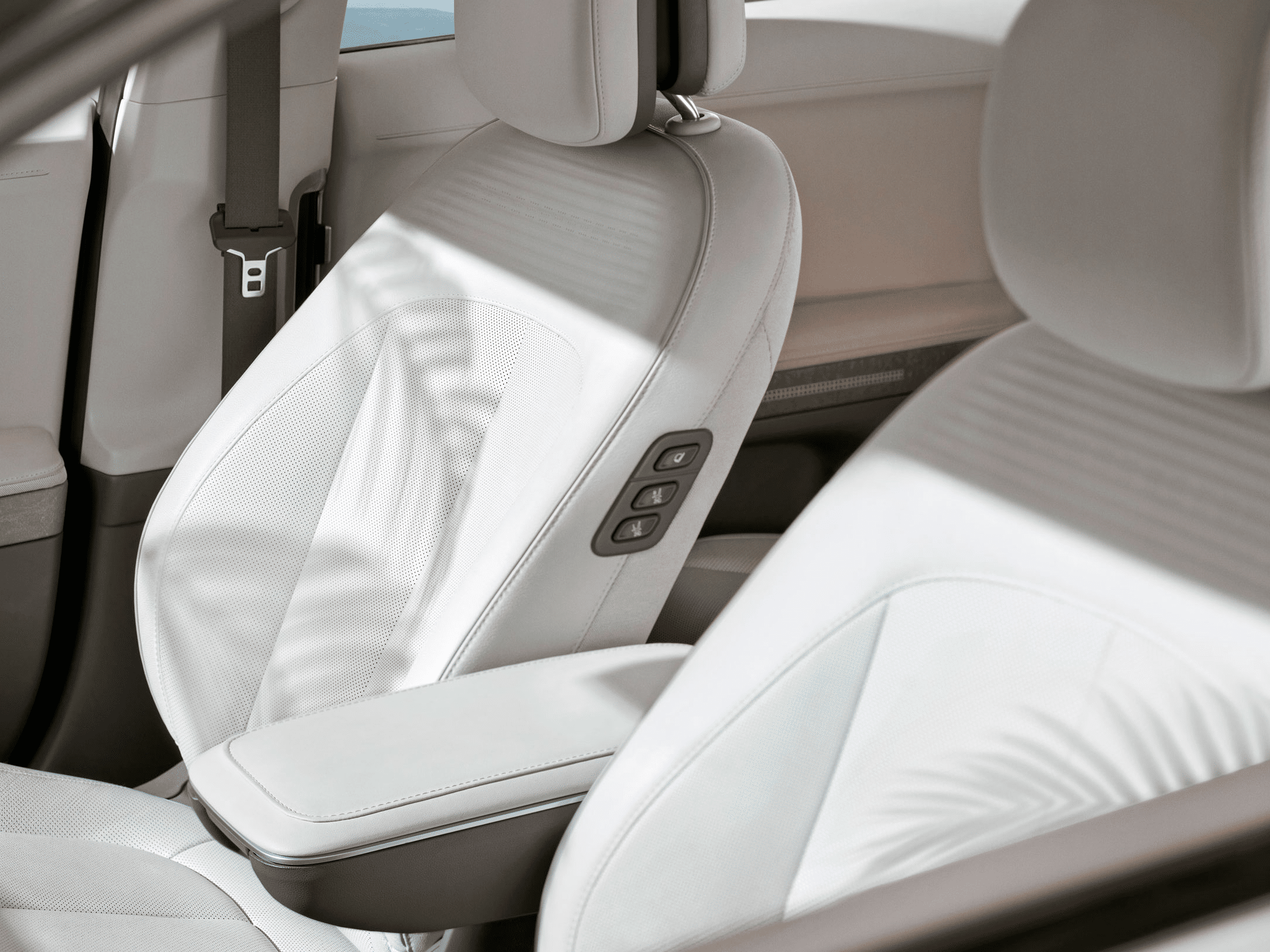 Continuous research and development.
Hyundai has been developing and employing innovative, ecological materials in the interior of its vehicles, such as wood fibre, eucalyptus cellulose, and castor oil, since 2016.
ECONYL®.
In collaboration with Healthy Seas, a number of IONIQ 5 floor mats will be produced using the regenerated nylon yarn ECONYL®. Recycled from reclaimed fishing nets and other nylon waste ECONYL® gives this dangerous marine waste a second life.
Giving used materials a second life.
For our Re:Style project, designers upcycle discarded materials from the car manufacturing process into sustainable fashion pieces.
IONIQ 5: Calling on you to create a sustainable world.
Environmentally friendly materials like eco-processed leather and recycled yarn are used extensively in the IONIQ 5. Raw materials extracted from sugar cane are used on the headliner, carpet and seat covers. A solution that is both recyclable and beautiful. You can experience it during your IONIQ 5 test drive at our showroom.
Recycled bottles woven into fabric.
For each IONIQ 5, up to 32 plastic bottles are shredded into plastic chips. Those chips are processed and spun into thread that makes an inviting, woven upholstery fabric.
Plants transformed into components for seats and carpets.
The seat, headlining and carpet fabric includes bio components extracted from sugar cane and corn, while leather used in the IONIQ 5's interior is dyed using flaxseed oil, reducing for the need for animal byproducts.
Flowers become a vibrant paint.
The IONIQ 5's doors and crash pads are painted using a specially processed bio-paint, which makes use of oil extracted from plants such as rape flowers and corn.
It's just the beginning.
At our Namyang R&D Center, Hyundai continues to investigate the usage of bio-materials, especially recycling and reusing existing materials. We are excited for you to experience these efforts in our upcoming vehicles.