See things from a new perspective.
The all-new BAYON is a small-on-the-outside, big-on-the-inside crossover SUV that is designed to make a lasting impression. Packed with loads of smart tech like best-in-class safety and connectivity features – and efficient powertrains available with a 48V mild hybrid system.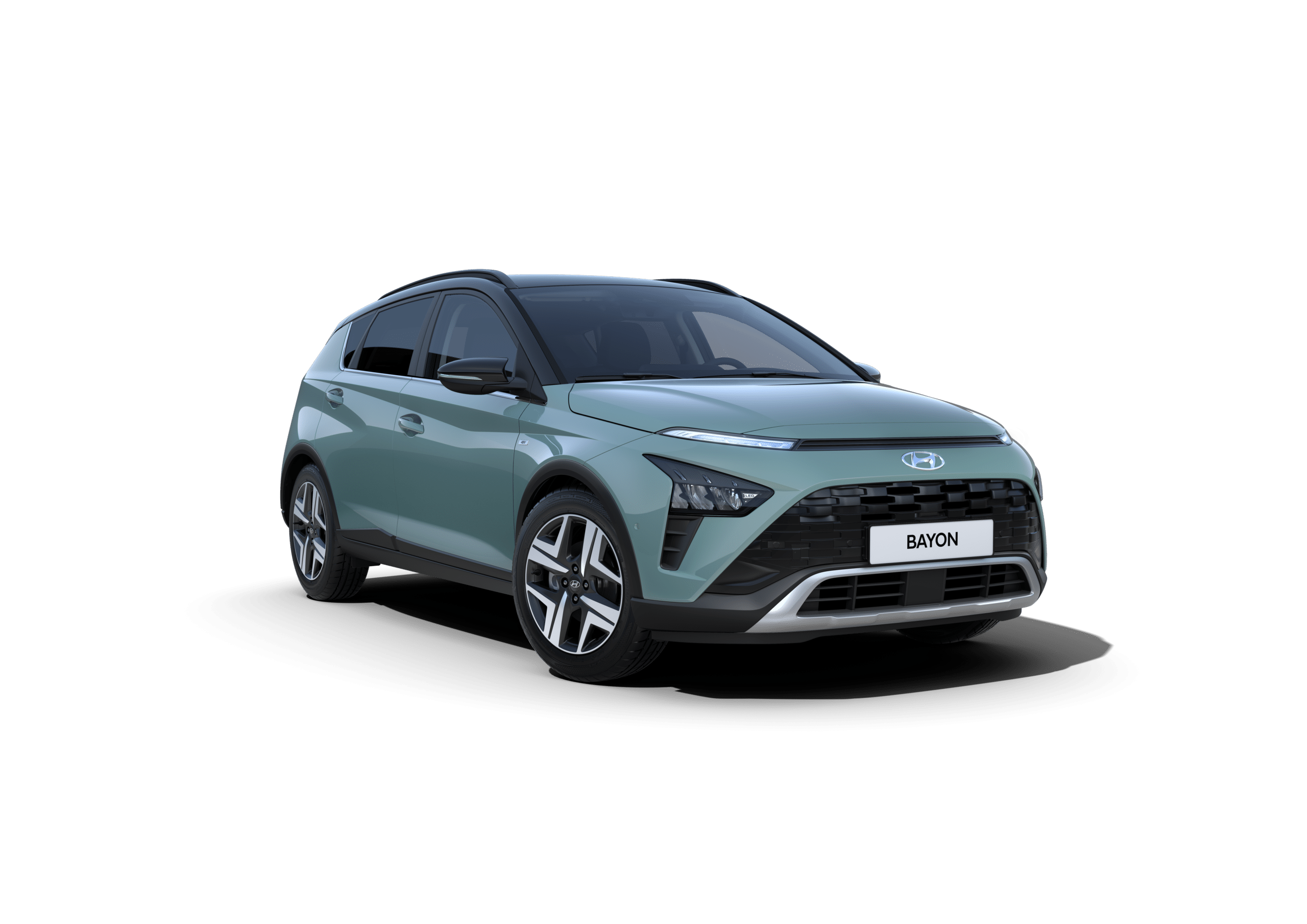 All-New Hyundai Bayon
Key Features
Climate Control Air-Conditioning
Motor-Driven Power Steering
Hyundai Smart Sense
10.25" LCD Touchscreen w/Apple Car Play and Andriod Auto
10.25" LCD Driver Cluster
Wireless Smartphone Charging System
Reversing Sensors and Rear View Camera
17" Alloy Wheels
5 year UNLIMITED mileage warranty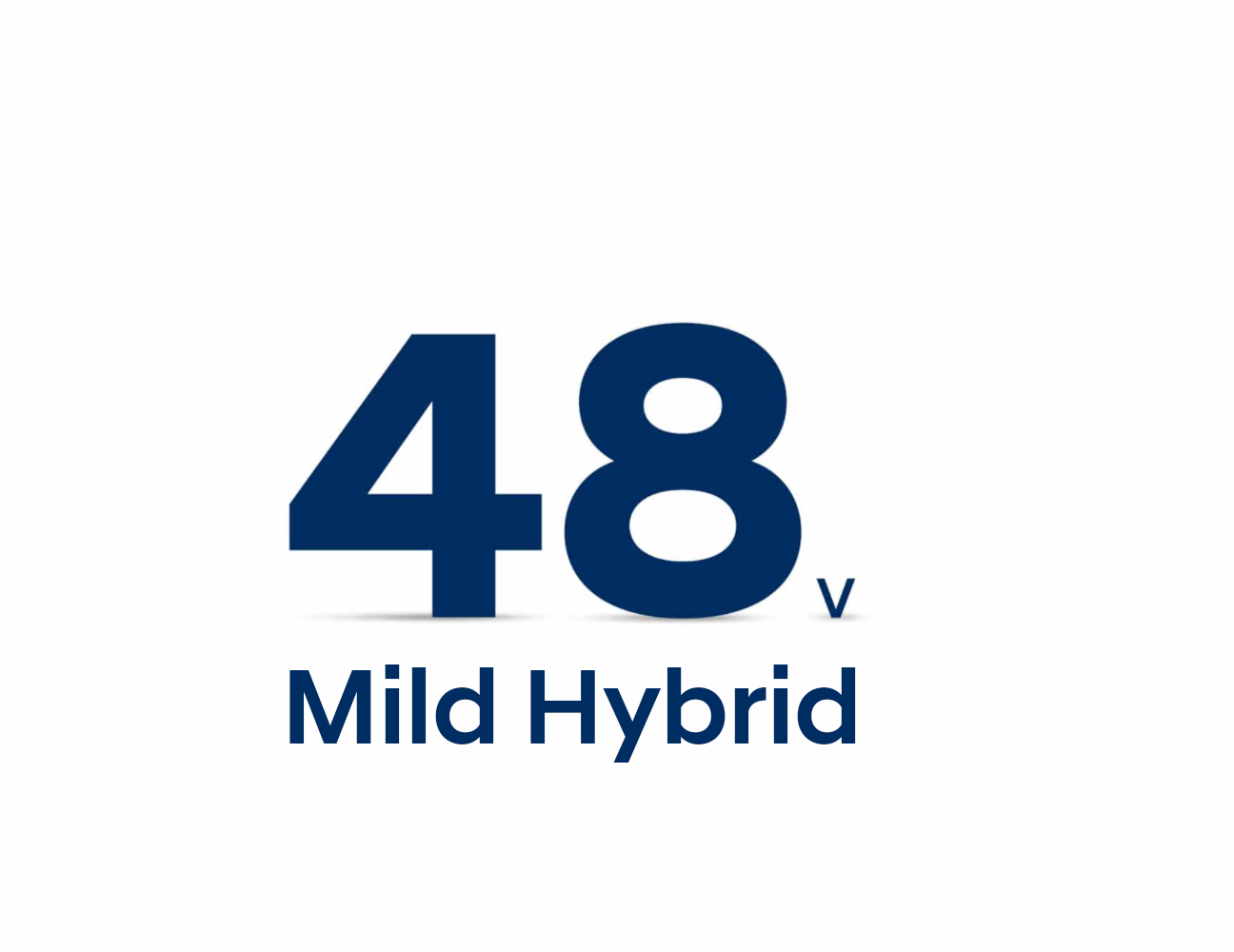 Shaking up the segment with style, safety and space.
The all-new BAYON is the latest – and most compact – member of Hyundai's award-winning SUV family. This fresh crossover SUV is really shaking up the segment with its sleek style, roomy interior, and loads of smart tech like mild-hybrid powertrains and a long list of intelligent safety and connectivity features.
Compact and easy to handle, this sleek crossover SUV stand-out comes with plenty of style – high-tech looking details and a clean look elevate it from the crowd.
Enjoy more safety and peace of mind with an extensive range of cutting-edge Advanced Driver Assistance Systems – many of which are included as standard equipment already.
Artistic inspiration
Art from around Europe inspired by the BAYON
To celebrate the BAYON's world premiere, we invited 9 different artists from all over Europe to create unique pieces of art inspired by its design. The idea for the campaign came from the unique characteristics of the model: it is the first Hyundai model developed specifically for Europe – and its distinctive design, which incorporates Hyundai's 'Sensuous Sportiness' design identity – served as a source of artistic inspiration.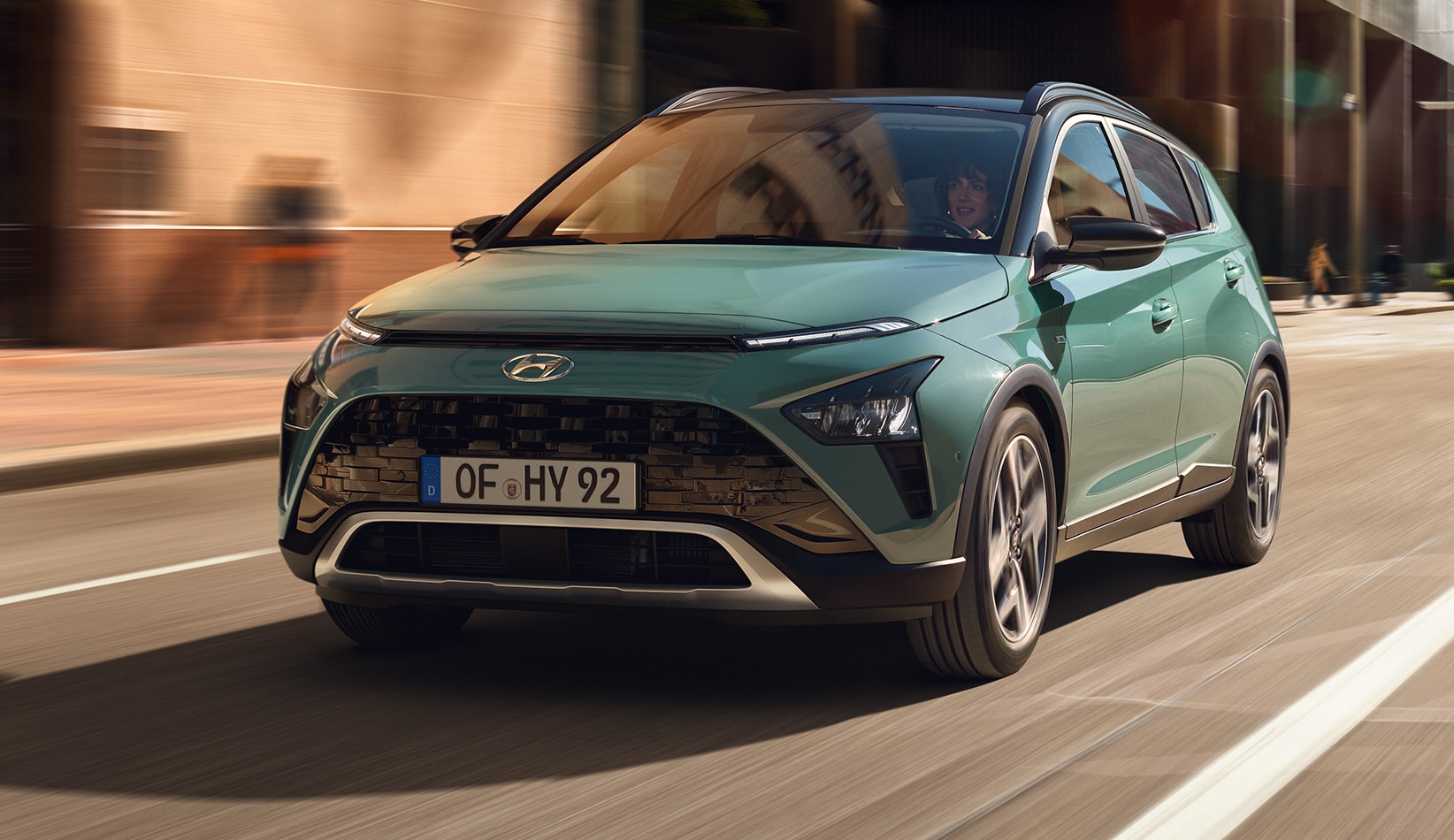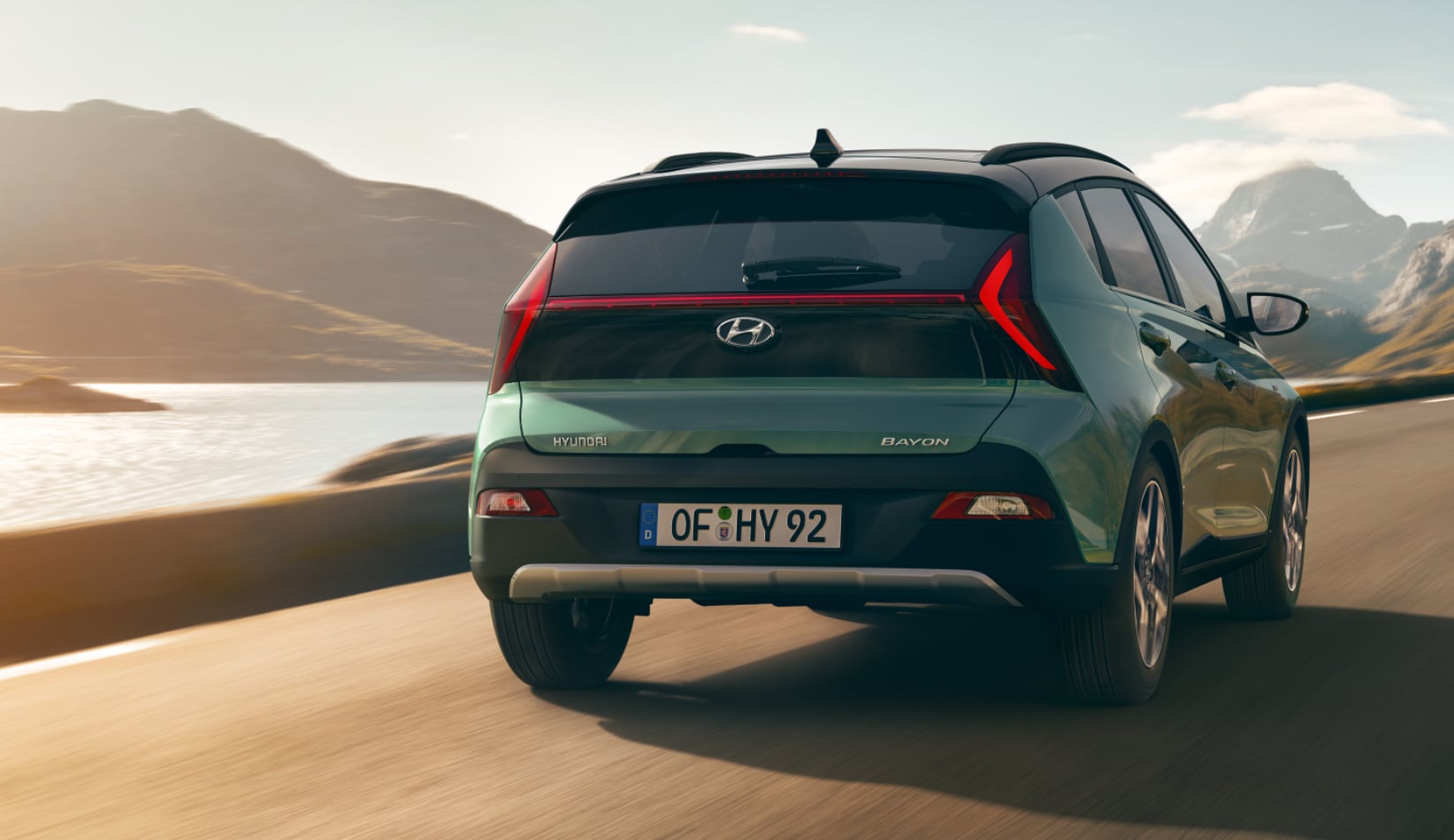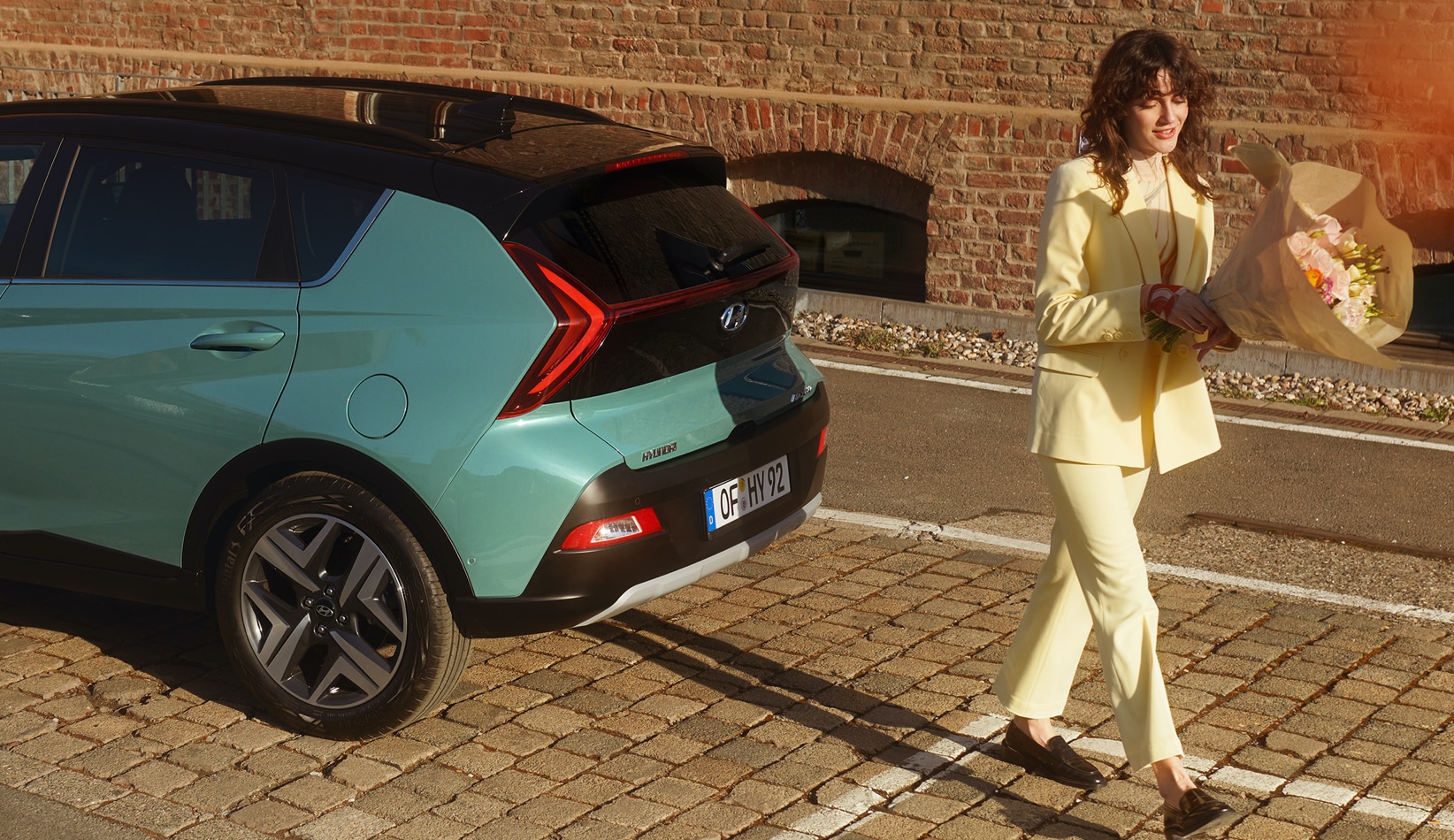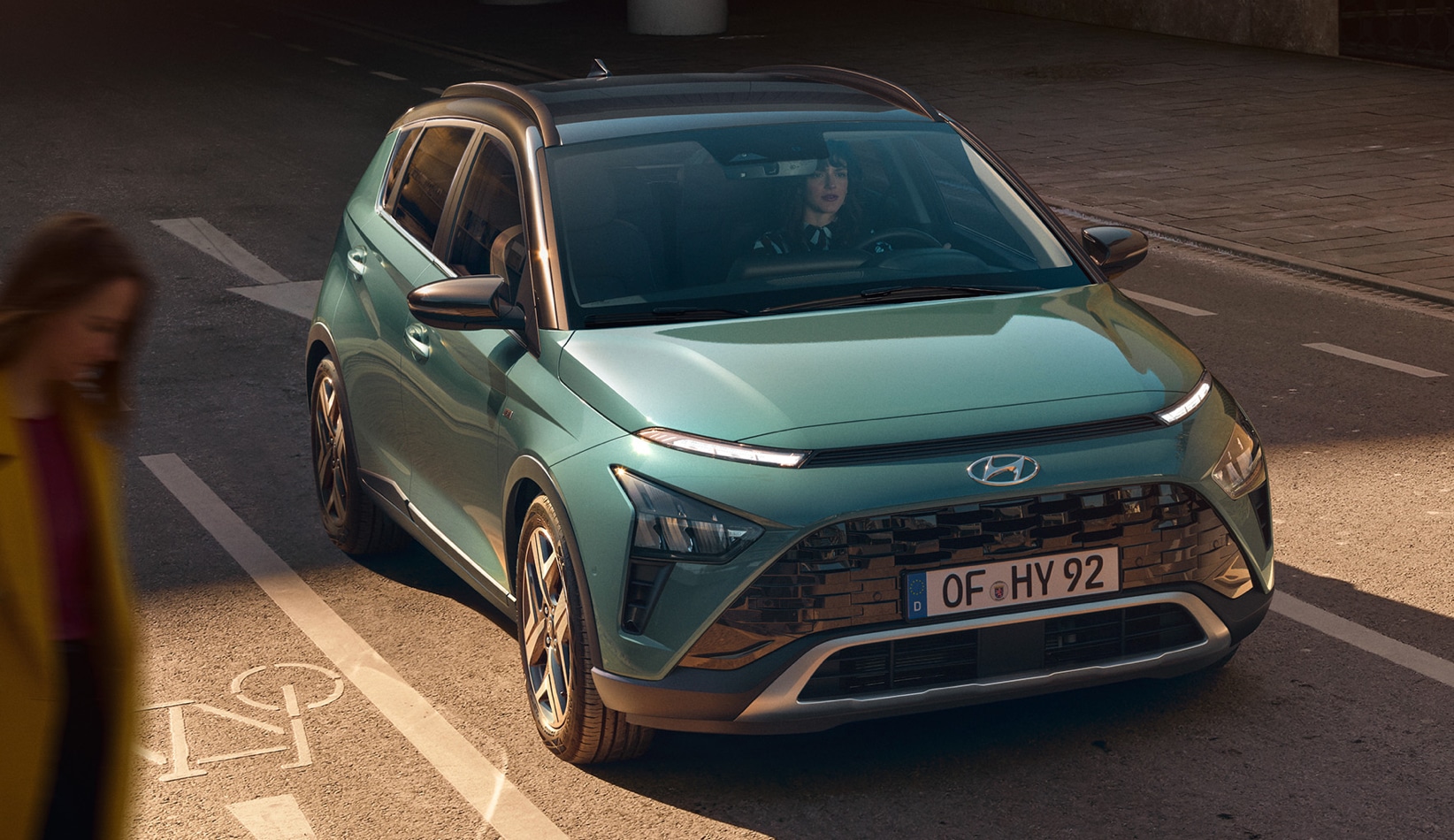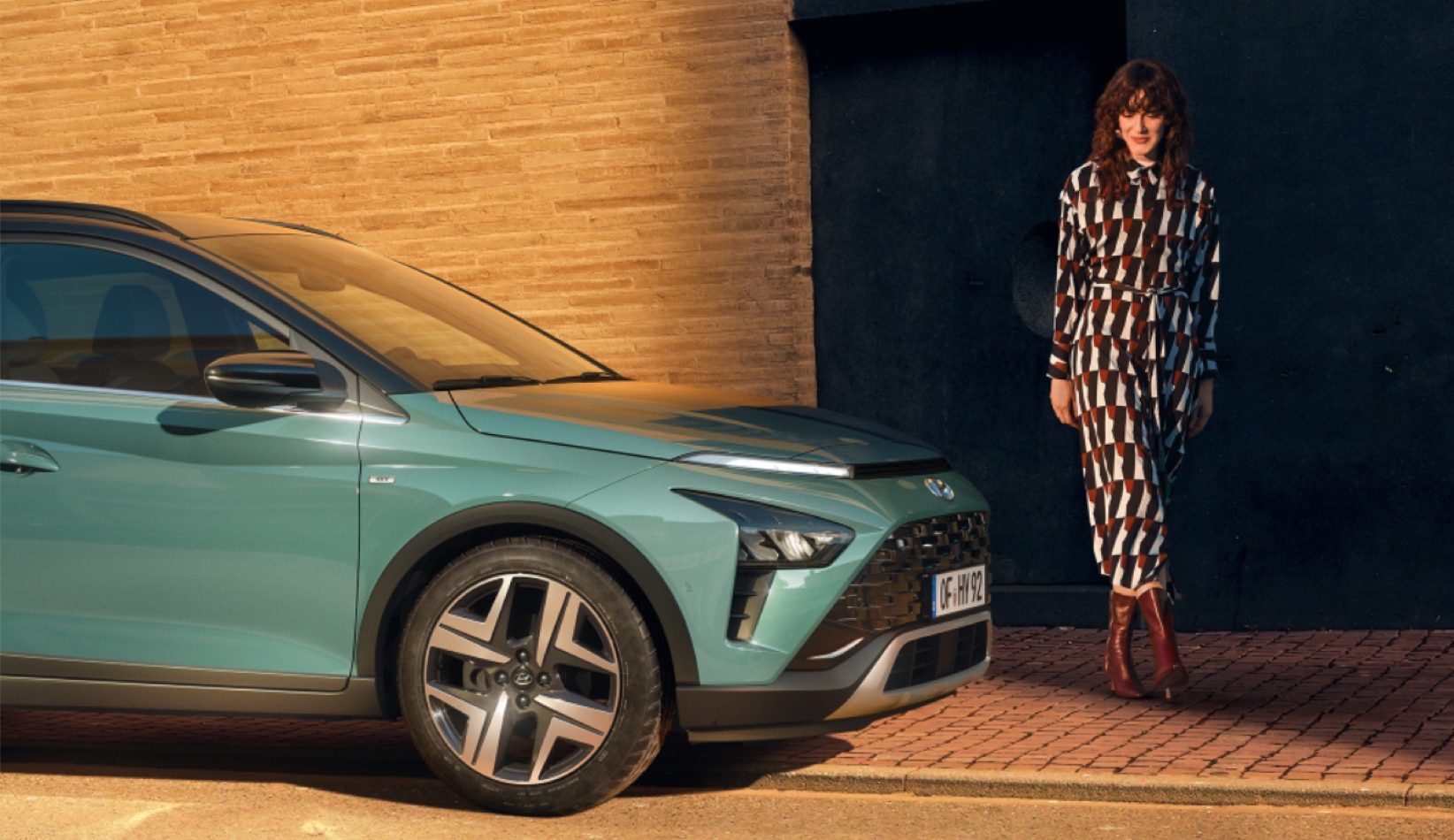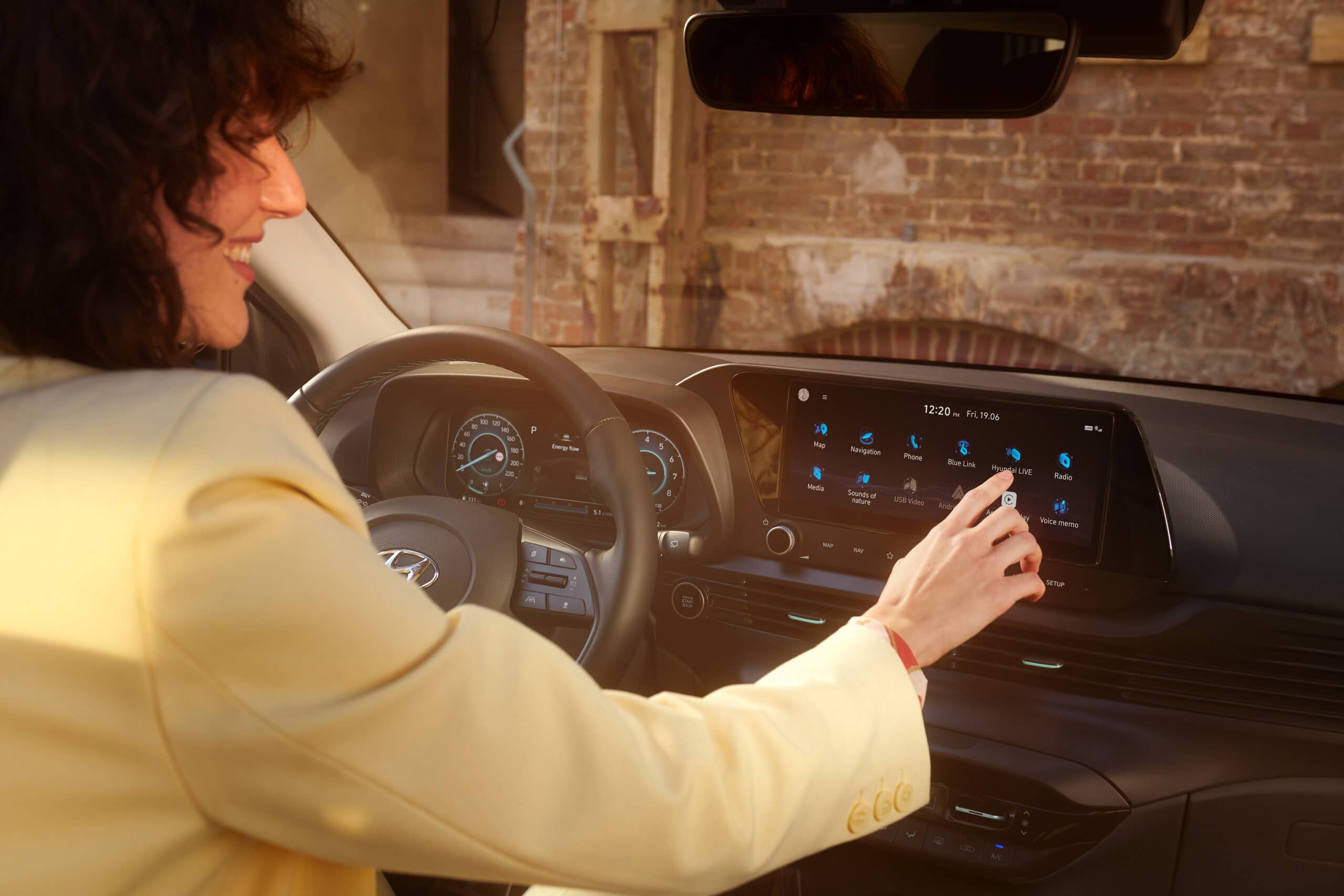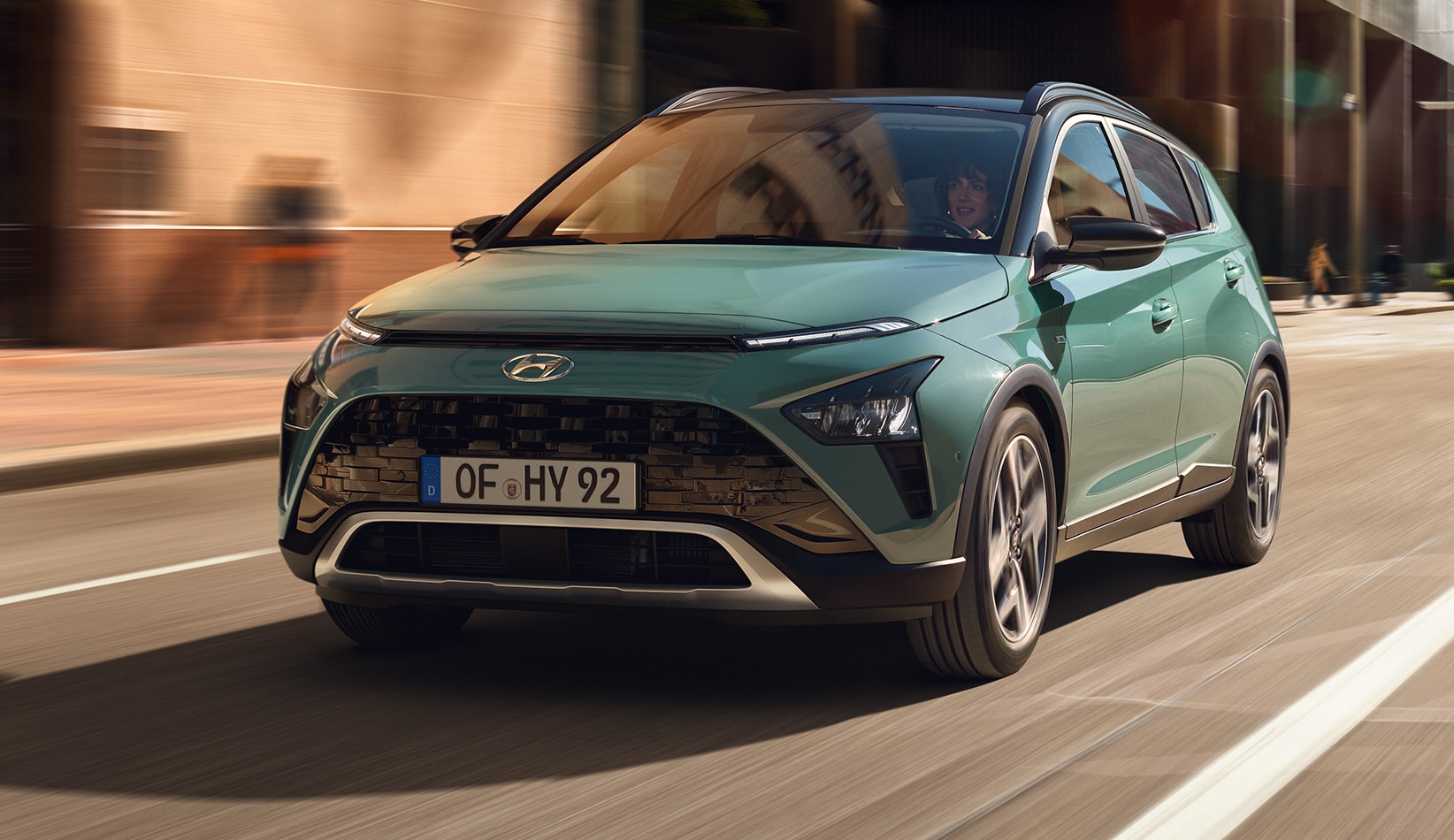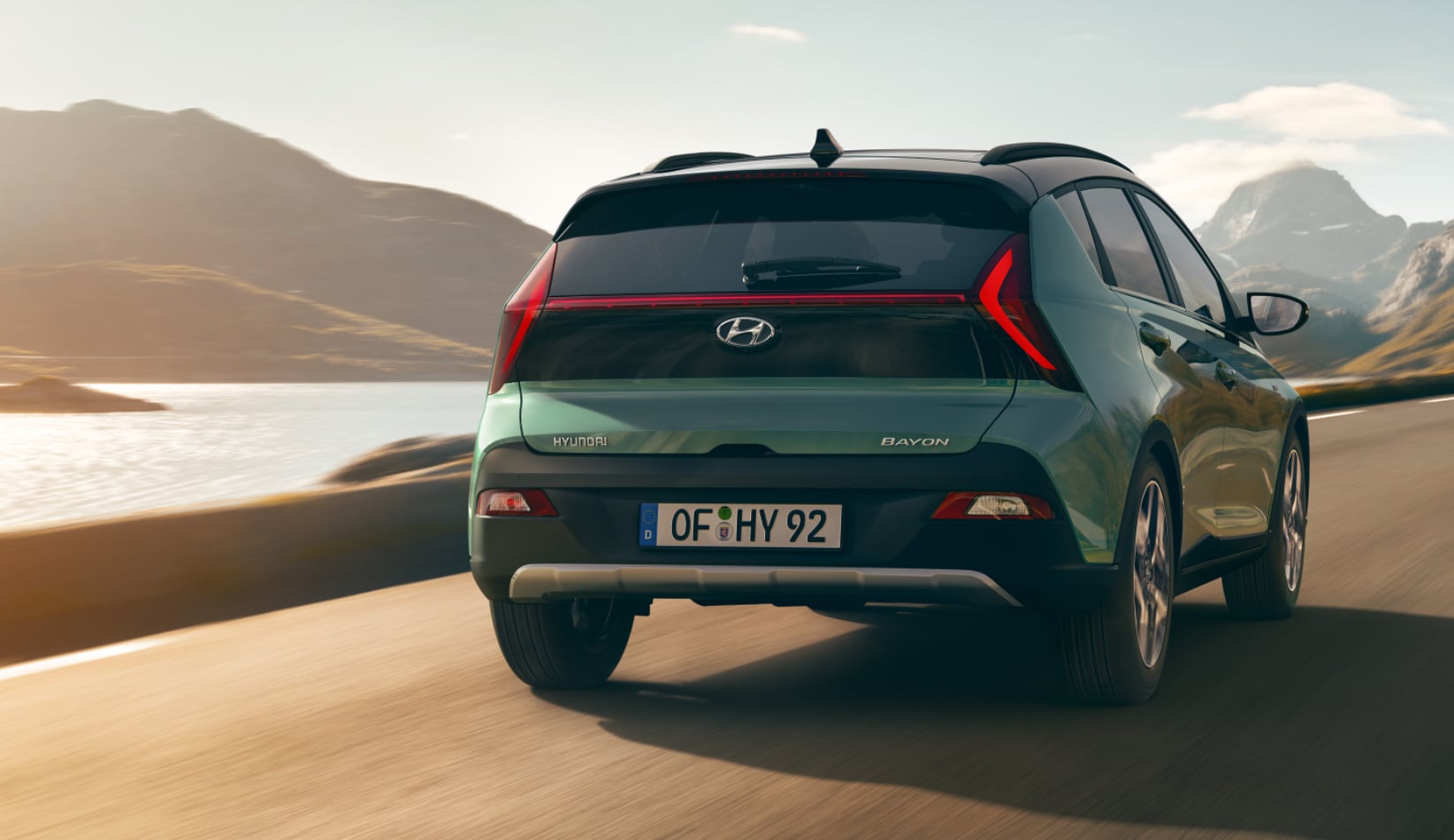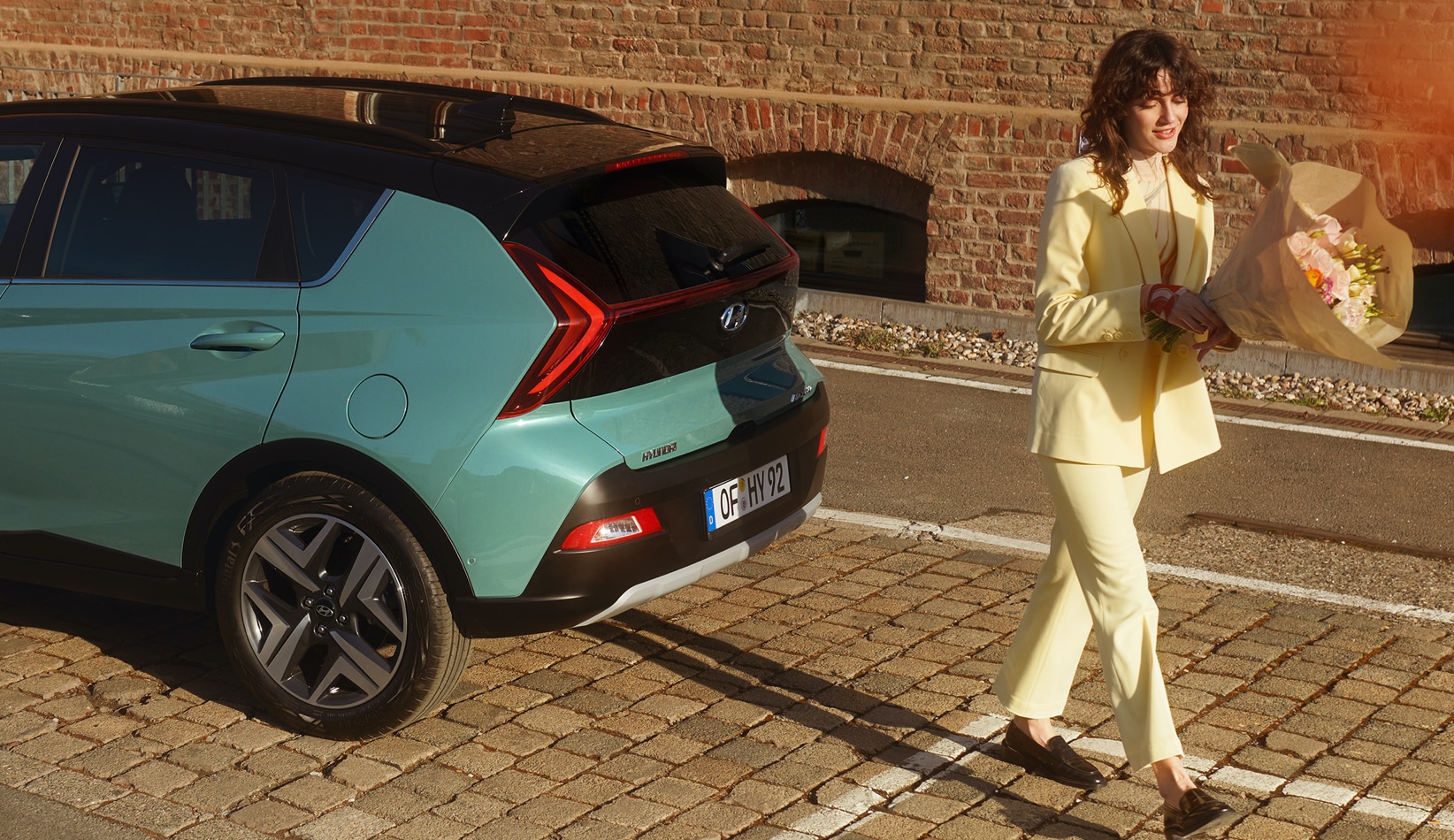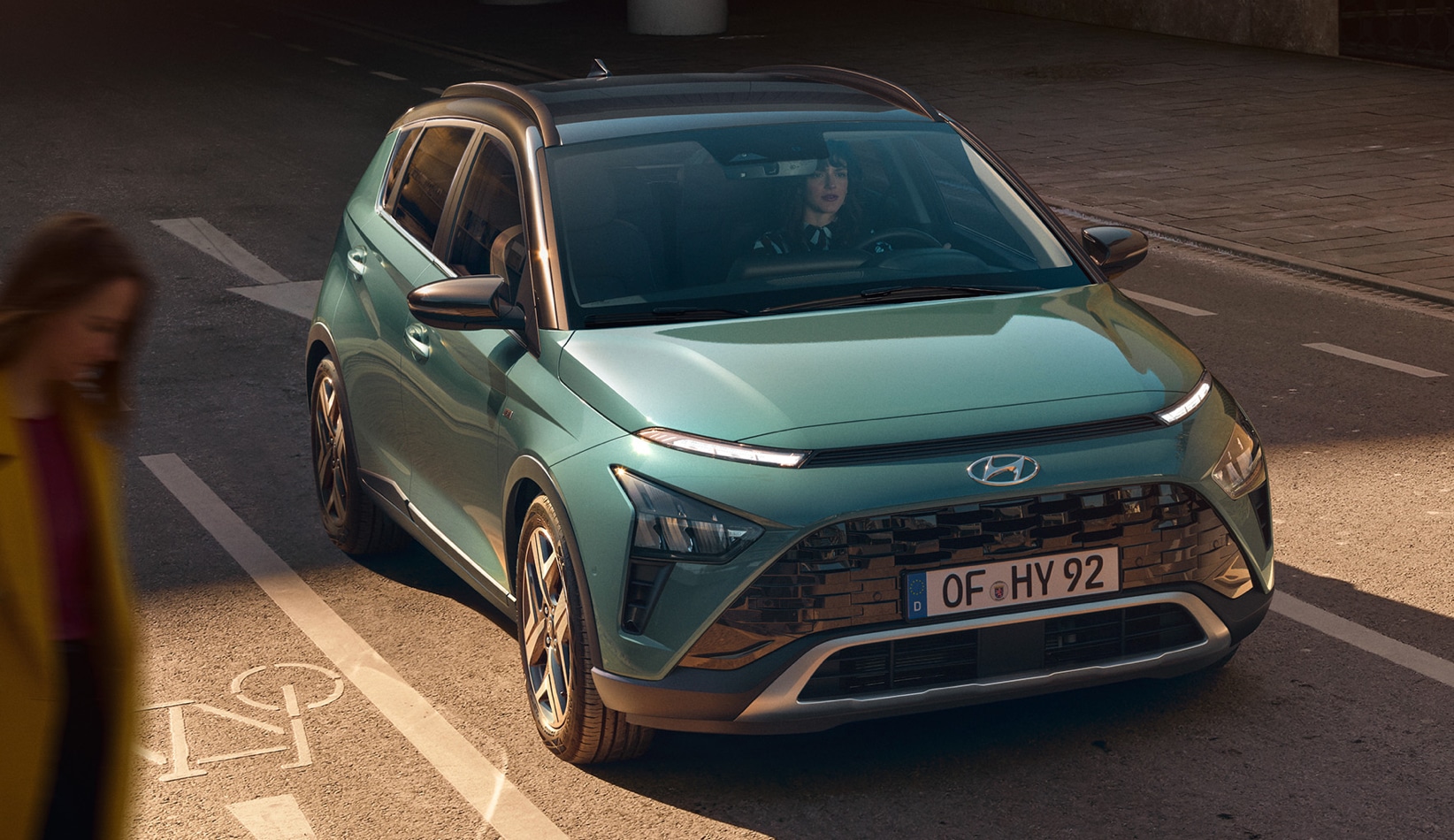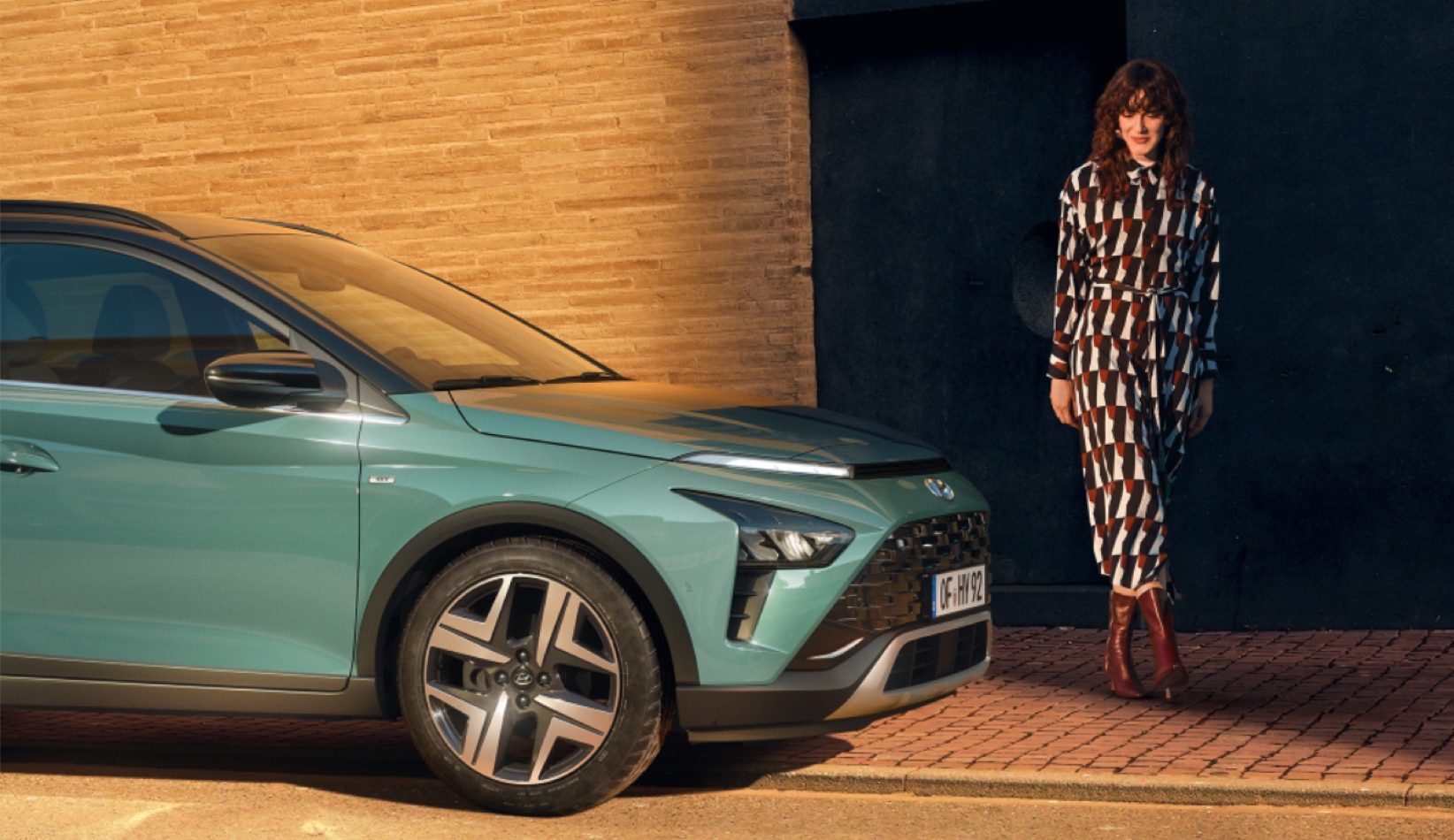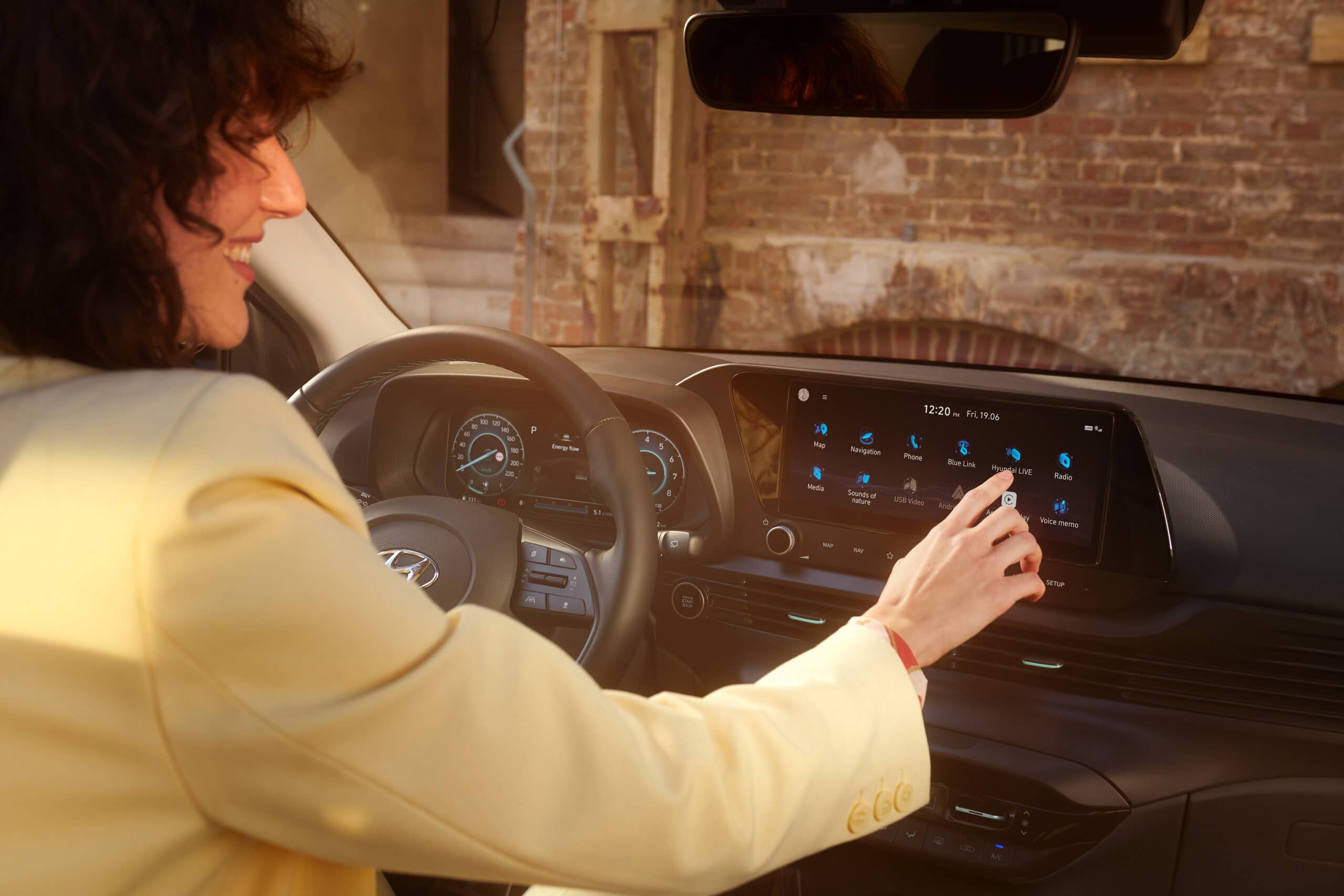 Express yourself. Your car. Your colours.
You can choose from a total of nine exterior colours to complement the eye-catching silhouette of your all-new BAYON, including a new colour: Mangrove Green Pearl. On top of that, the option of a two-tone roof and matching mirror housings in Phantom Black lets you further customise some colour combinations to express to create a car perfectly matched to your taste.
Images shown are for illustration purposes and may not be to Malta market specification.
Stand out design.
With its sharp lines and eye-catching proportions, the all-new BAYON really stands out from the crowd. Stylish and sleek, it elegantly combines Hyundai's award-winning SUV heritage with a visually stunning interpretation of our new Sensuous Sportiness design language.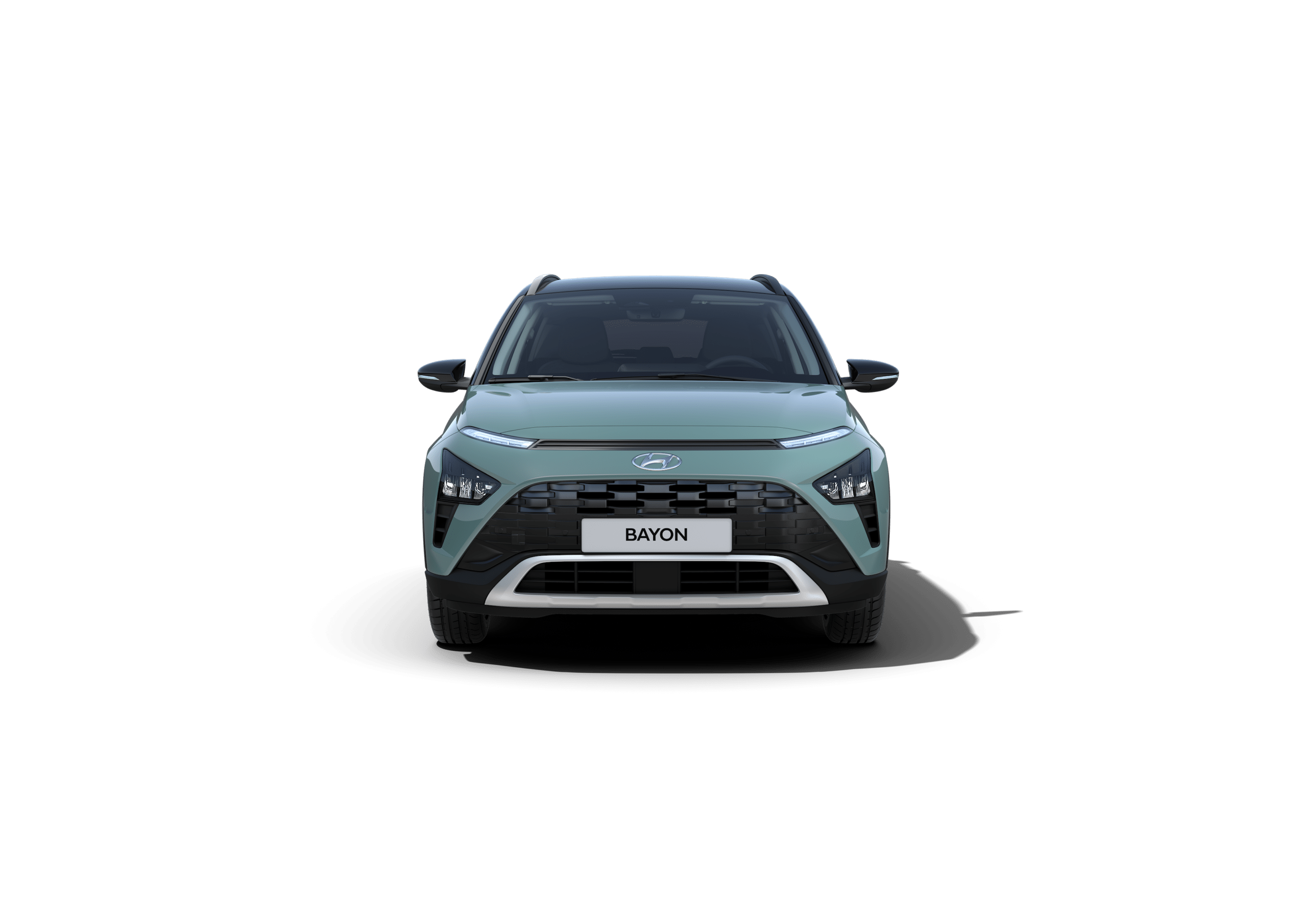 Strong SUV design.
The BAYON shares key design elements of the Hyundai SUV family. Like the 2-part main lamps with full LED headlamps and indicators separate from the Daylight Running Lights (DRL) up top for a distinctive look.
Powerfully wide grille.
The wide grille with its flowing rectangular design elements, widens out at the bottom, creating a solid stance together with the muscular lower bumper and its eye-catching silver skid plate.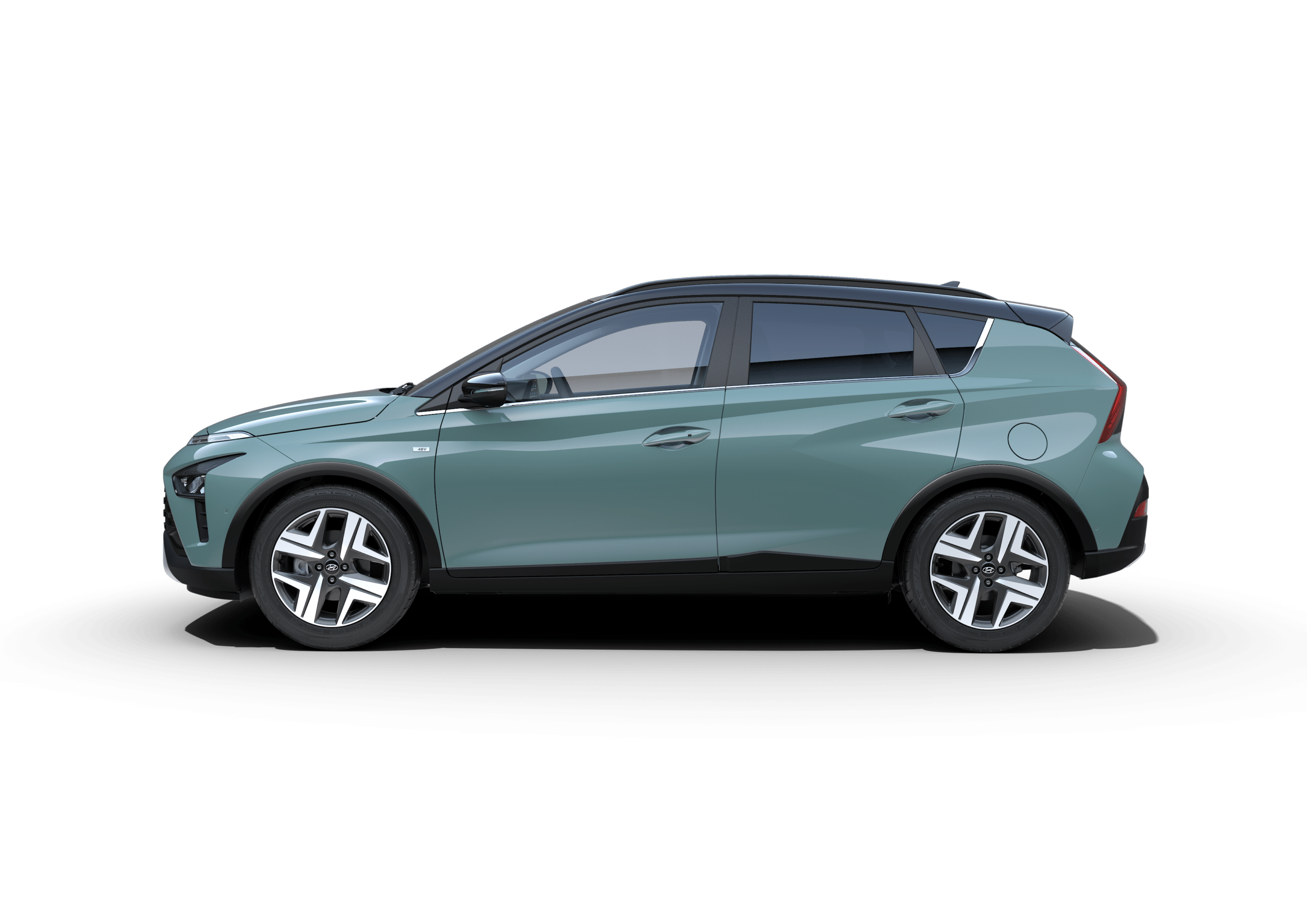 Stylish Wheels
The all-new BAYON is available with a stylish selection 16" or 17" alloy wheels.
Distinctive Details
Distinctive from every angle, the profile is defined by the combination of the arrow-shaped C-pillar together with the fender feature and wheelhouse cladding, highlighting the BAYON's unique look.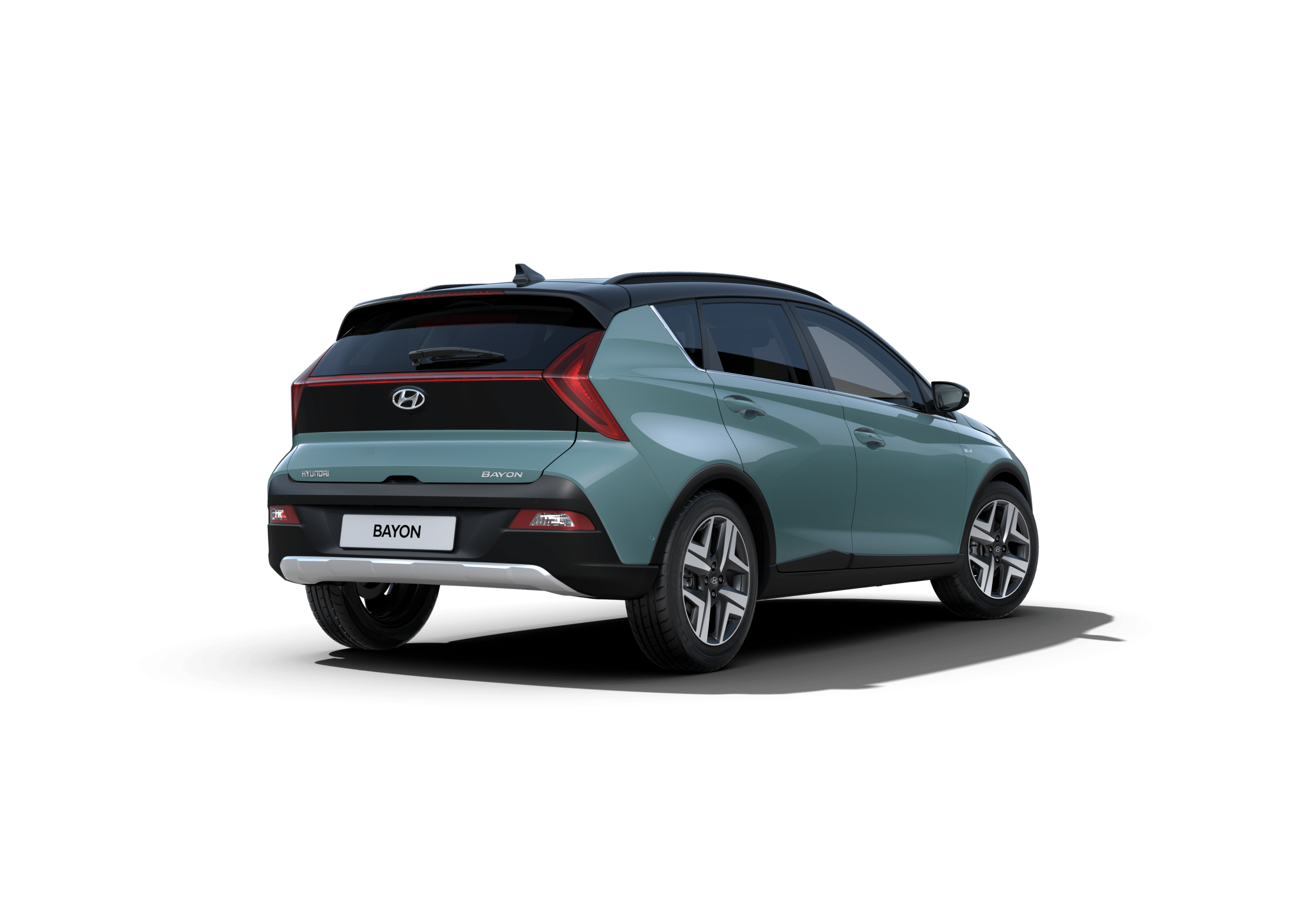 Signature arrow-shaped lamps.
The arrow-shaped rear LED combination lamps lights really put an exclamation point on BAYON's expressive design. Our designers have placed them far-out to the sides to create a wider stance.
Elegant crossover SUV.
With its extended rear window, the elegantly shaped hatch features a thin horizontal line, which connects the taillights – underlining the fact that this urban stand-out is both roomy and sporty
Refreshingly Roomy.
With a strong focus on maximising passenger comfort and increasing boot space, Hyundai designers have created a well-it, modern atmosphere inside the all-new BAYON. Inspired by shapes found in nature, the doors elegantly embrace the dashboard. The sculpture of the doors perfectly matches the instrument panel section and LED mood lighting sets a subtle, but sophisticated blue accent in the cockpit.
Great visibility and comfort.
Sporty 4-spoke steering wheel.
Visually-combined dual big screens.
Brilliant 10.25" digital cluster.
For an even more high-tech look in the cockpit, the brilliant new 10.25'" digital cluster displays essential driving information where you can see it best: front and centre. You can modify the display to your preference: you can display your speed digitally, the Energy Flow (48V only), or the SmartSense features.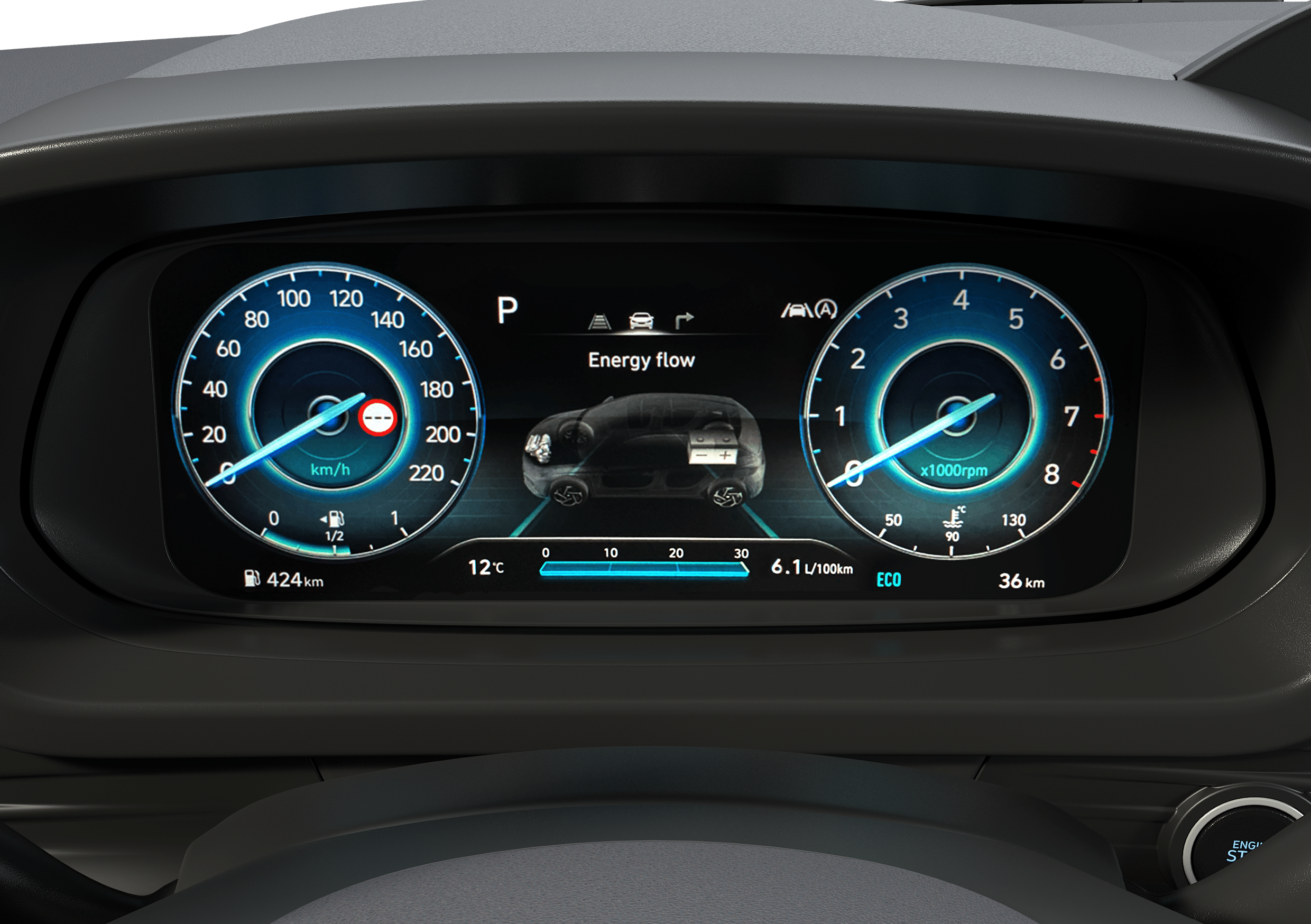 Three drive mode colours.
Change the mode to suit your mood. Depending on the mode selected, you get modified engine response, steering performance and shift points for a different driving experiences. The colour schemes of the digital cluster change depending on which drive mode is selected. Blue for Normal, green for Eco and red for Sport mode.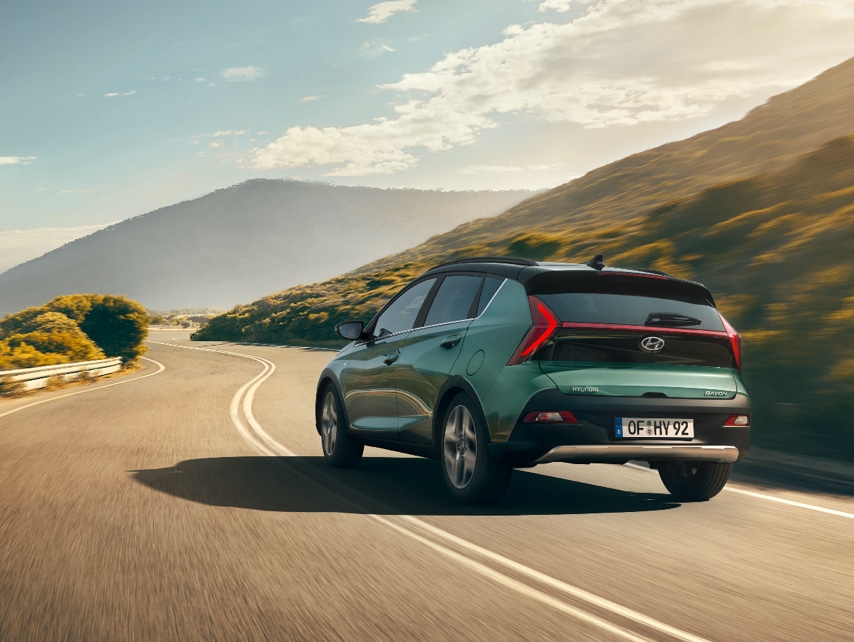 Subtle interior accents for a relaxing atmosphere.
Inside the all-new BAYON, a calm colour and trim concept with subtle accents creates a serene atmosphere which helps you relax and focus on your drive. A carefully selected neutral range of interior colours and materials provides maximum compatibility with the exterior colour range. The Full Black cloth interior is standard with two other optional colour combinations available.
The timeless classic: simplistic, yet sleek and stylish – the definitive choice for those who prefer a low-key interior.

The Dark Grey interior trim features light grey fabric accents and an exclusive seat pattern with grey contrast stitching on the seats.

Features
Explore the features of the BAYON
Setting new standards.
The all-new BAYON is setting new standards in its segment with its impressive range of state-of-the-art smart tech. Enjoy the latest connectivity, best-in-class safety features and advanced driver-assistance systems – and available 48V mild hybrid powertrains.
Connectivity
Get connected in style with class-leading features.
Enjoy state-of-the-art smart tech with dual 10.25" visually combined big screens with split-screen functionality. And with Hyundai's Bluelink Connected Car Services, you can control your car from your smartphone – or with your voice. It brings seamless connectivity directly into the all-new BAYON with online voice recognition and features to make your drive more convenient and enjoyable.
10.25" centre touchscreen
Bluelink® Connected Car Services.
Control your car from your smartphone – or with your voice. The latest Bluelink upgrade let's you take full advantage of our state-of-the-art Connected Car Services. On top of the many clever features you can control with the Bluelink app, a free five-year subscription to Hyundai's LIVE Services is also included with the navigation system with real-time information on traffic, parking or petrol prices.
Connected Routing.
Connected routing means that the route is no longer calculated by the processor inside the navigation device, but by a powerful server inside the Hyundai cloud. Why is that better? Because it allows for more accurate traffic forecasting, more precise times of arrival, and more reliable route recalculations.
Live Parking Services.
Find a parking spot faster – and enjoy more efficient and stress-free parking. This feature helps you find and compare real time parking options in garages and parking lots, as well as on-street parking spots.
Expanded voice recognition.
Activate and control features like climate settings and infotainment controls as well as steering wheel heating via voice command.
Awaken Your World: an astronaut on a mission to discover a new world of mobility in Ioniq 6
Germany's largest trade magazine Auto Bild awards Hyundai BAYON with top results in 2022 testsVictory underscores success of Hyundai's strategy to offer SUVs in every segmentAfter one-and-a-half years, BAYON has already established itself on the SUV market The smallest member of Hyundai Motor's SUV family has received an important award from Auto Bild. The German trade…
Uncategorized
Bluelink® Connected Car Services.
Bluelink® Connected Car Services bring seamless connectivity directly into the all-new BAYON with online voice recognition and a wide range of features to make your drive more convenient and enjoyable. On top of the many clever features you can control with the Bluelink app, a free five-year subscription to Hyundai's LIVE Services is also included with the navigation system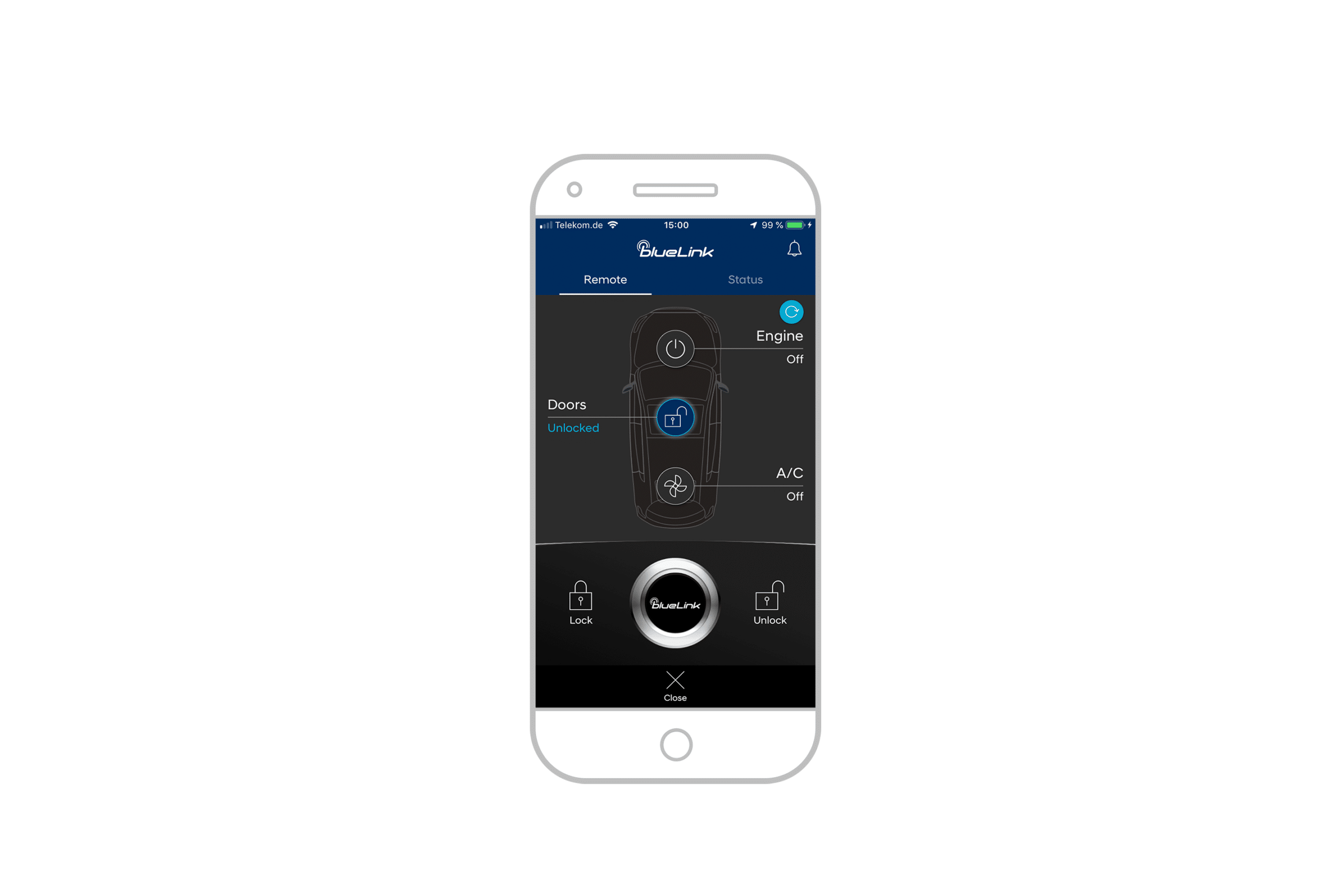 Remote door lock & unlock.
Forgot to lock your car? Don't worry, the all-new BAYON will let you know by sending a push notification to your phone. Then, using your PIN, you can lock or unlock your vehicle at the press of a button.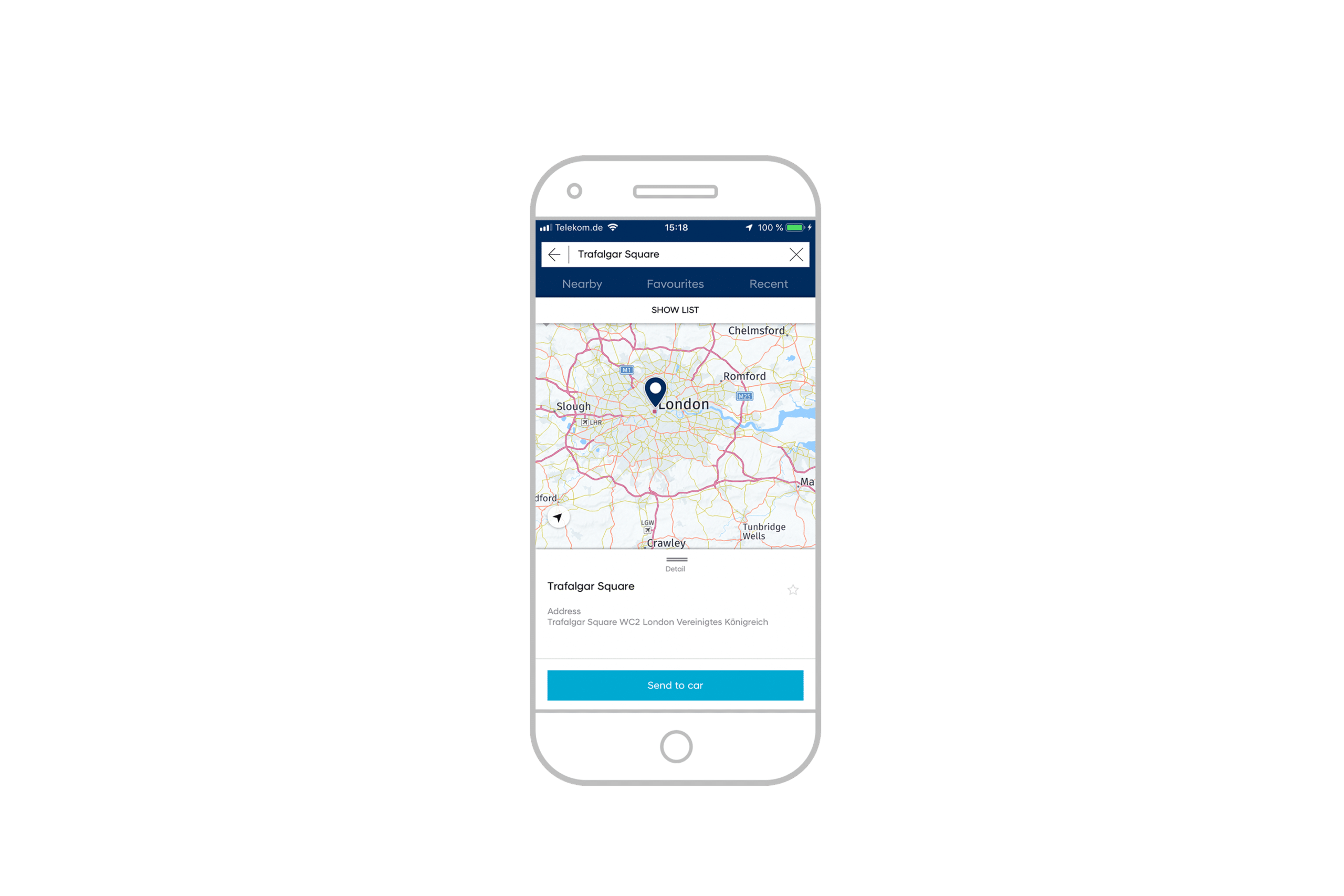 Destination send to car.
If your all-new BAYON is equipped with navigation, you can use the Bluelink app to search for destinations while outside of your car. Bluelink then syncs the route into your navigation system. Just get in and press go.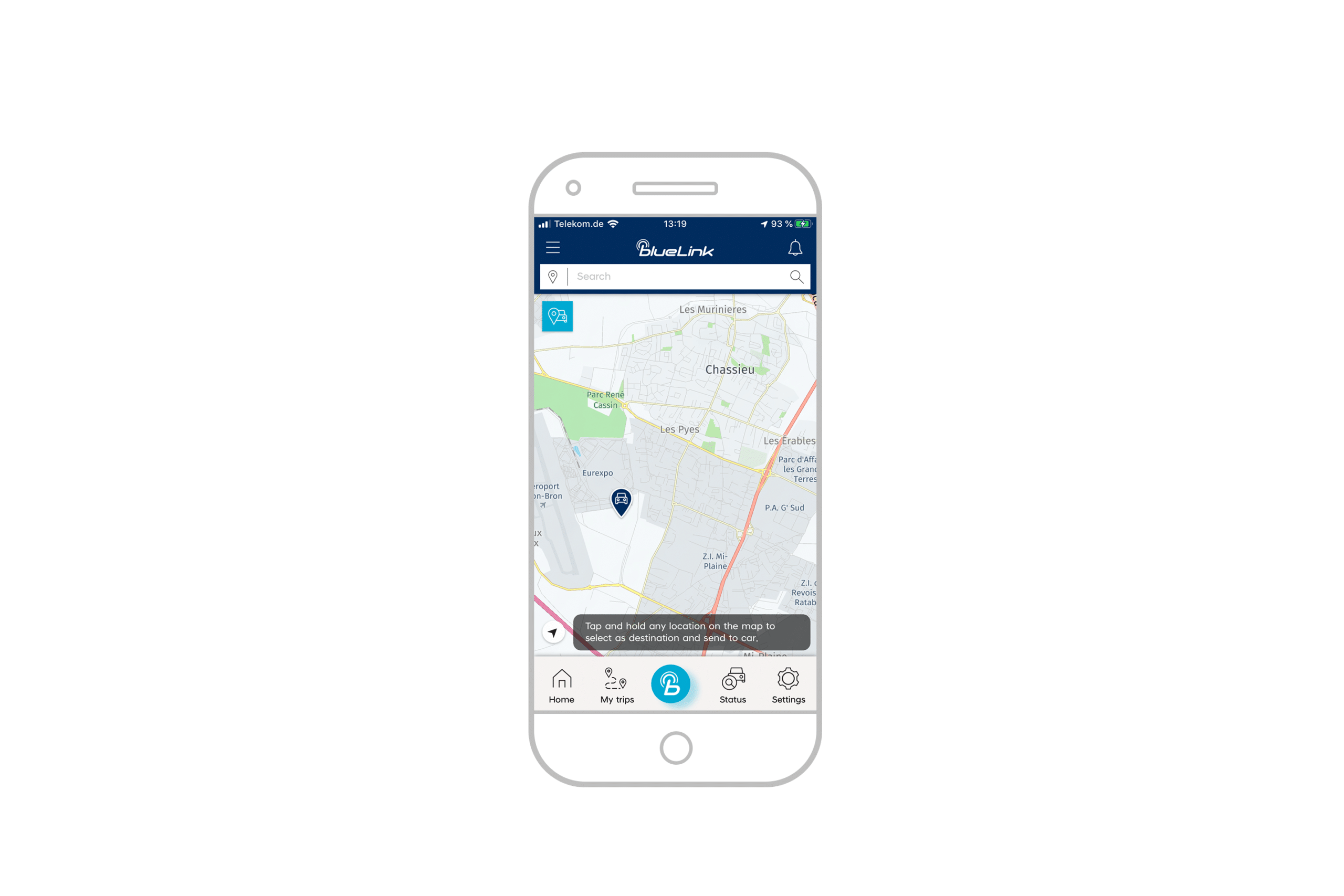 Find my car.
Forgot where you parked? Just open the Bluelink app to see the current location of your car – anywhere in the world.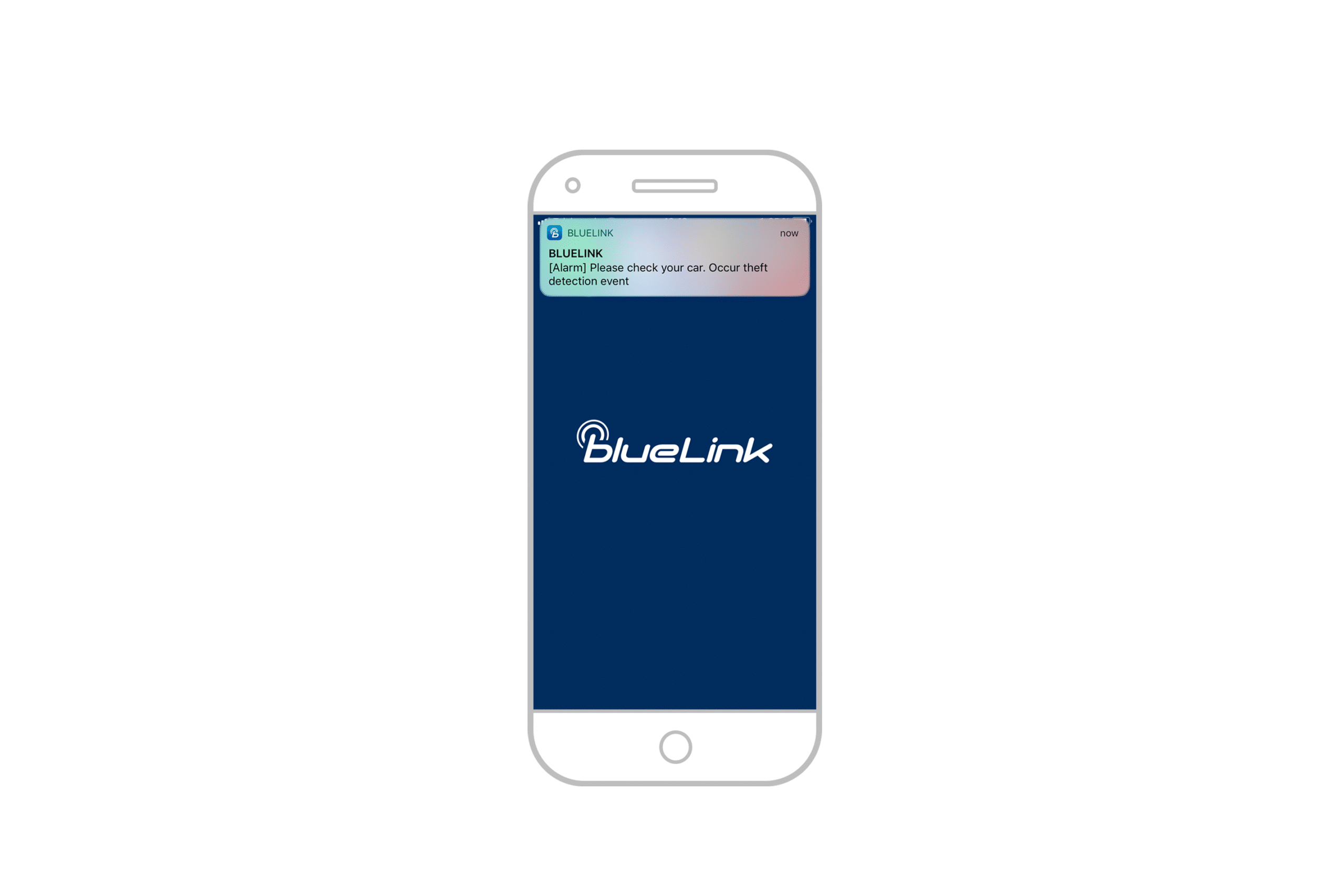 Alarm notification.
Bluelink always keeps an eye on your car. If someone tries to break into your all-new BAYON – the door lock is compromised and the door is opened – it will send a push-notification to your smartphone.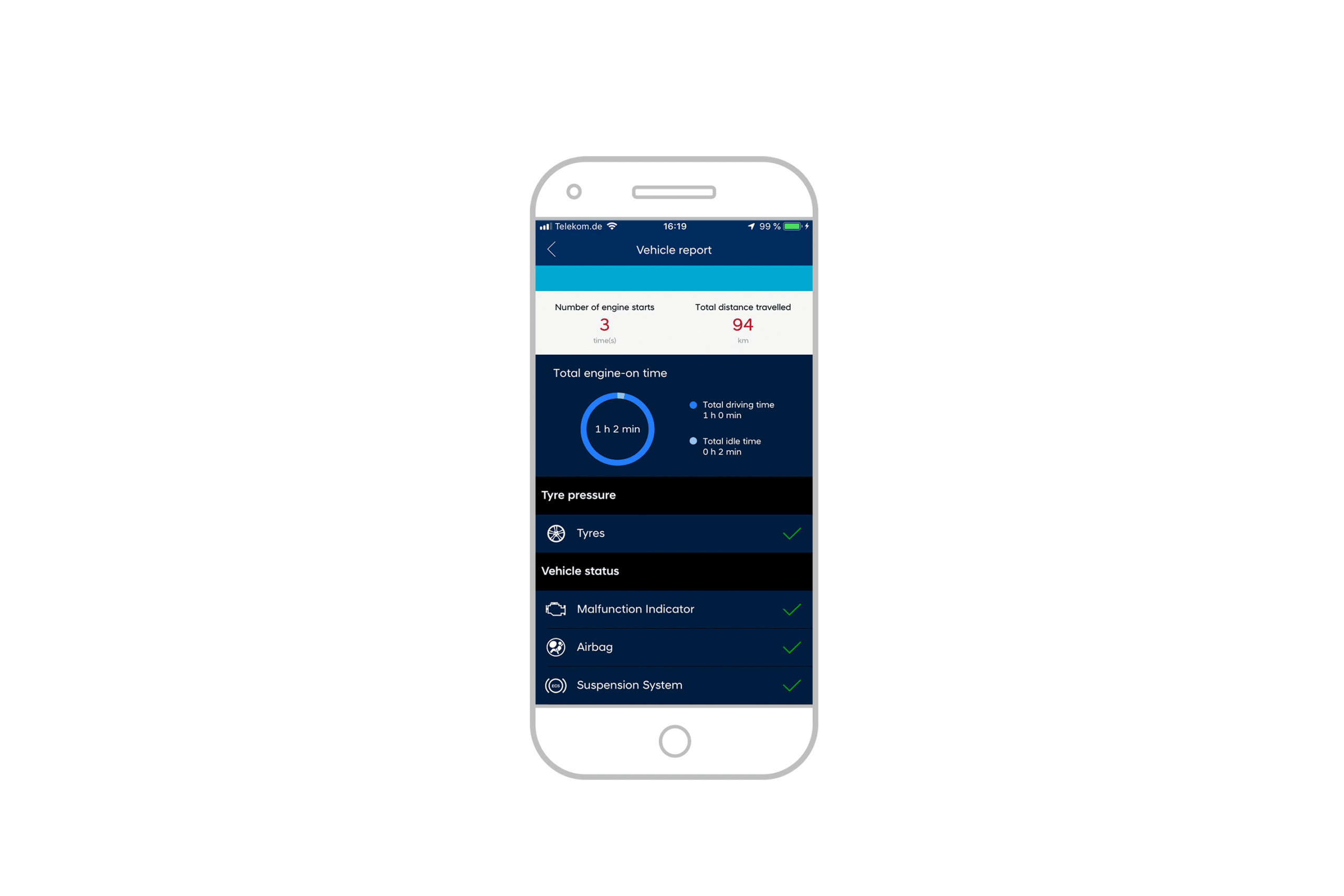 Car health information.
For more peace of mind, you can run a remote diagnostic check from the Bluelink app. The vehicle report can show information on tyre pressure, malfunction indicator, airbags, brake system and more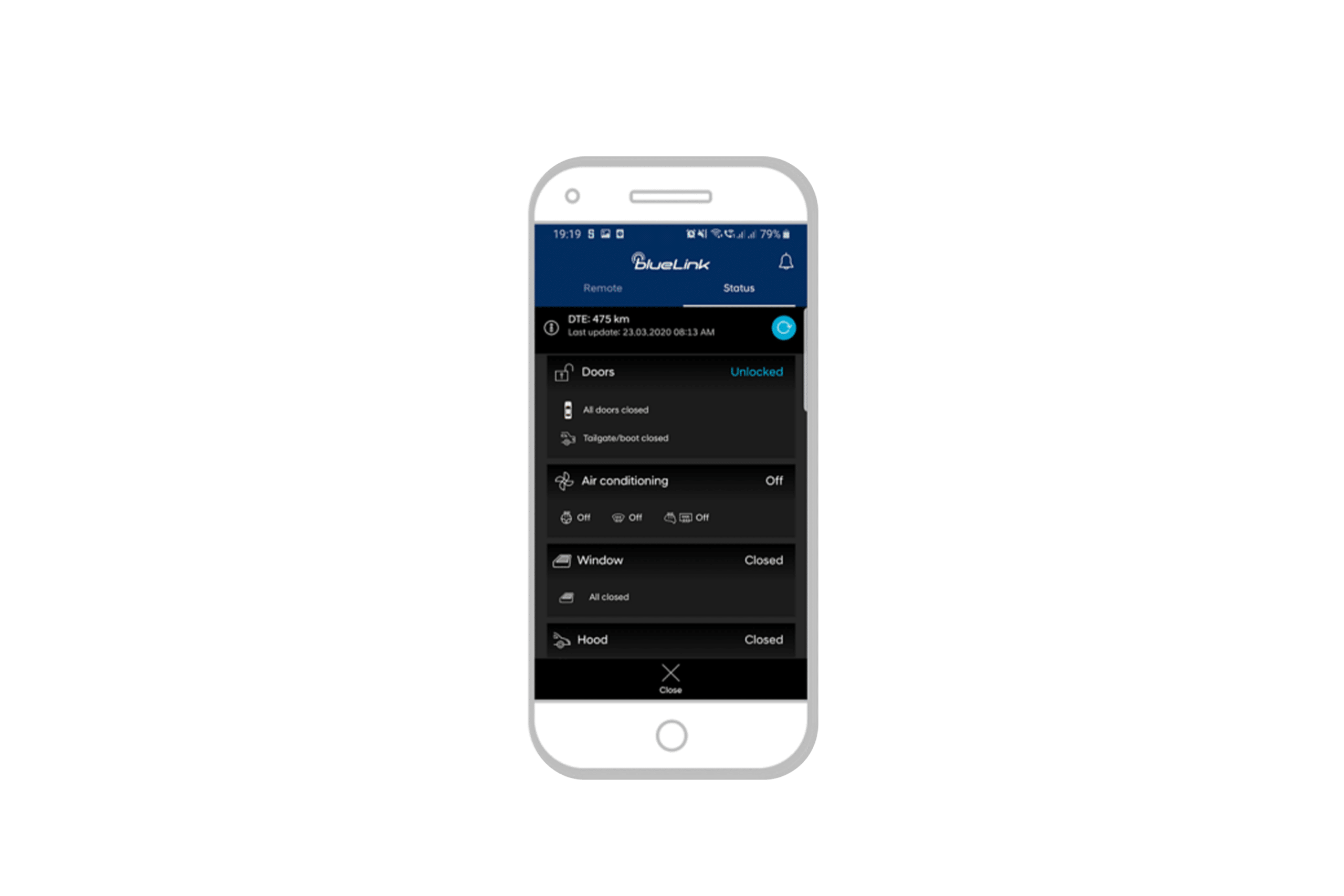 Vehicle Status.
Need petrol? Just check the app. Enjoy remote access to the status of your car at any given moment, including fuel remaining, doors open/closed or locked/unlocked and windows or boot open/closed.
Convenience
Roomy and comfortable with plenty of cargo space.
The new Kona Hybrid is equipped with both a petrol engine and an electric motor. They work together with the support of a powerful battery to deliver excellent fuel economy and cut down on emissions – switching seamlessly between the conventional engine and electric motor, sometimes using both. And as part of the regenerative braking system, the electric motor also helps slow the car while charging the battery.
Higher seating position.
You'll love the feeling of freedom you get from the higher seating position and the great all-round visibility for more confidence and control
Outstanding boot space.
With 411 litres of boot space, and an intelligent trunk cover, the all-new BAYON stands out in the segment for its generous cargo capacity.
Boot cover storage.
Need space for tall items? Conveniently store the boot cover behind the rear bench to make optimal use of the all-new BAYON's boot capacity.
Excellent legroom.
Enjoy excellent legroom for a more comfortable ride. Front passengers can enjoy 1,072 mm of legroom, while rear passengers have 882 mm.
Generous head room.
The overall feeling of roominess is helped by headroom of 993 mm for the driver and front seat passenger and 977 mm for rear passengers.
BOSE premium sound system.
The available Bose premium sound system features eight high-performance speakers including a subwoofer for clean, immersive and powerful music reproduction.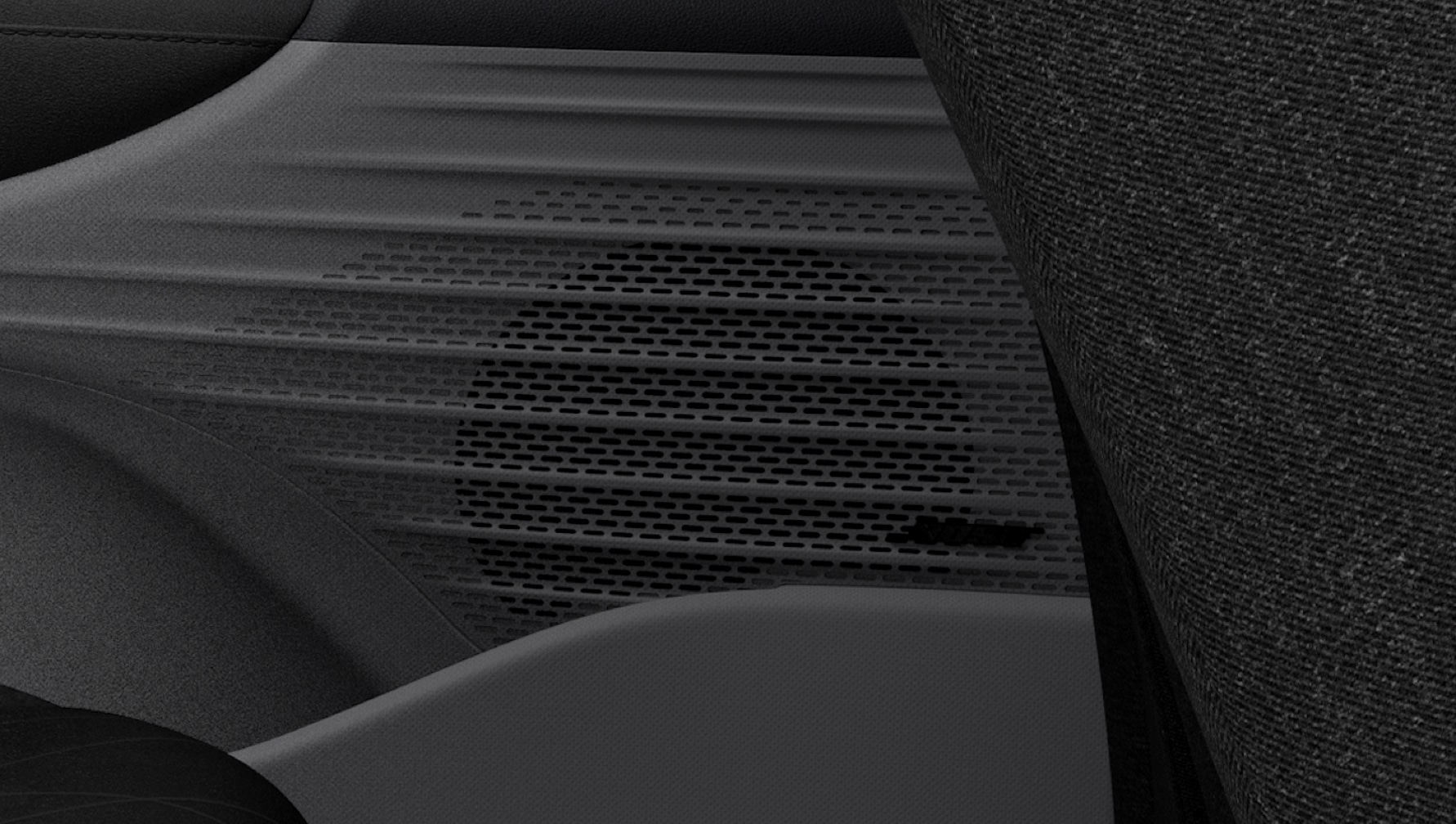 Wireless charging.
The wireless charging tray is located in the centre console. Easily and quickly charge a compatible Qi-enabled smartphone without having to plug it in
Multiple USB ports.
Connecting and charging portable USB devices has never been easier with two USB ports in the front and one in the rear of the car – just plug and play.
Safety
Best-in-class safety package with SmartSense.
The all-new BAYON shares its safe and robust DNA with the other members of the Hyundai SUV family – and it has the safety features to match. Another way it stands out in its segment: an extensive list of Hyundai SmartSense safety features – our cutting-edge Advanced Driver Assistance Systems. Many of them are included in the standard equipment already.
Lane Following Assist (LFA).
The all-new BAYON features Lane Following Assist (LFA). When activated, it keeps the car centred in its lane at speeds between 0 and 180 km/h on motorways and city streets.
Blind Spot Collision-avoidance Assist (BCA).
Using two radar sensors in the lower rear bumper, the system warns you of traffic in the blind spot area. Should you set the turn indicator in such a situation, it will sound an acoustic alert and brake to prevent collision.
Smart Cruise Control (SCC).
More safety and less stress. Maintains a set distance to the vehicle ahead, automatically reducing or increasing speed to a pre-set limit.
Rear Cross-traffic Collision-avoidance Assist (RCCA).
When reversing out of areas with low visibility, the system not only warns the driver if vehicles approach from the side – it also applies the brakes automatically.
Leading Vehicle Departure Alert (LVDA).
This clever feature for city driving alerts the driver when the vehicle in front departs from an idle state, like at a stoplight or in a traffic jam.
Forward Collision-Avoidance Assist (FCA).
The FCA system automatically brakes when it detects sudden braking by the car ahead or detects pedestrians or cyclists in your path. Now updated with a Junction Turning feature, specially calibrated to help prevent frontal collisions when turning left at intersections (in left hand drive countries).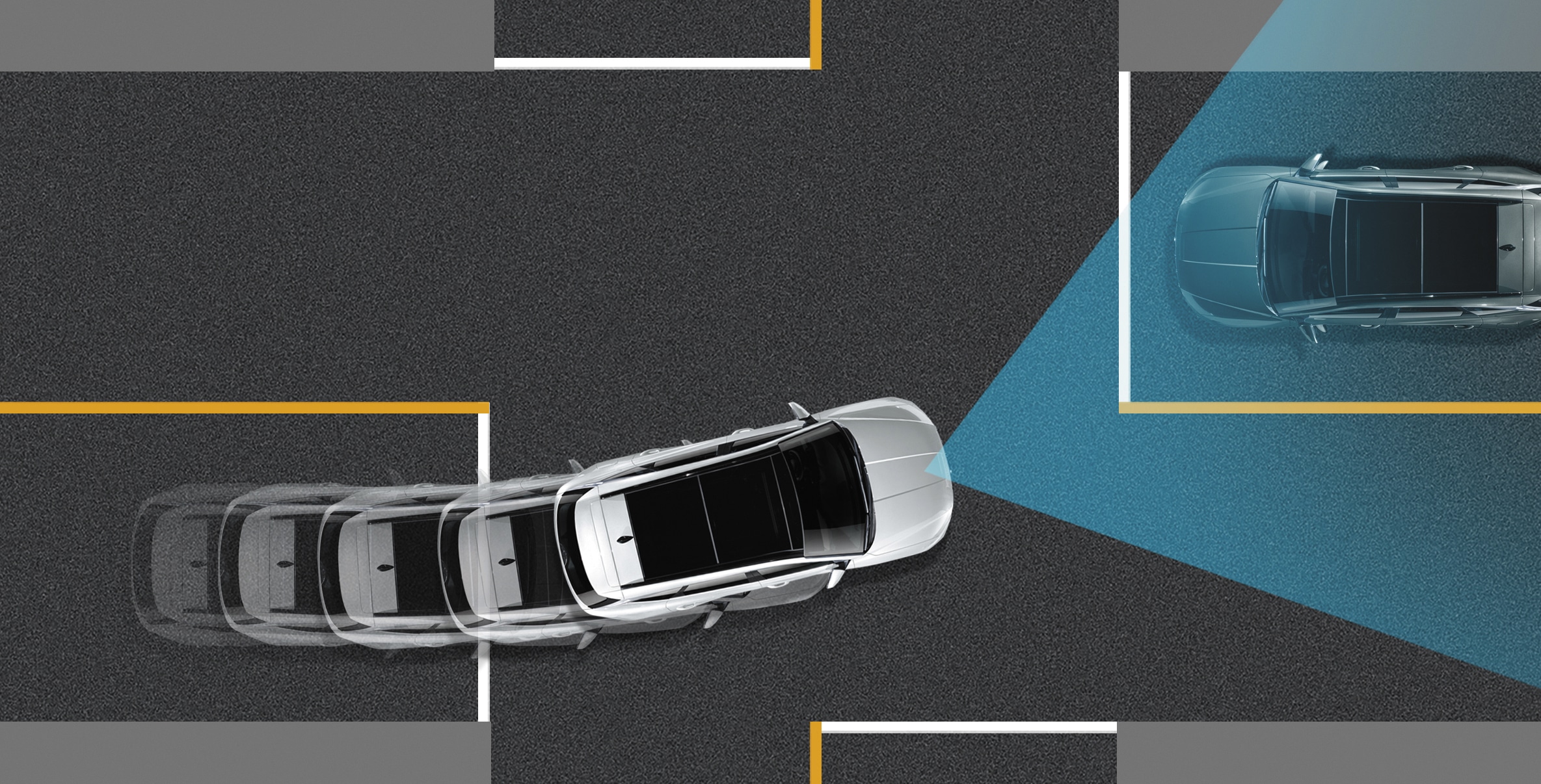 Navigation-based Smart Cruise Control (NSCC).
This advanced feature uses data from the BAYON's state-of-the-art navigation system and front radar to adjust speed autonomously when driving on a highway or motorway. The system anticipates upcoming curves or straights and adjusts speed for safer driving, automatically decelerating and re-accelerating to your set original speed after a curve.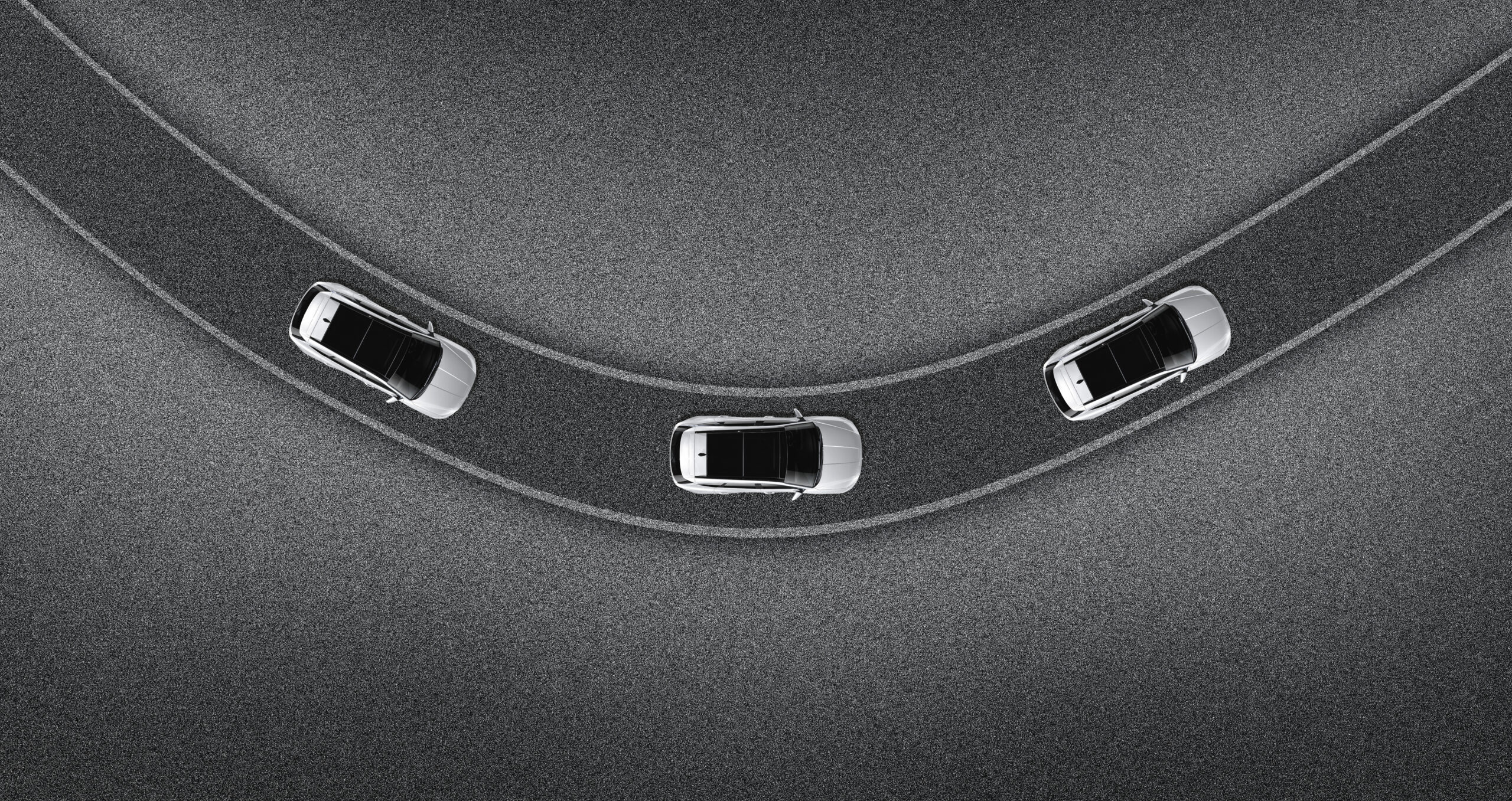 Performance
Dynamic performance meets excellent fuel efficiency.
The all-new BAYON delivers excellent fuel efficiency and highly competitive CO2 emissions thanks to its updated T-GDi engines – downsized turbo-charged engines with direct injection for optimum efficiency and driving fun. When combined with our unique 48-volt mild hybrid technology (48V) with Intelligent Manual Transmission (iMT), you get even more enhanced fuel savings and efficiency.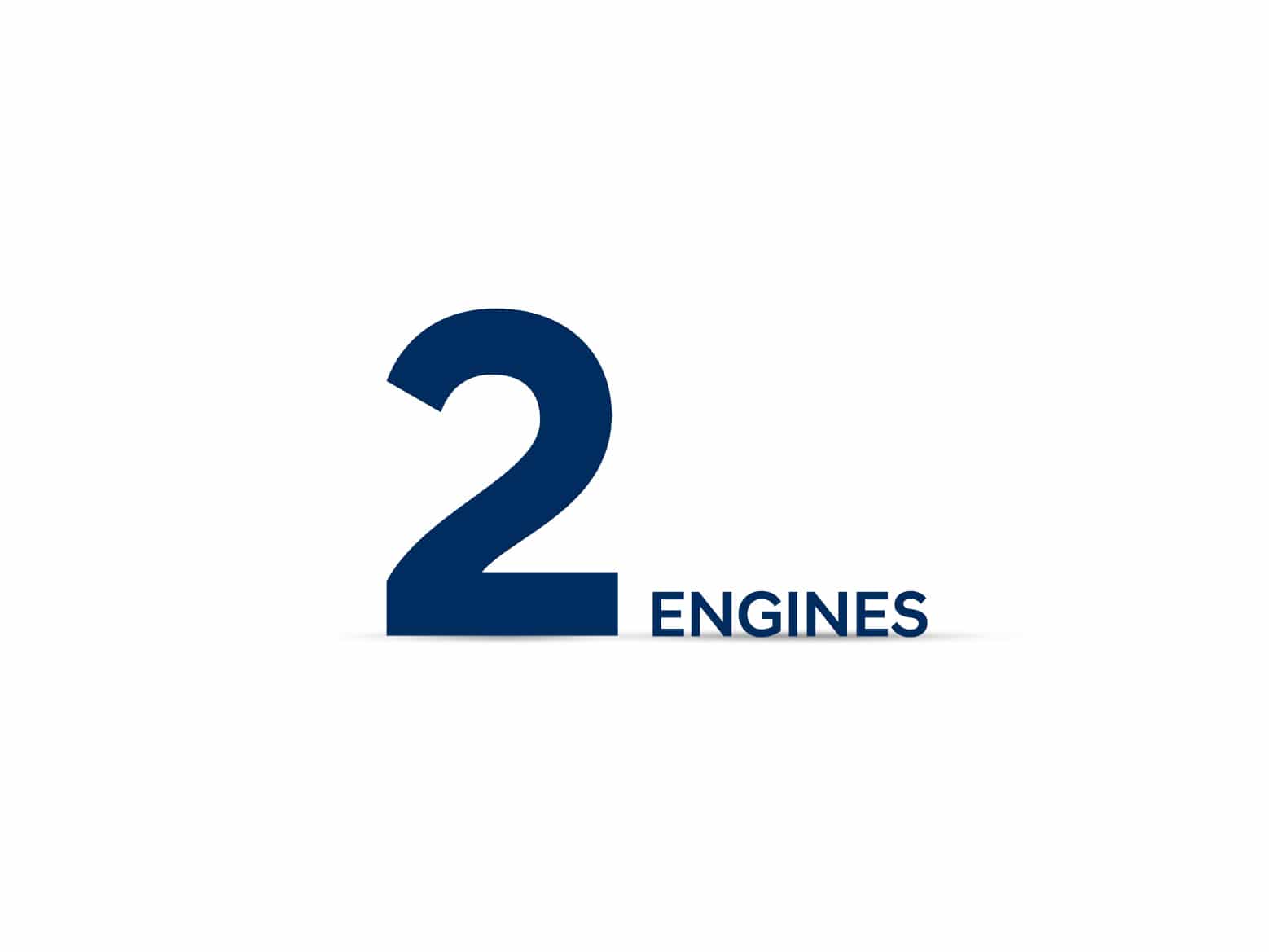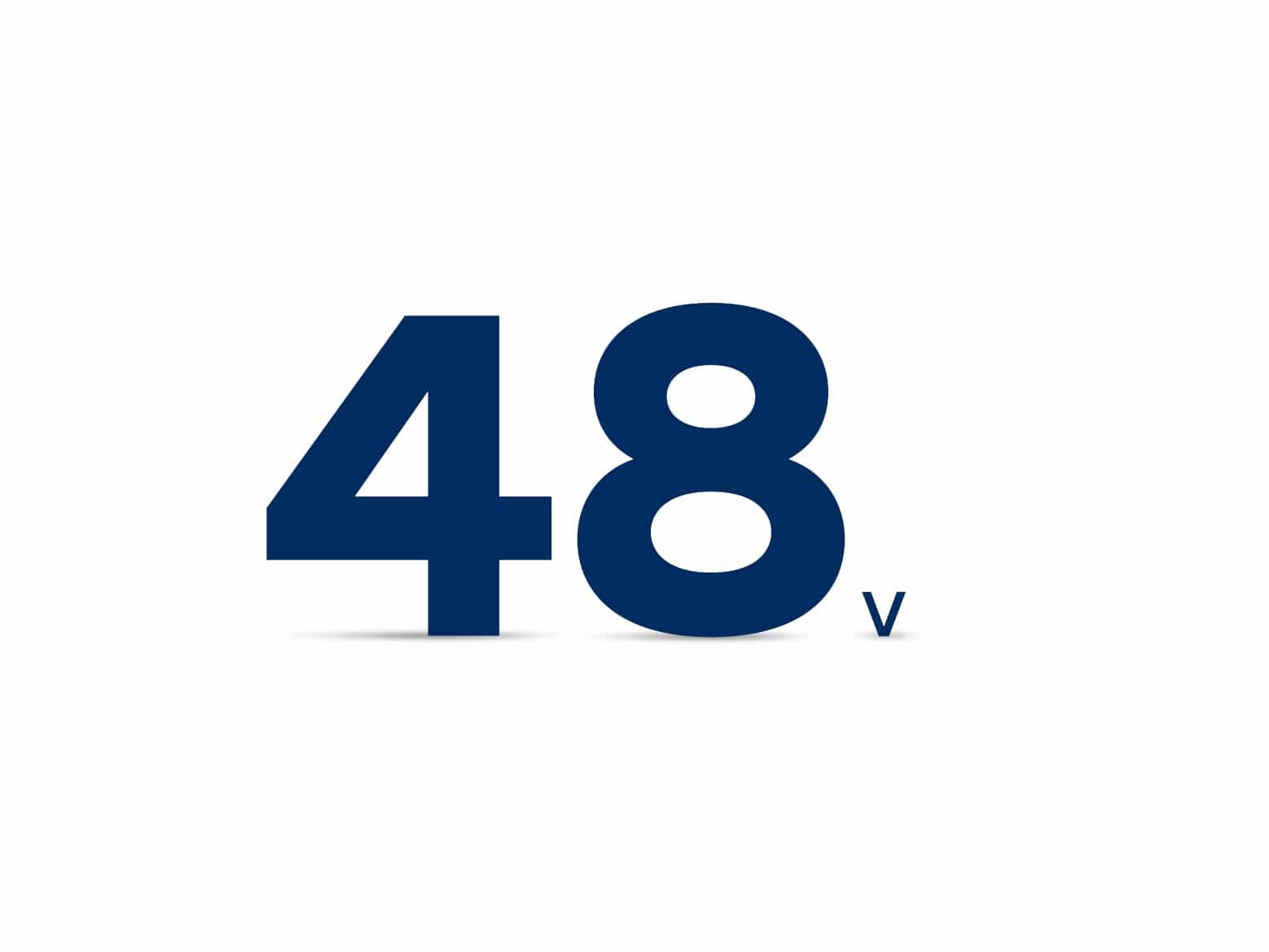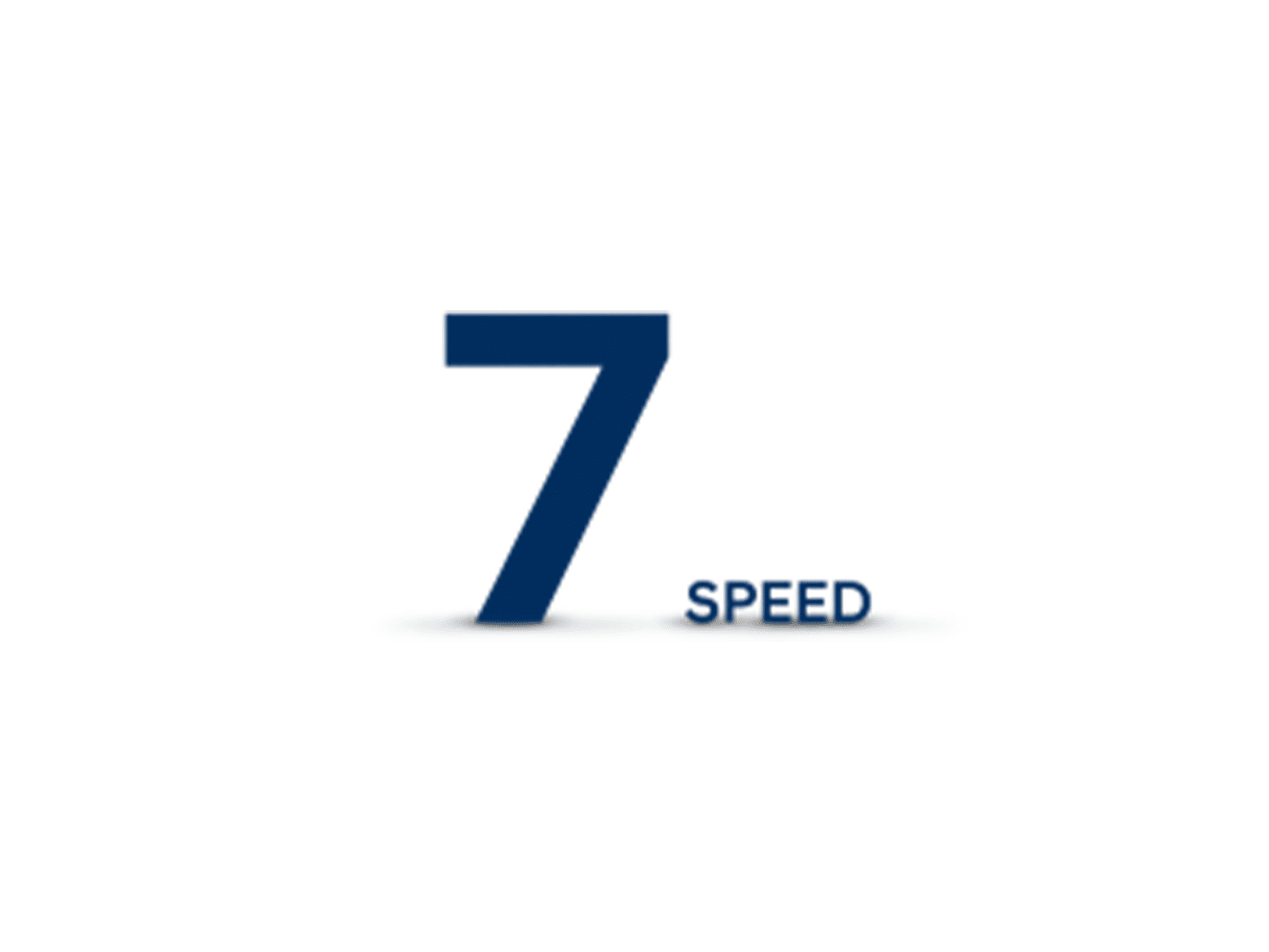 Intelligent efficiency.
Choose from 2 engines in 4 variants that deliver some of best CO2 efficiency in its class – because taking care of the environment is as important to us as it is to you.
Mild hybrid.
Save fuel and reduce emissions. The all-new BAYON is available 48V mild hybrid technology to support the combustion engine with additional torque during acceleration.
Smooth shifting.
Choose from several smooth shifting transmission options: including: a 6-speed intelligent Manual Transmission (6iMT) or a 7-speed dual clutch transmission (7DCT).
1.0 litre T-GDi 100 PS.
The 100 PS version of the 1.0-litre T-GDi is also available without 48V and can be paired with a 6-speed manual transmission (6MT) or 7DCT.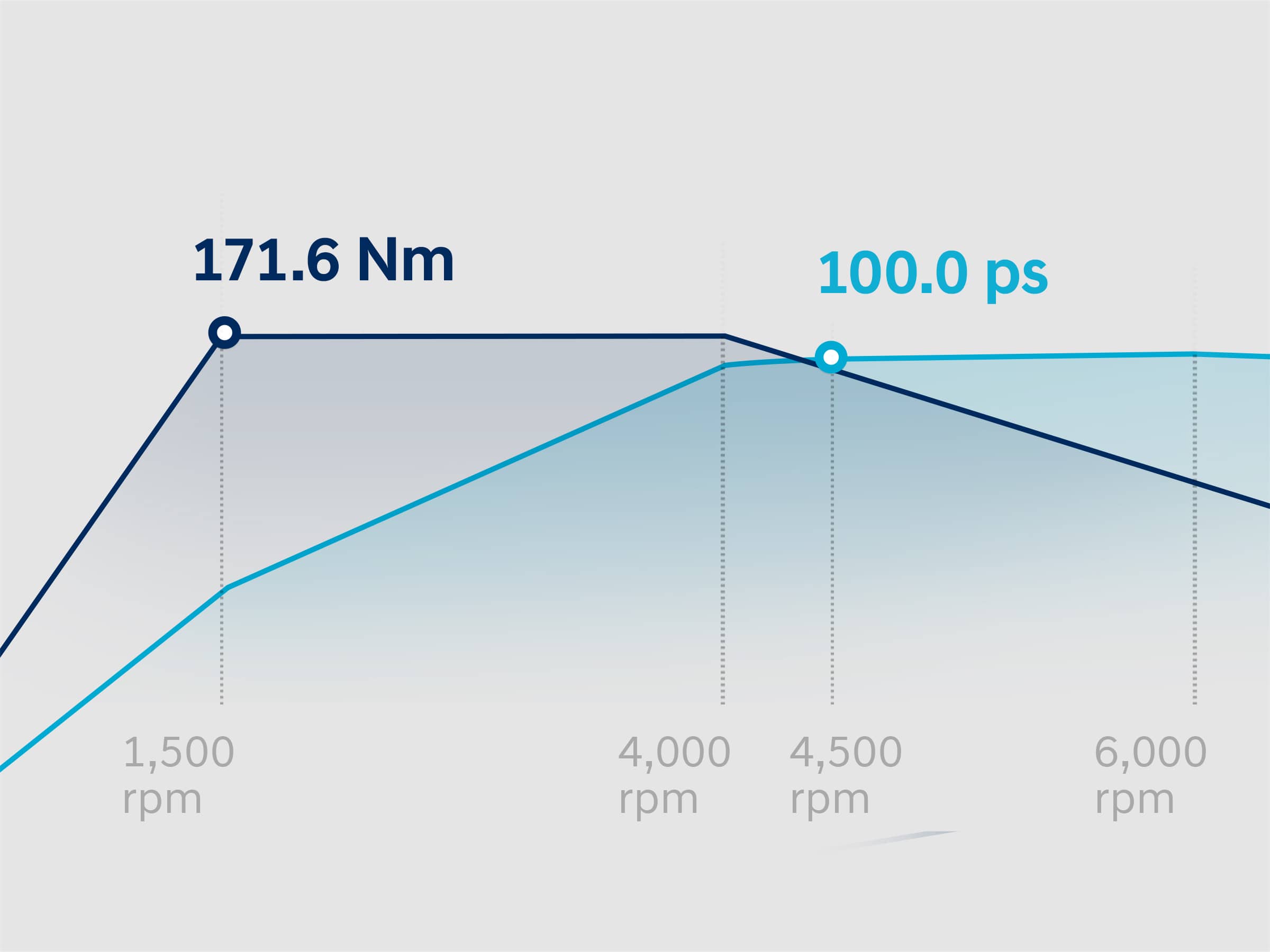 1.0 litre T-GDi 120 PS.
Our three cylinder, 1.0-litre Turbo GDI engine is designed to take the all-new BAYON's sporty personality to the road. With 120 PS and our new 48v mild hybrid technology available, this low-key powerhouse makes the car just as fun to drive as it looks. It can be coupled with the 6-speed intelligent Manual Transmission (6iMT) or a 7-speed dual clutch transmission (7DCT).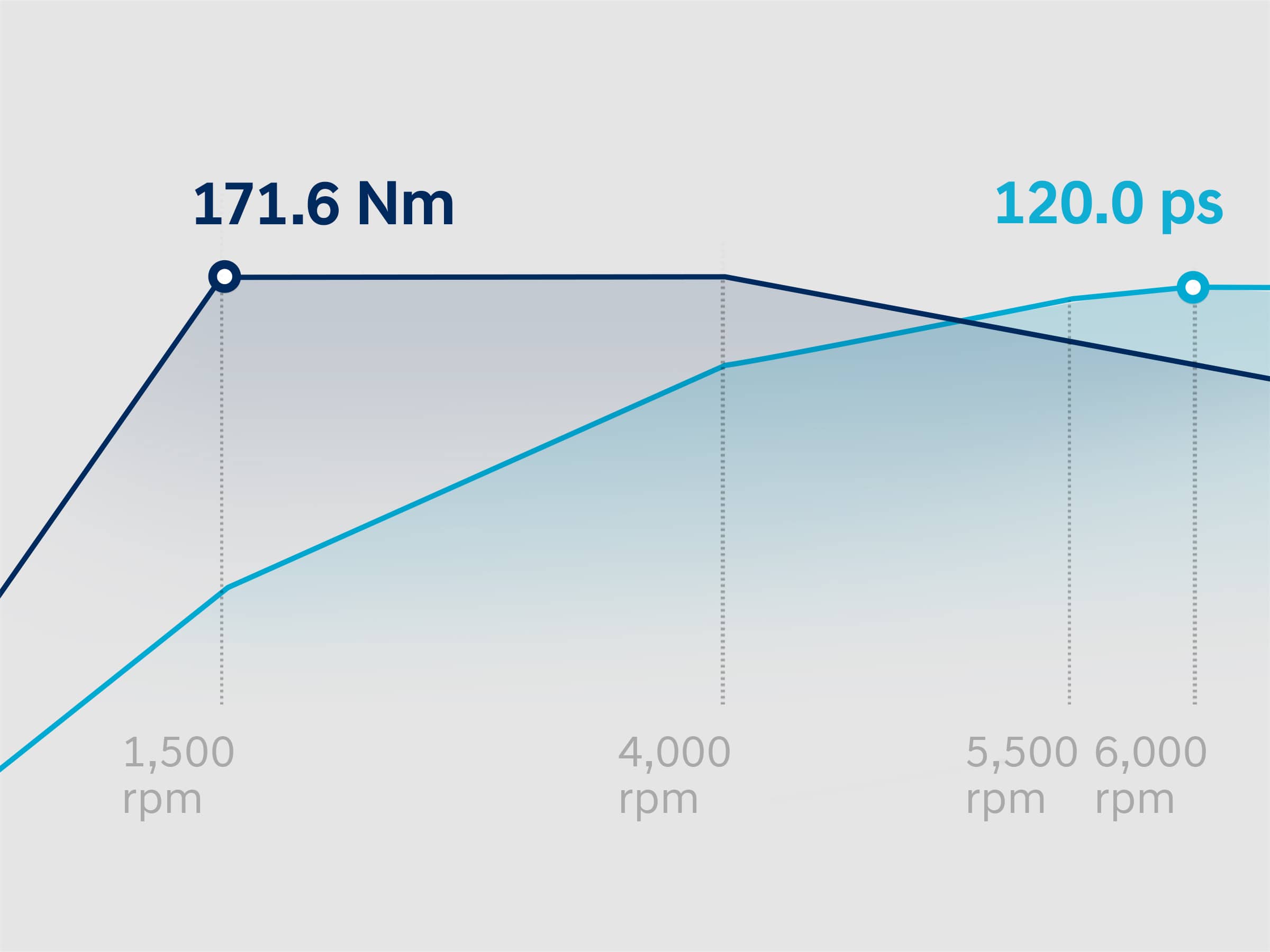 1.2 litre MPi petrol engine.
With 1197 cc of engine displacement and 4 cylinders, our 84 PS entry engine is a gentle force to be reckoned with. Coupled with a 5-speed manual transmission, this power unit offers offers both full control and pleasant torque delivery.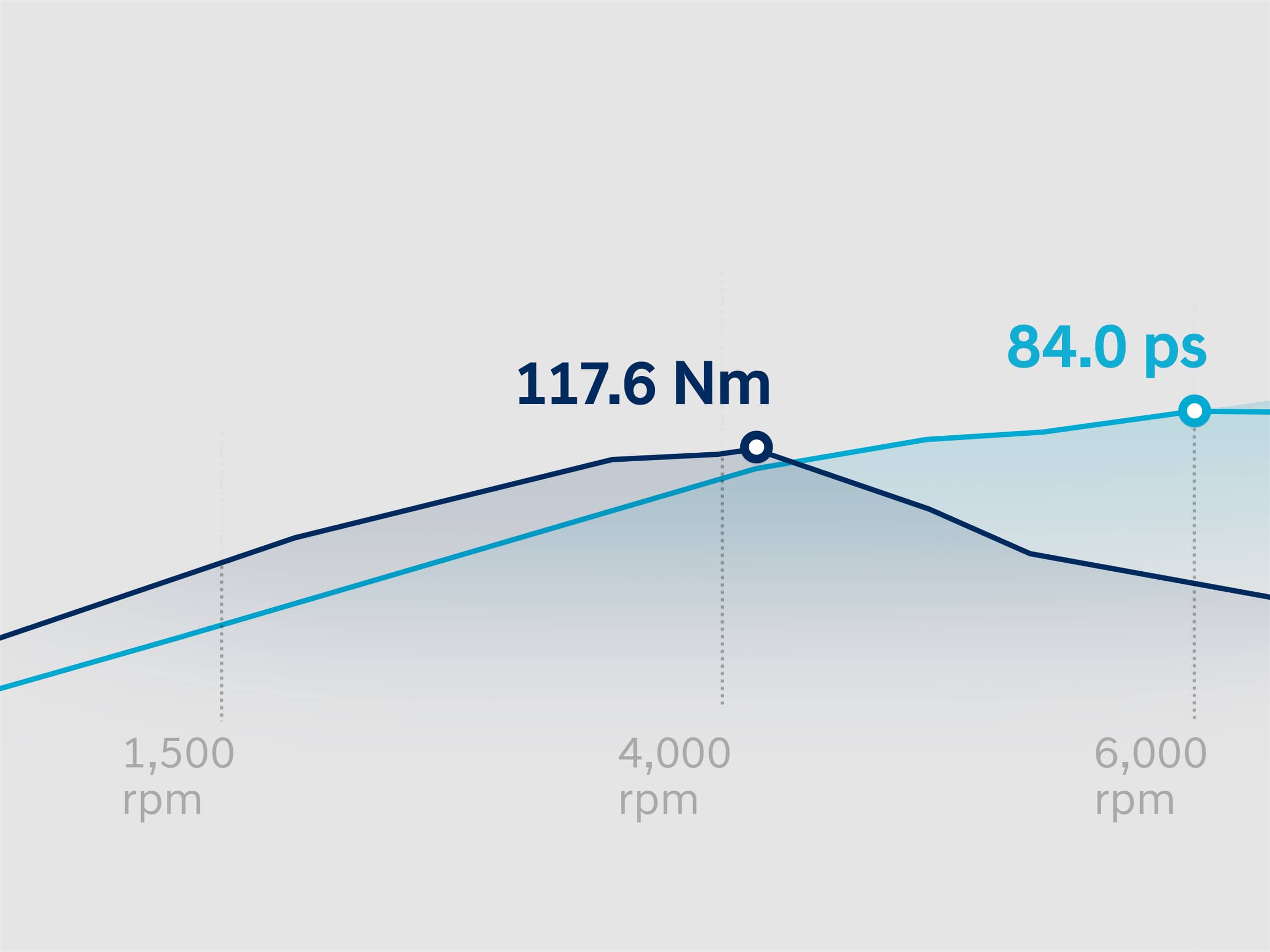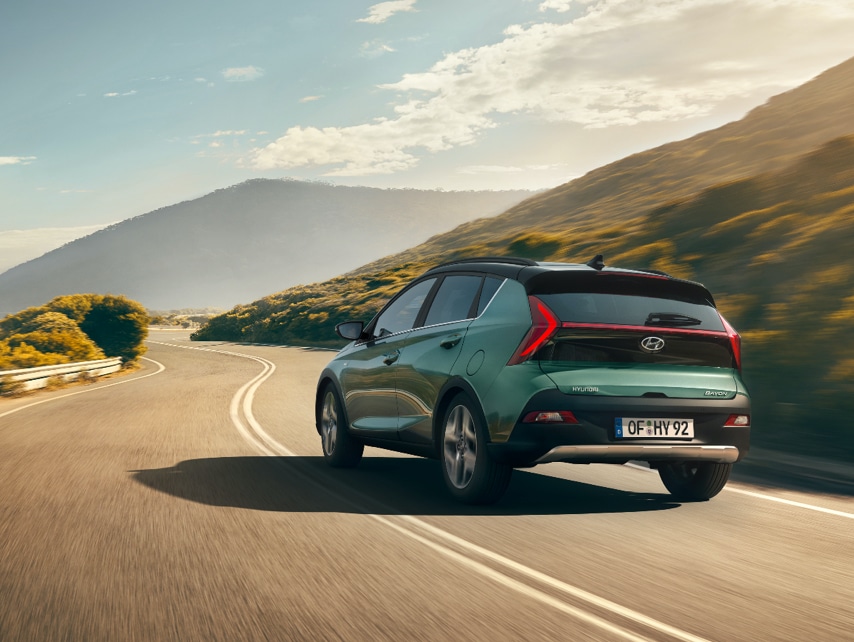 48V mild hybrid – save fuel and reduce emissions.
The BAYON's 48V mild hybrid system supports the combustion engine with additional torque during acceleration to save fuel and reduce emissions. Hyundai's mild hybrid technology features a compact 0.46 kWh 48 volt lithium-ion battery and a new Mild Hybrid Starter Generator (up to 10kW electric power). Find out more about its advantages here.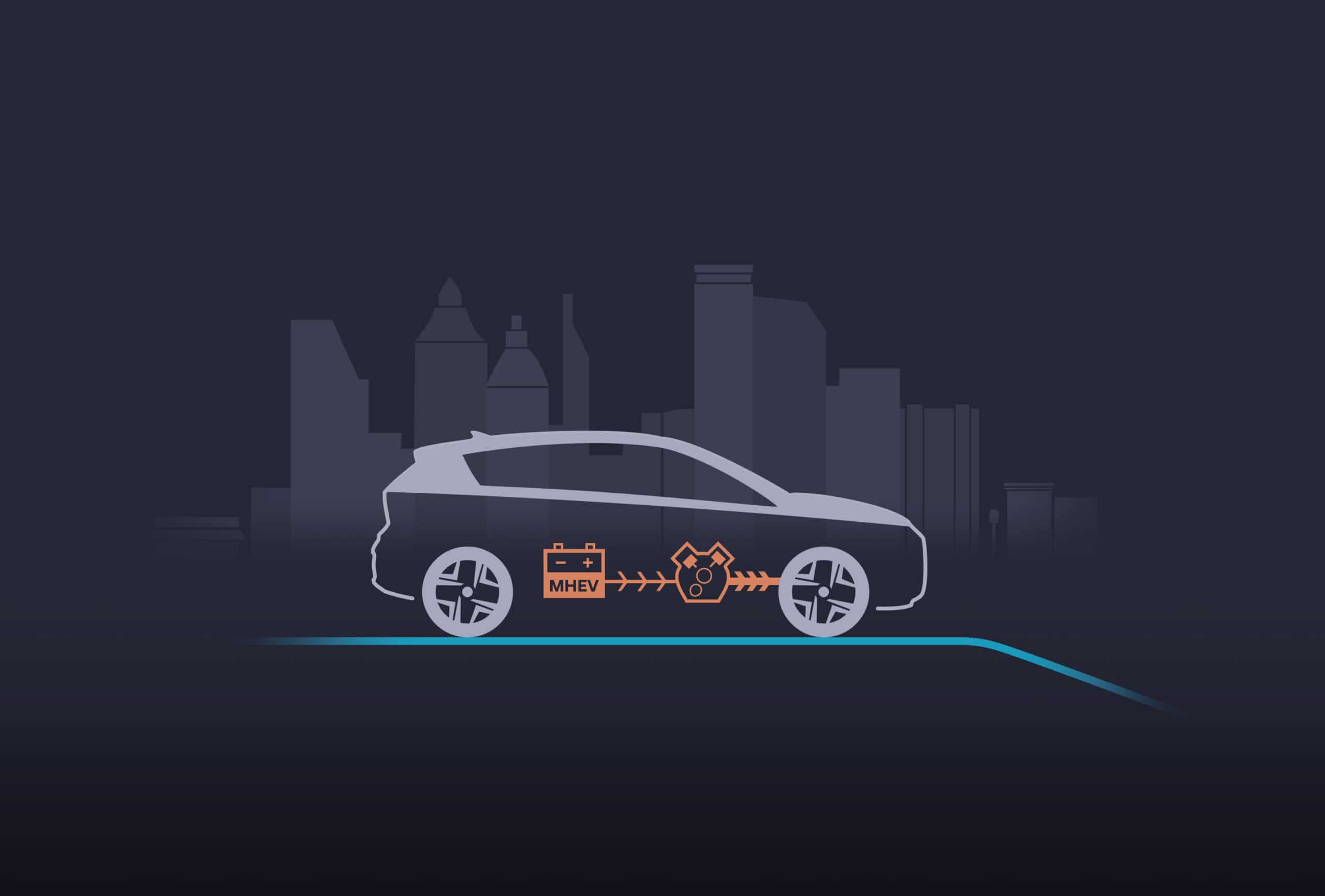 Comfort start.
The mild hybrid system has particular advantages in city traffic, with the Mild Hybrid Starter Generator (MHSG) supporting the combustion engine when re-starting after traffic stops. This action supports a faster and smoother engine start with supplemental torque, drawing on energy from the 48V battery. The MHSG assists the combustion engine during take-off by compensating with torque and power.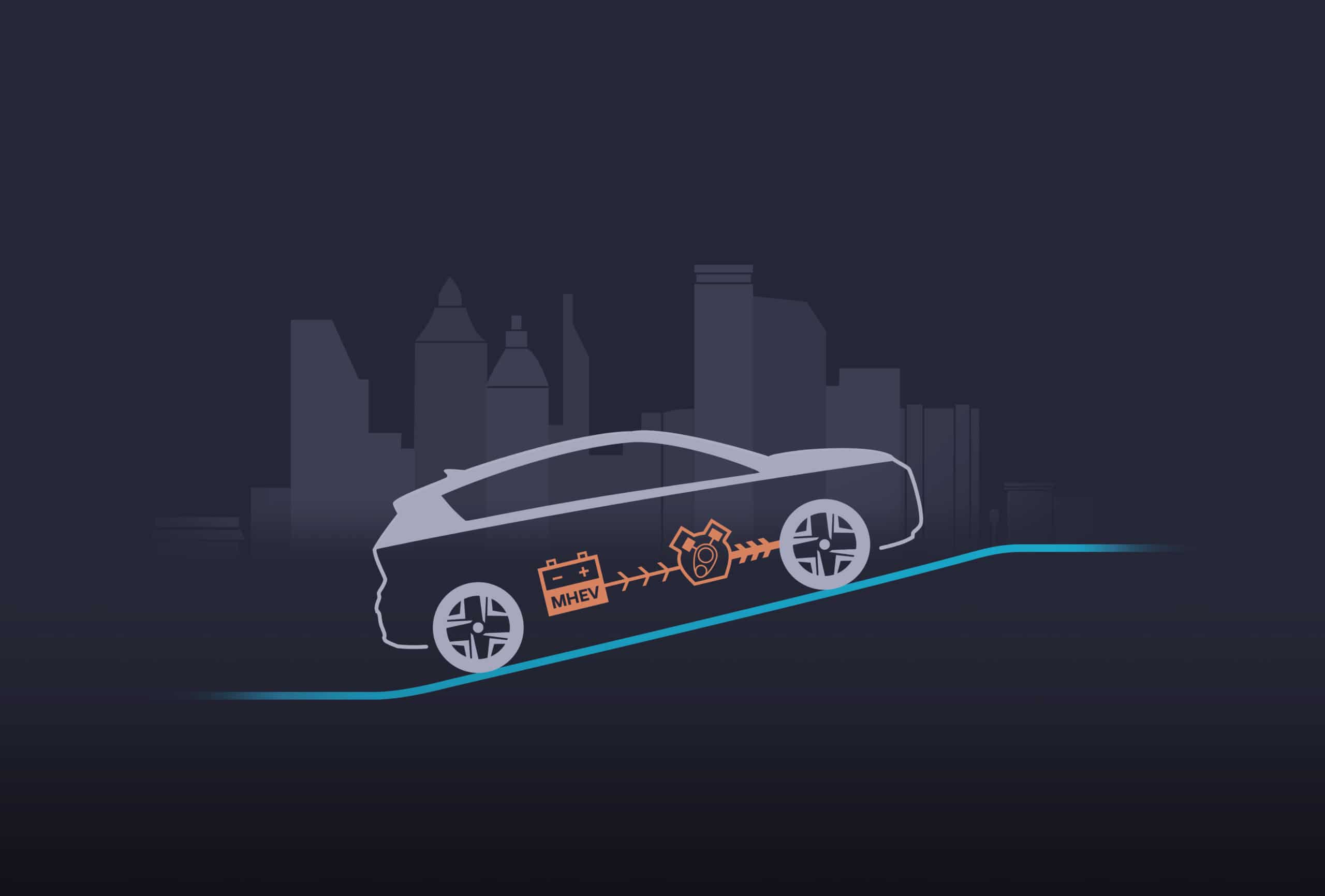 Acceleration.
Under acceleration, the MHSG supports the combustion engine with compensatory 4 to 10 kW of power, depending on the battery system's state of charge and the degree of accelerator input from the driver. Once the required speed is reached, the MHSG shifts to neutral mode, delivering no power. As a result CO2 emissions, as well as fuel consumption, can be reduced by up to 11 per cent.* (*NEDC 2.0)