Next level hybrid style
Refreshed and reimagined, the new Kona Hybrid is taking the award-winning sculpted lines and stylish edge of its predecessor to the next level with fresh new design enhancements backed up with the latest smart tech like cutting-edge connectivity and safety features.
Hyundai Kona Hybrid
Key Features
Climate Control Air-Conditioning
Motor-Driven Power Steering
Hyundai Smart Sense
10.25" LCD Touchscreen w/Apple Car Play and Andriod Auto
10.25" LCD Driver Cluster
Wireless Smartphone Charging System
Reversing Sensors and Rear View Camera
18" Alloy Wheels
5 year UNLIMITED mileage warranty Check out the world of Kona
Energetic, Smart and Efficient
The Kona Hybrid small SUV exceeds expectations. Stylish and practical with cutting edge technology. It delivers all the benefits of conventional driving but with the economic advantage of a self-charging hybrid powertrain.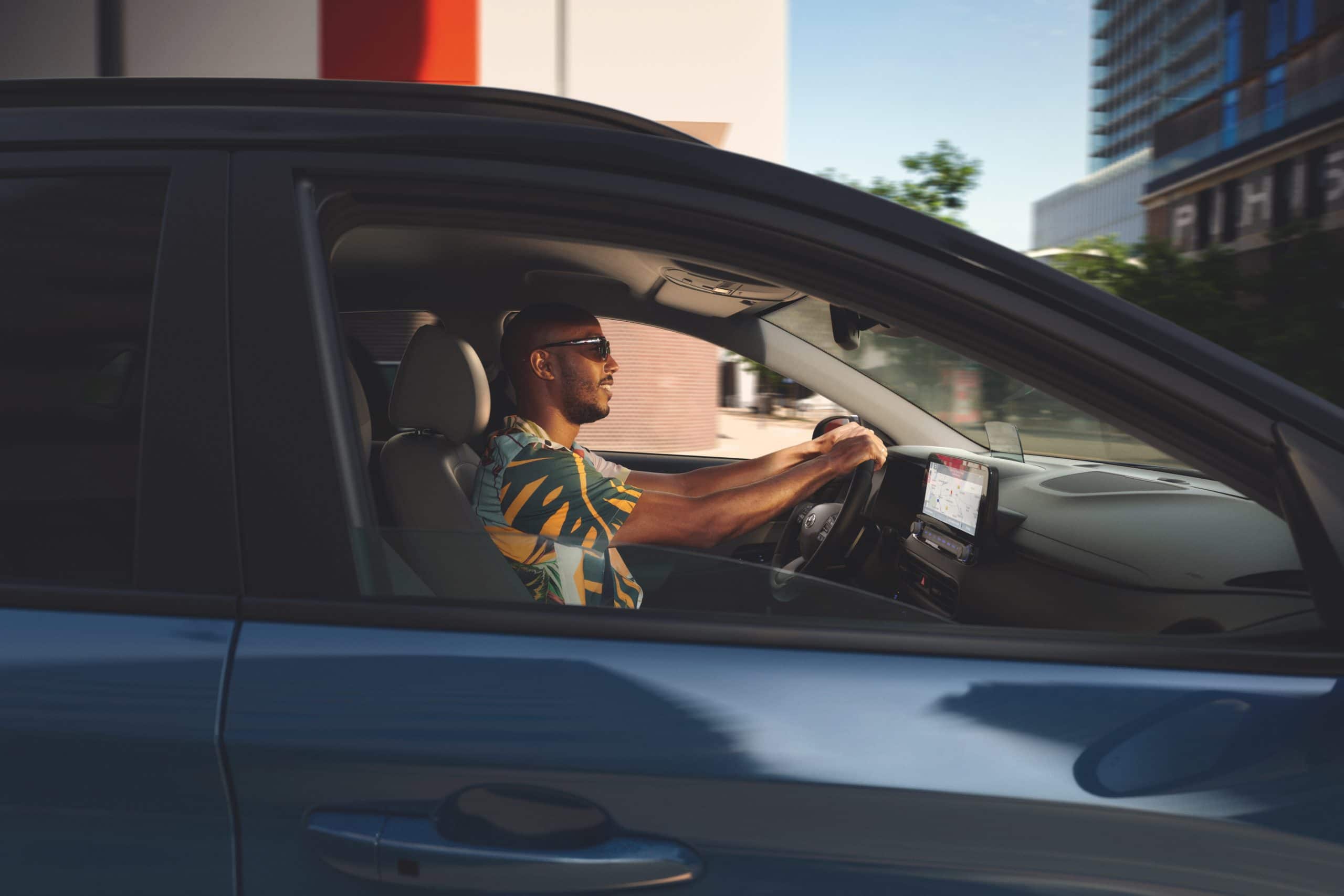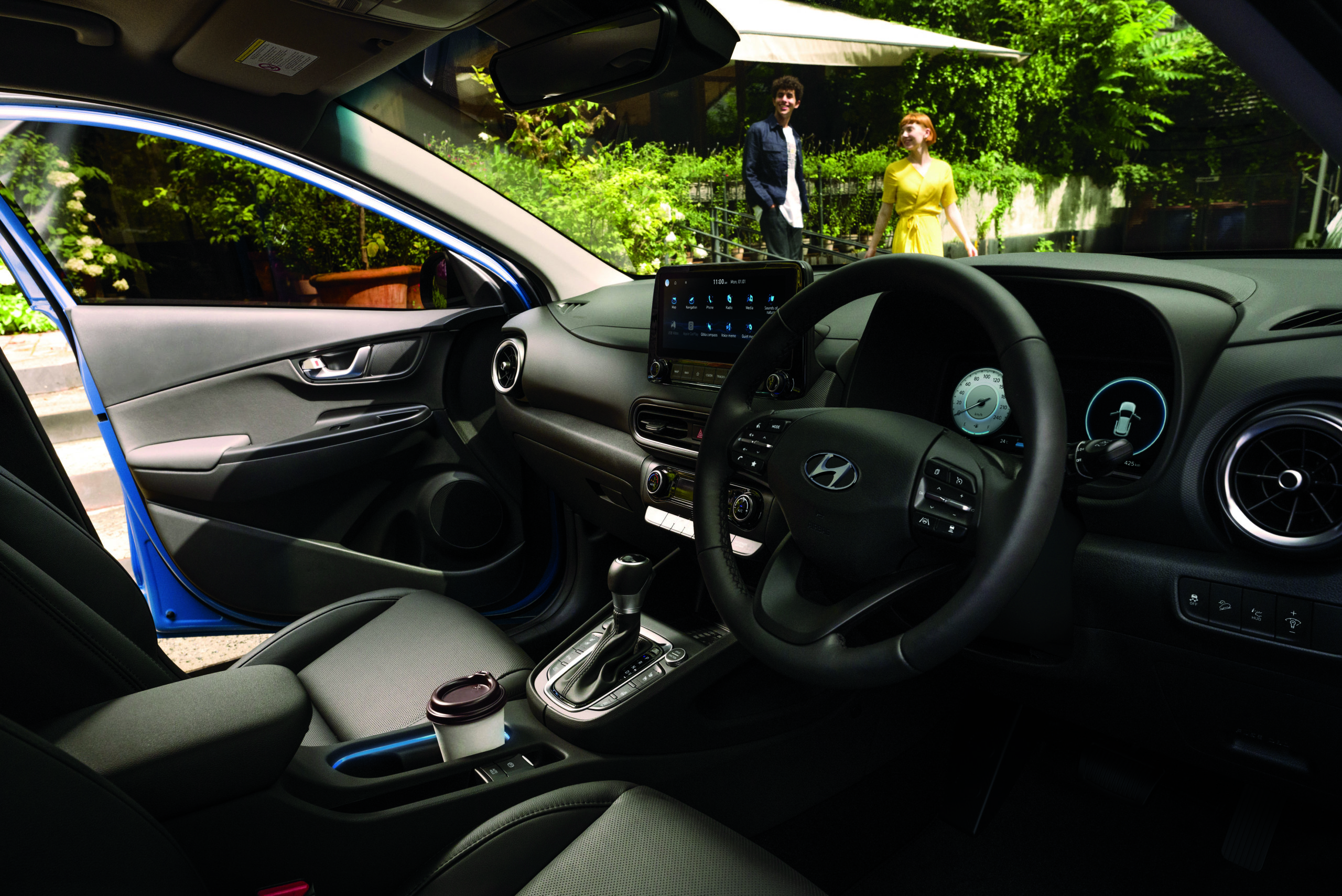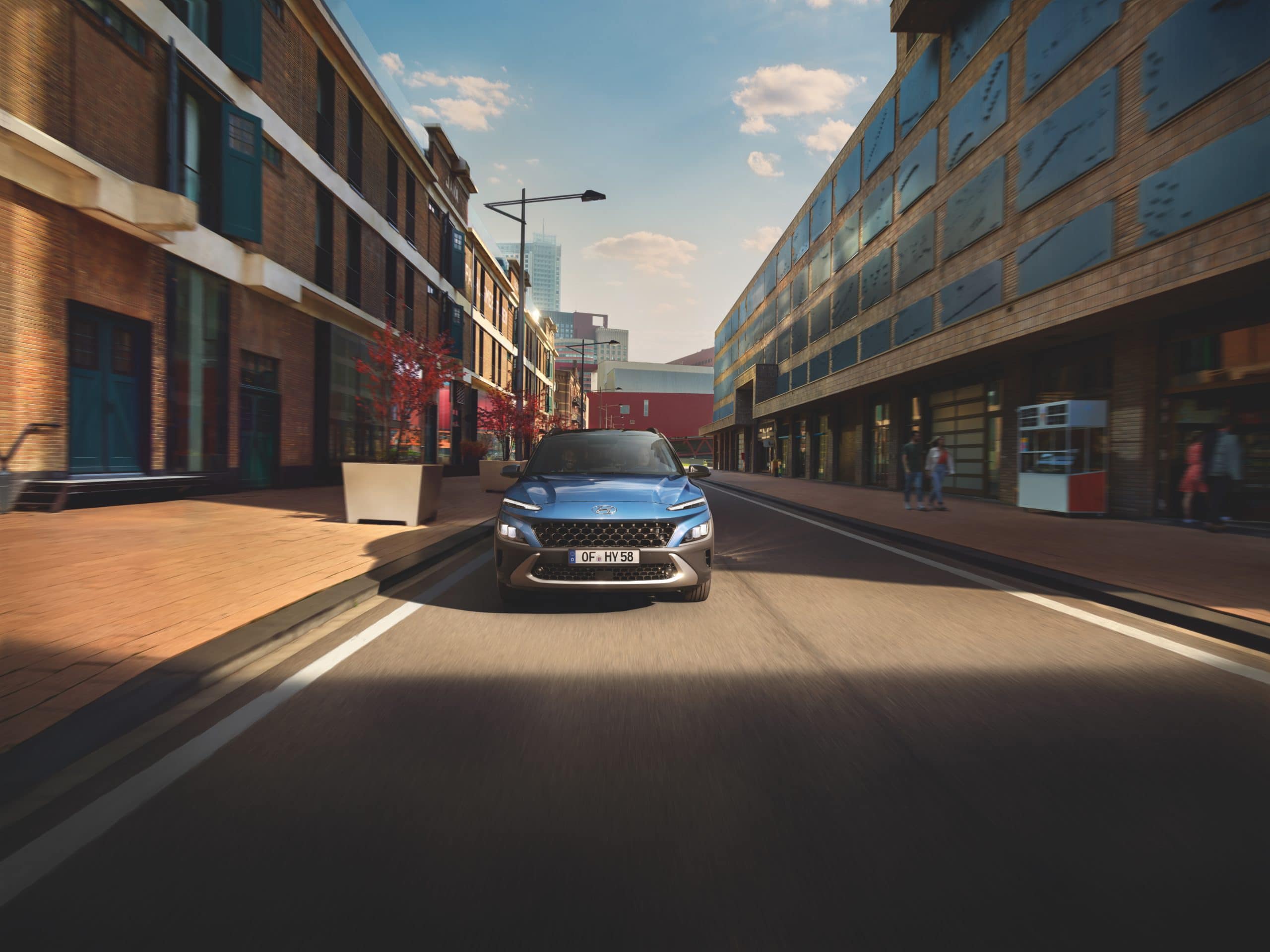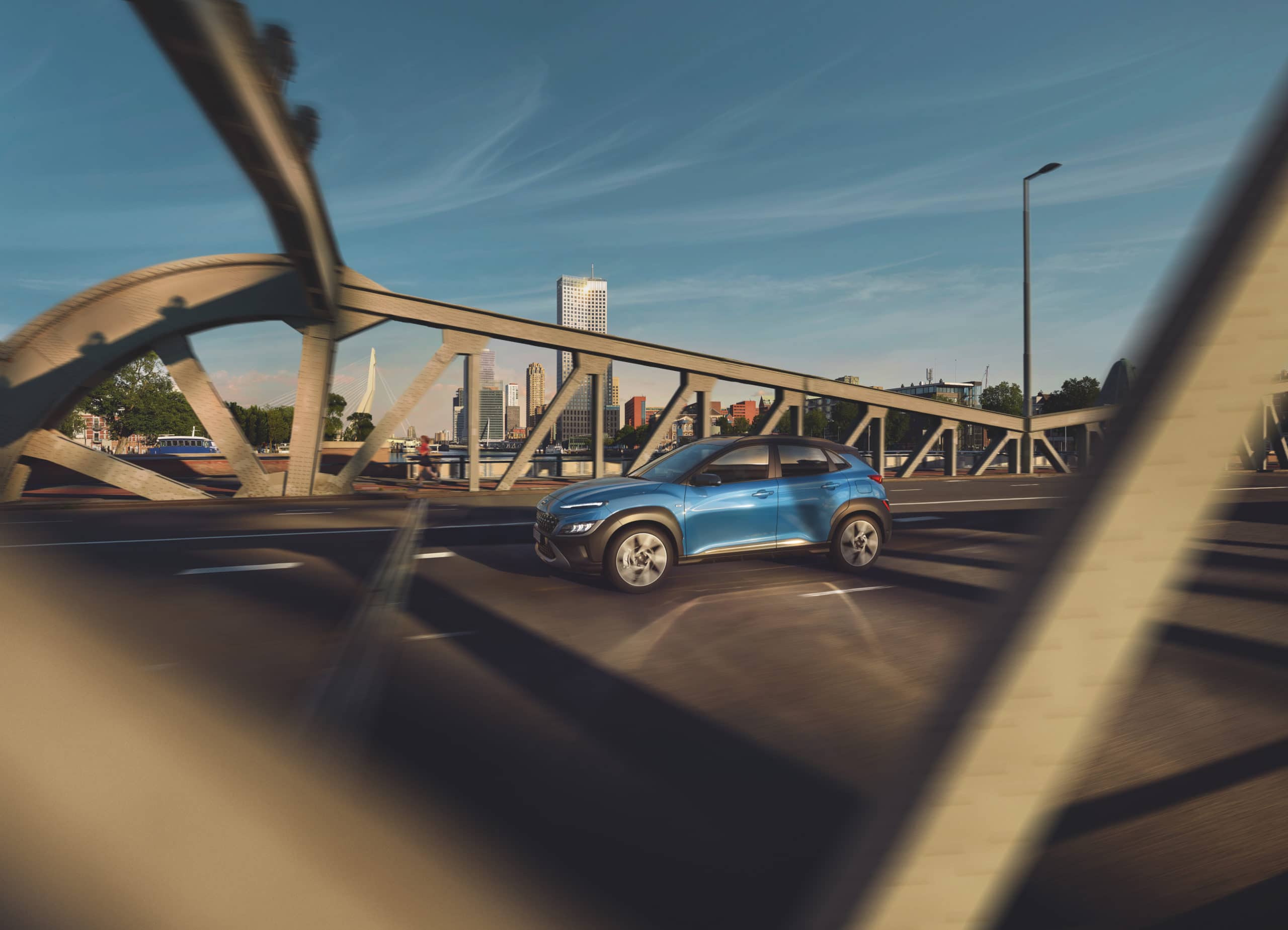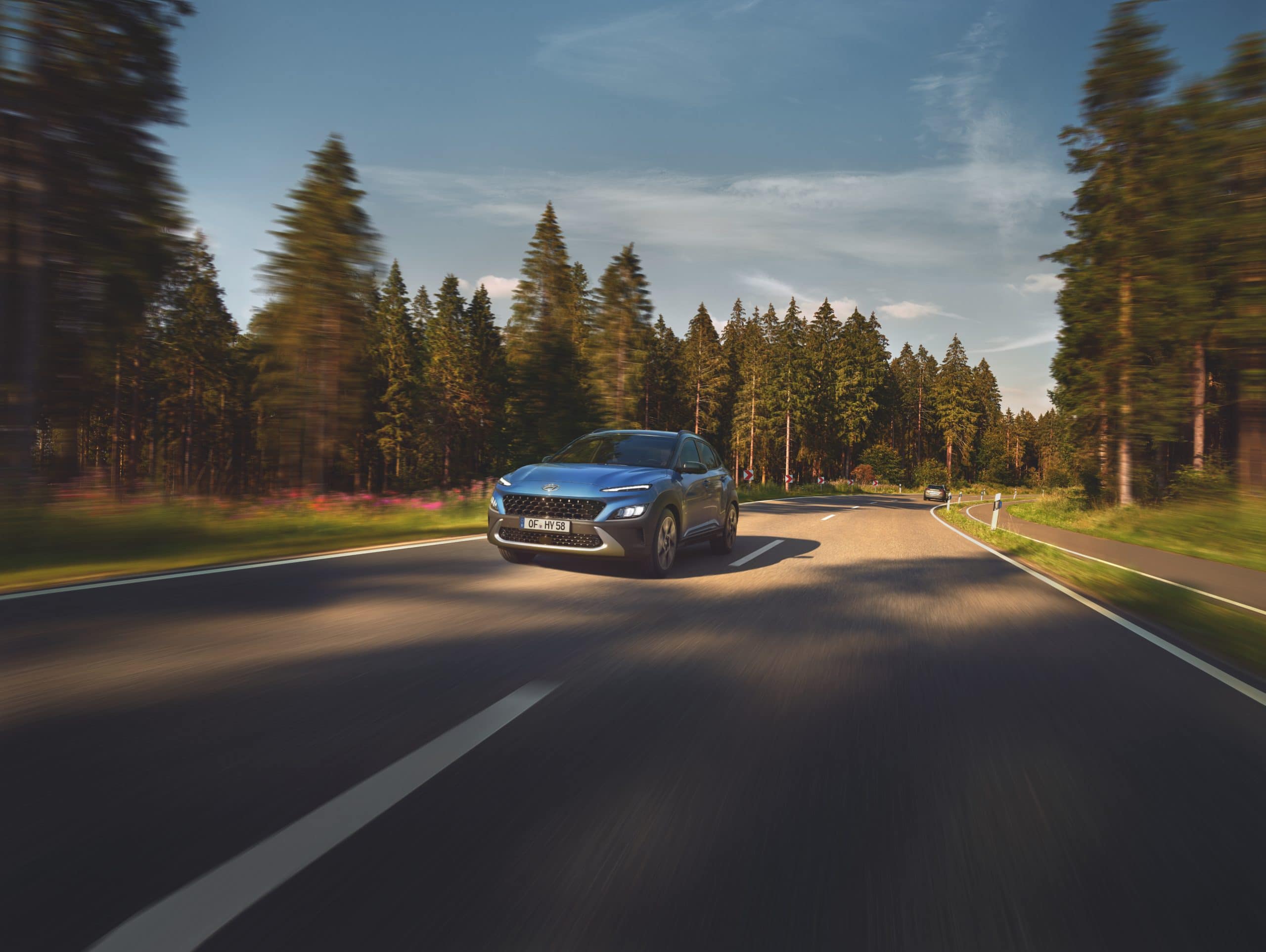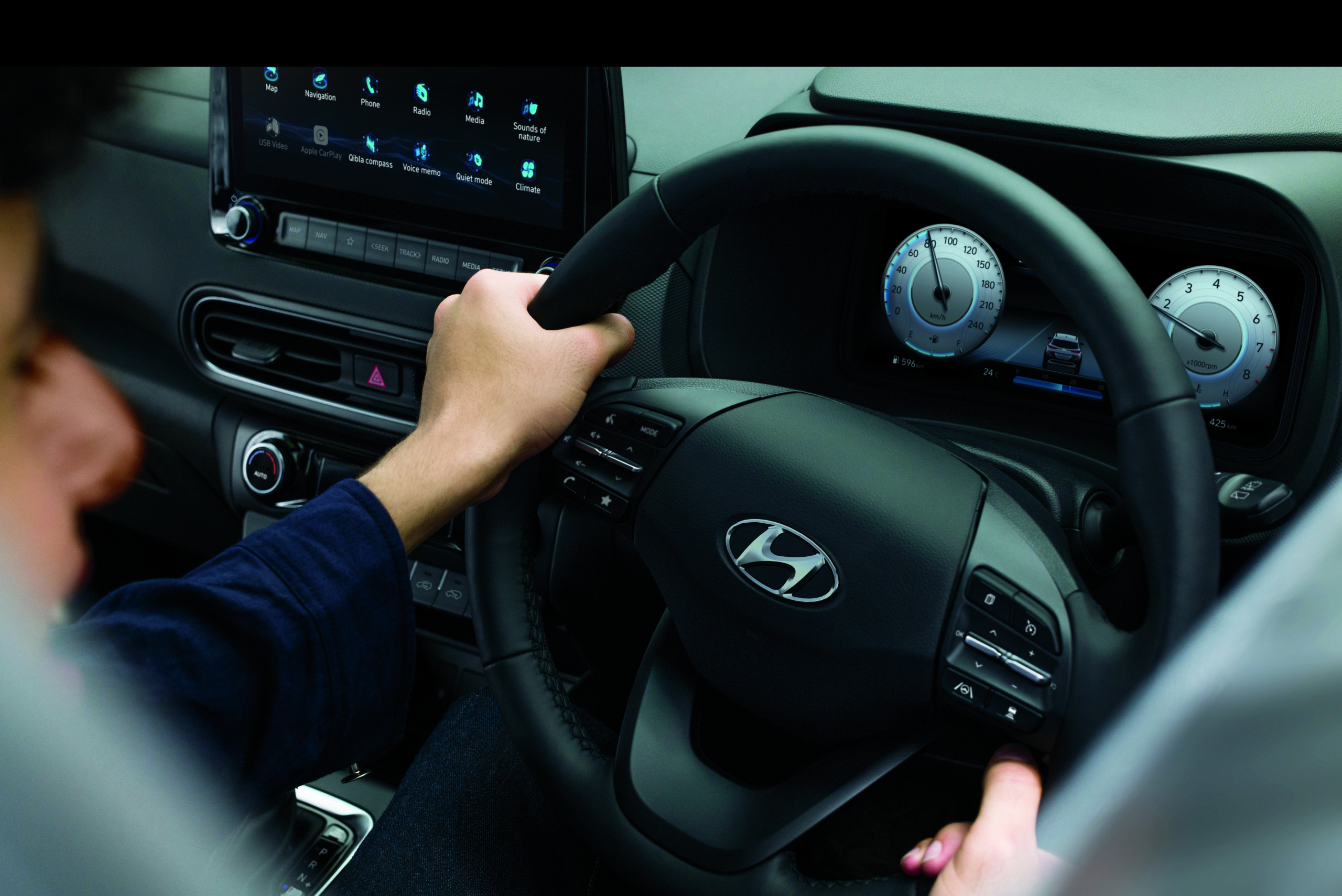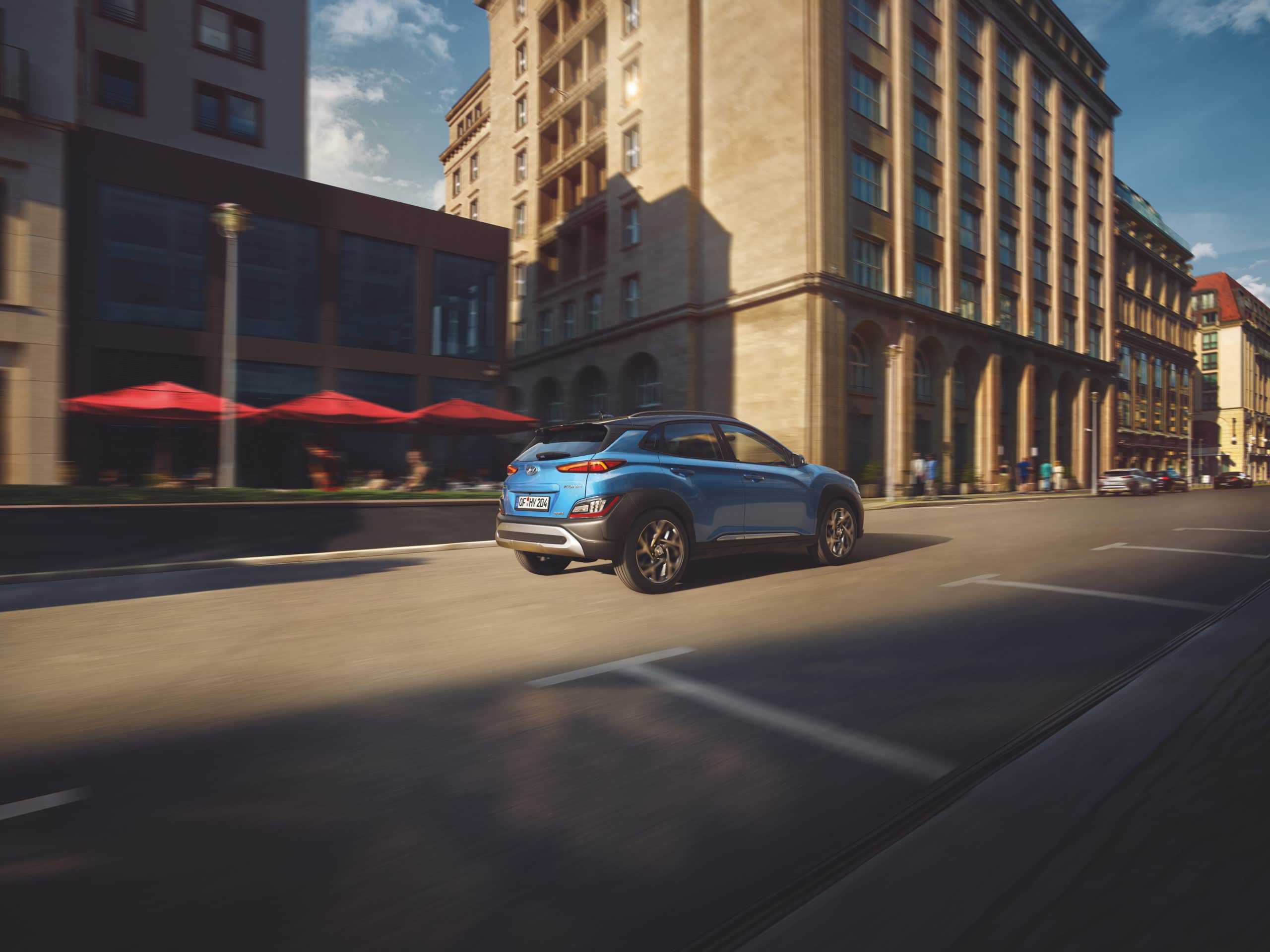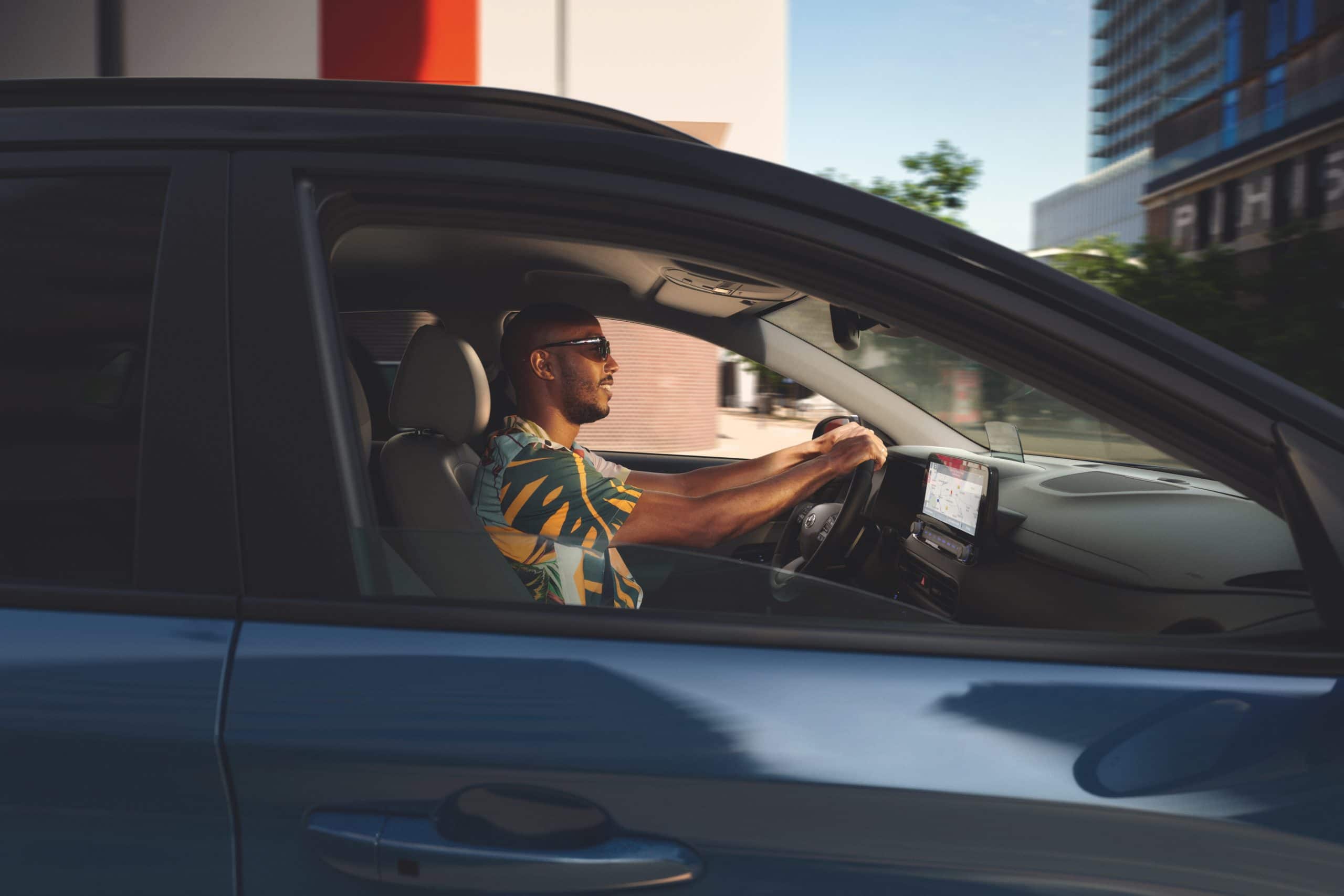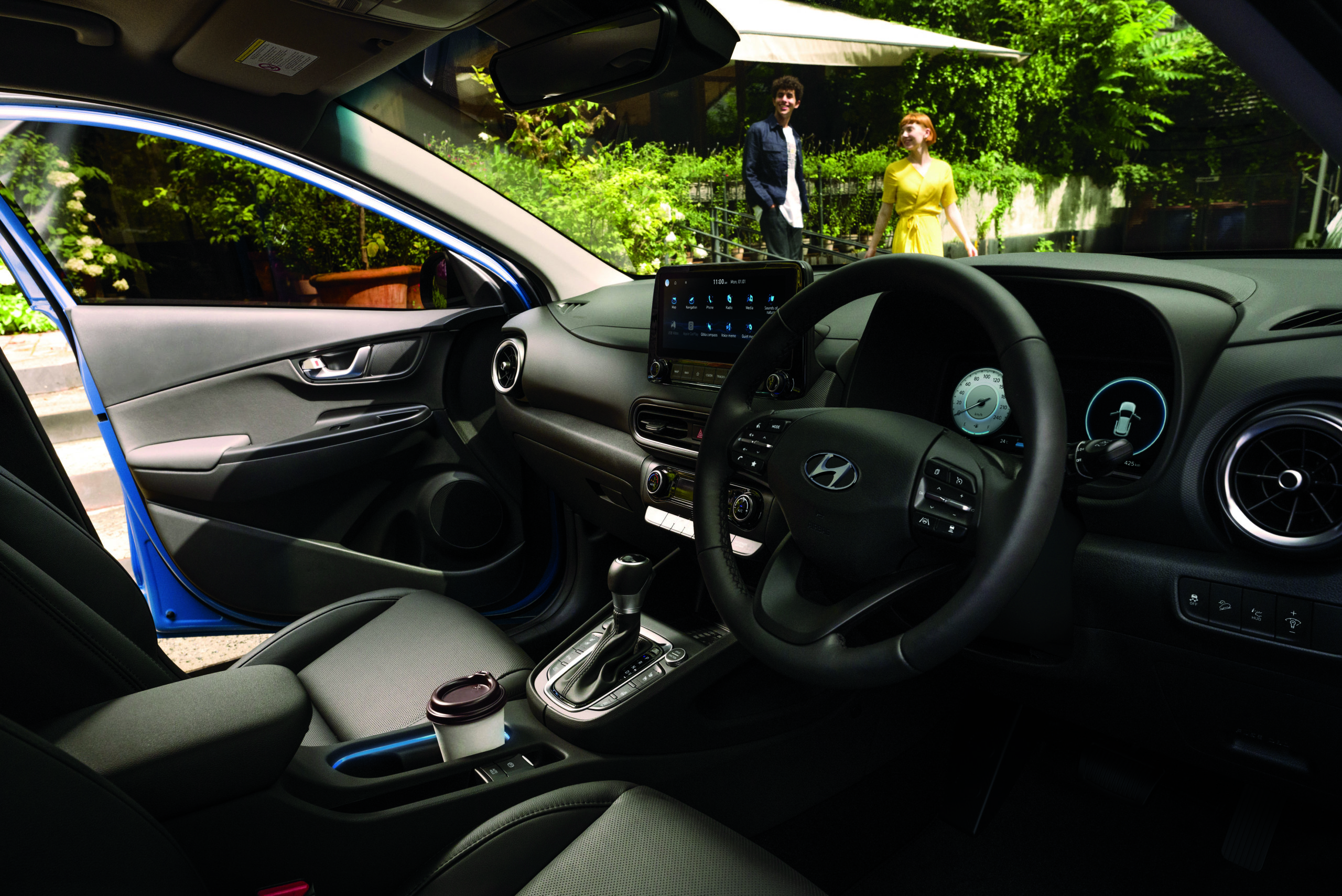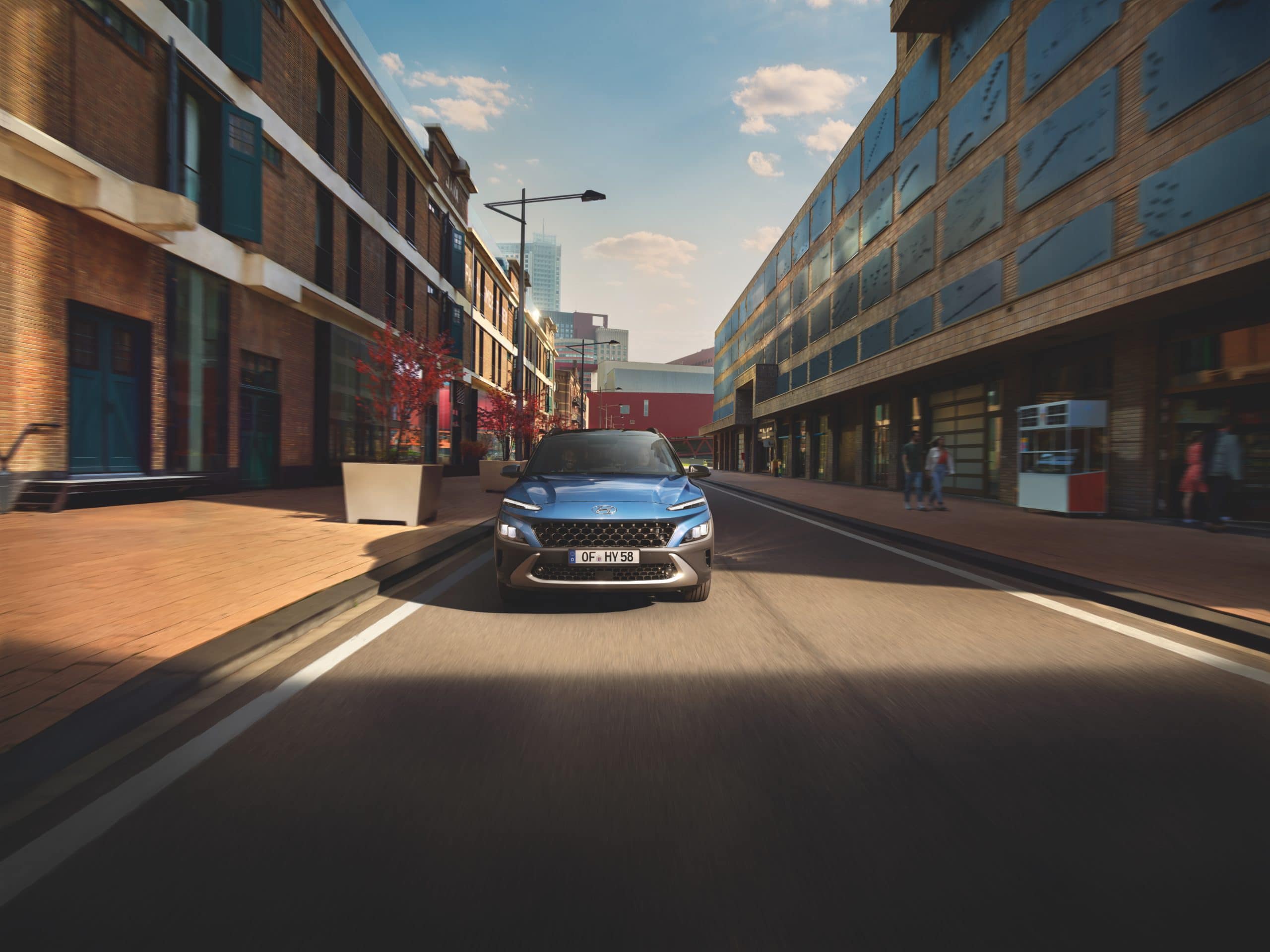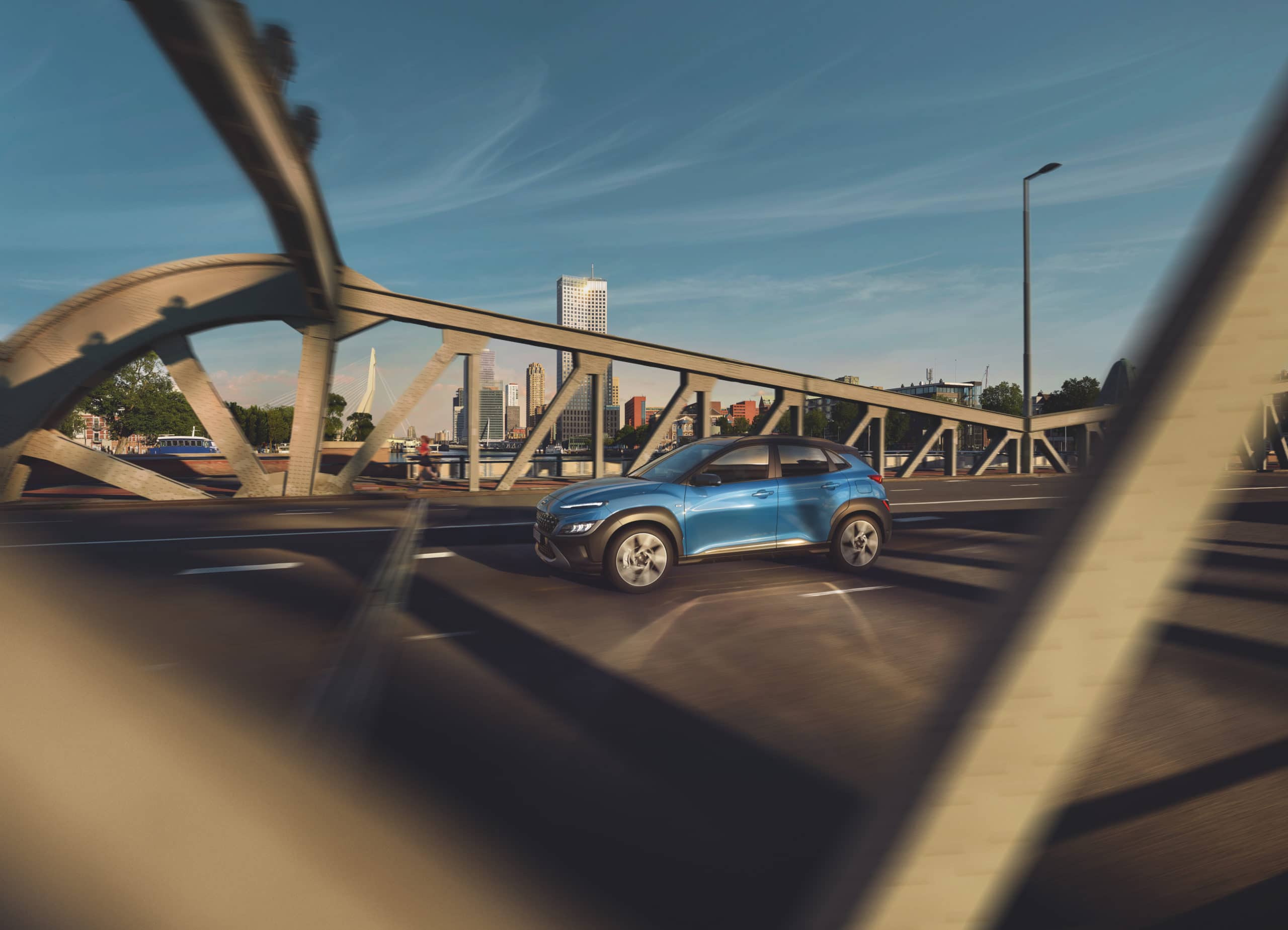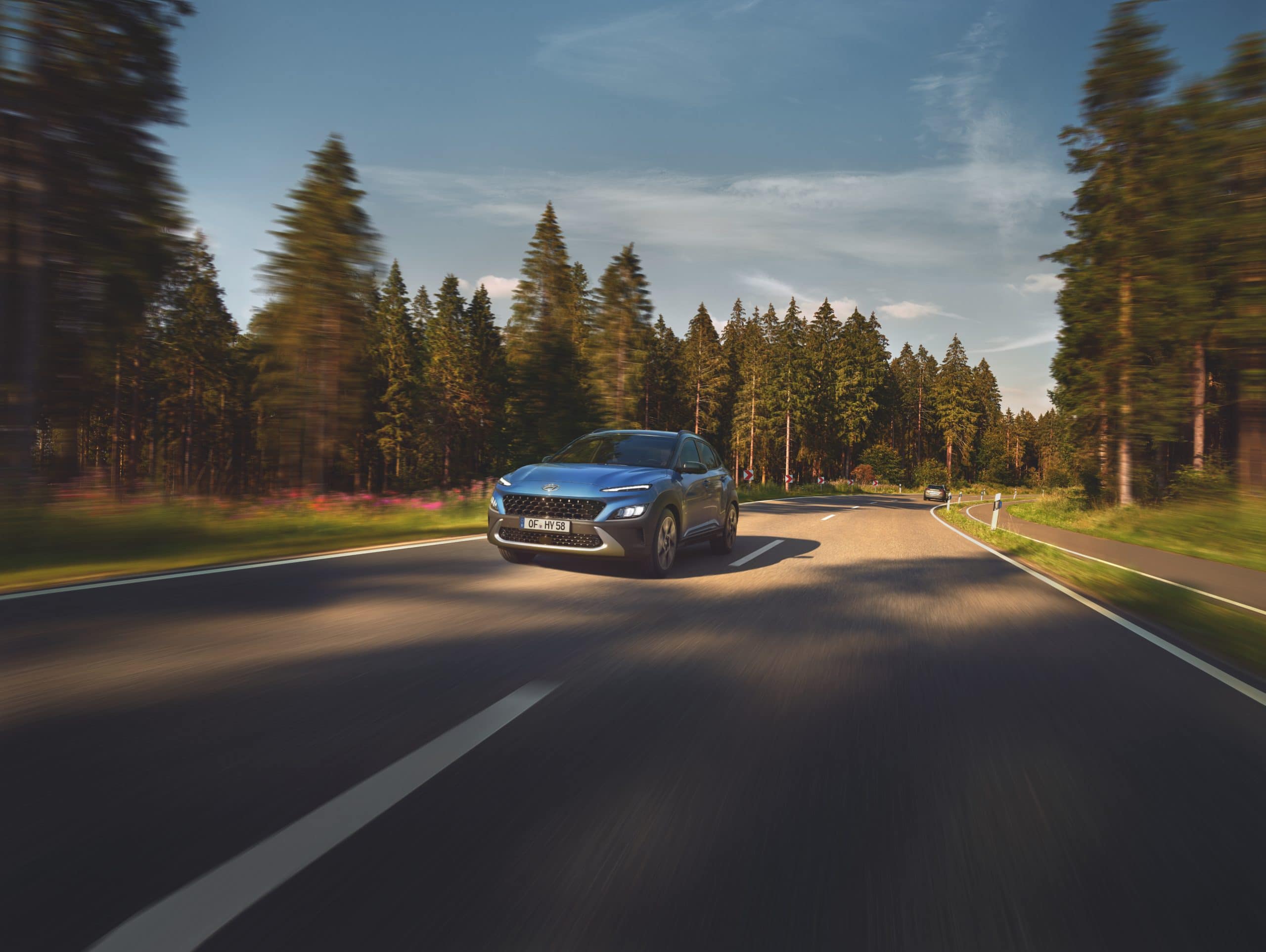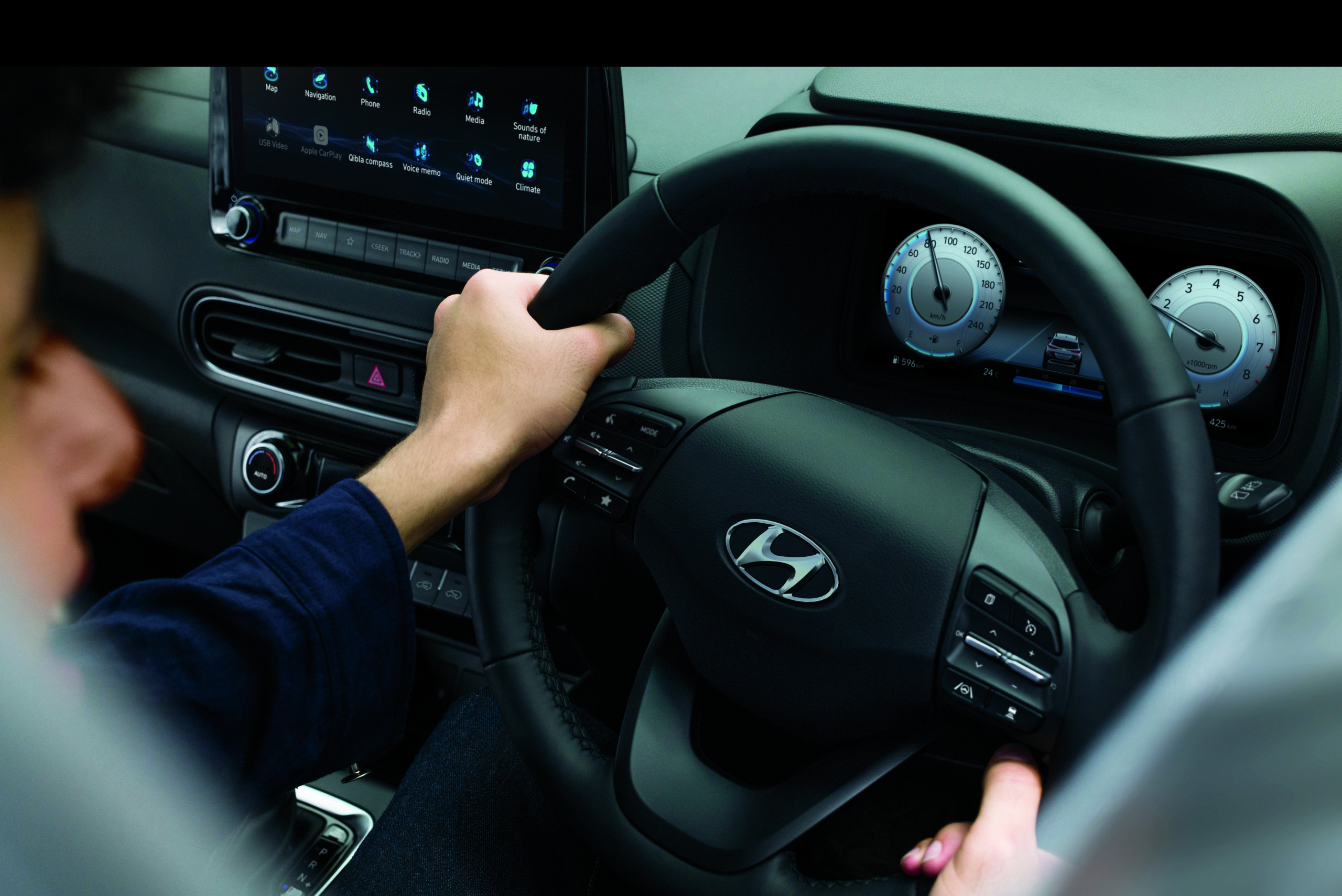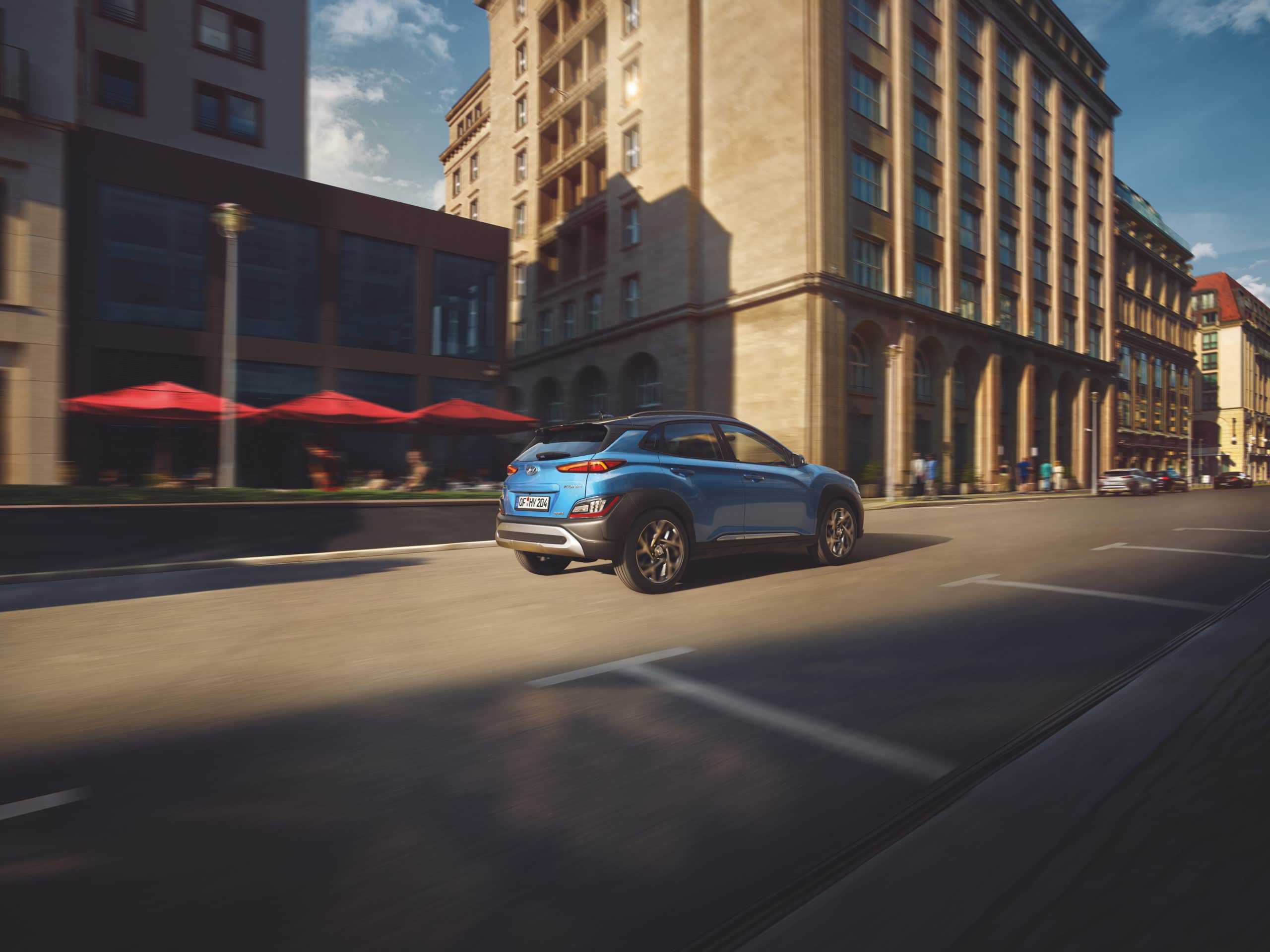 Images shown are for illustration purposes and may not be to Malta market specification.
Exterior
Confident and striking – from the powerful alloy wheel designs to the minimalistic headlights, this car is a hybrid more than just its powertrain, fusing small family hatchback functionality with a vibrant SUV style.
With a wide range of exterior colours – there's something to match your personality.
From the front
The eye-catching new main bumper flows smoothly into the wheel arch claddings, forming a unique wrap-around armoured belt under the bold new grille.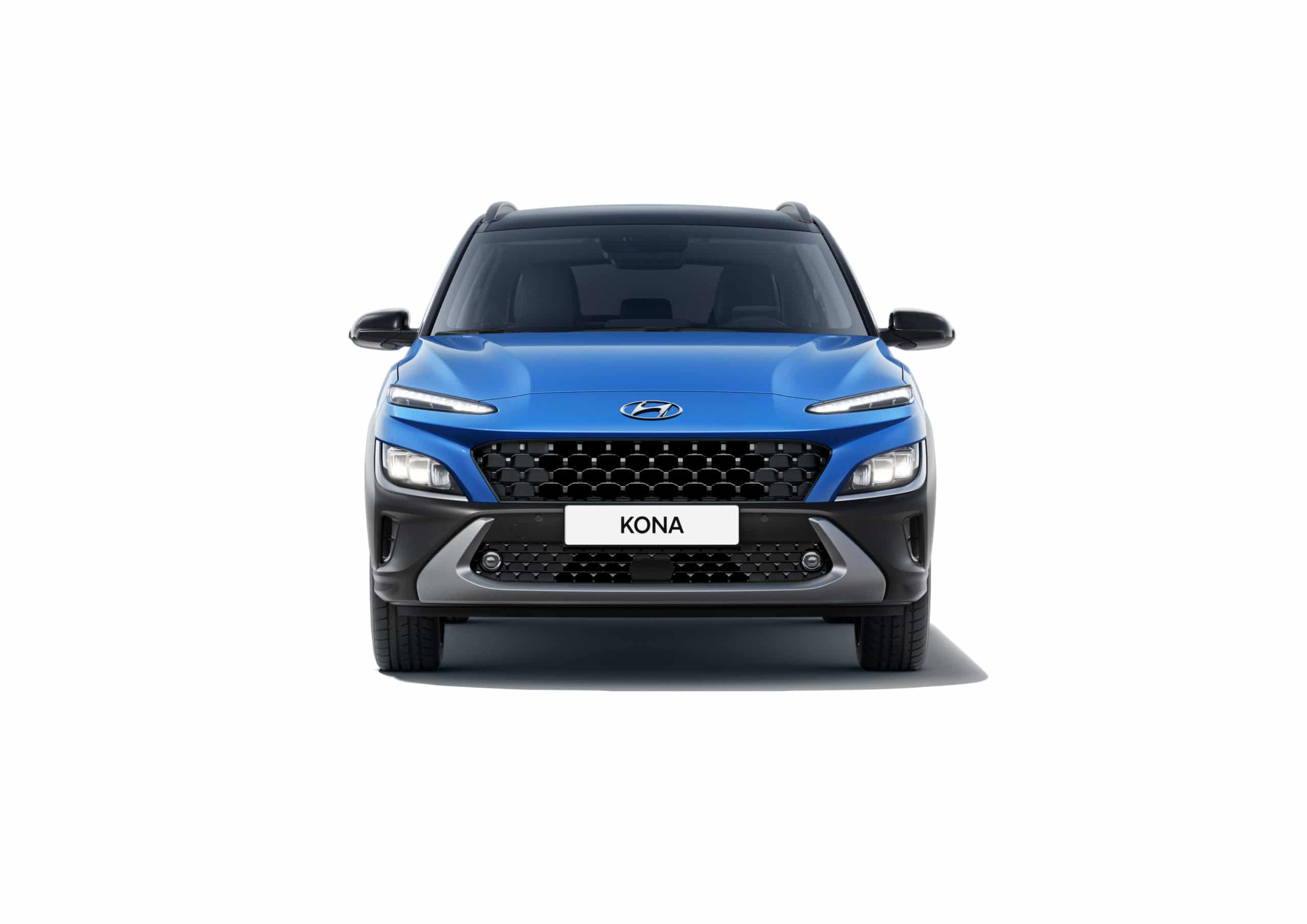 LED Headlamps
Kona's twin headlamp design features sleek, angular forms, with separate LED daytime running lights. These sit on top of the headlight cluster, rather than below, giving the Kona a unique visual identity – by day and by night.
Grille
The Kona adopts Hyundai's new signature cascading grille. It features a distinctive mesh pattern which enhances the car's expressive, dynamic appearance.
From the side
The sporty silhouette is accentuated by the visual connection between the shoulder creases and the sharper, cleaner, more harmonious front end.
Mirrors
Opting for the colour-contrast roof and the door mirror colour to match the roof. Body coloured door mirrors feature integrated indicators as standard.
Wheels
Stylish alloy wheels reinforce the Kona's road presence, with options from 16" alloy wheels up to 18" alloys available on various trim levels.
Accent Lines
On Premium and above, painted anthracite accent lines on the side enhance the stylish edge.
From the back
The new rear bumper follows the protective armour concept of the front and sides – and is highlighted by the robust new metallic-coloured skid plate.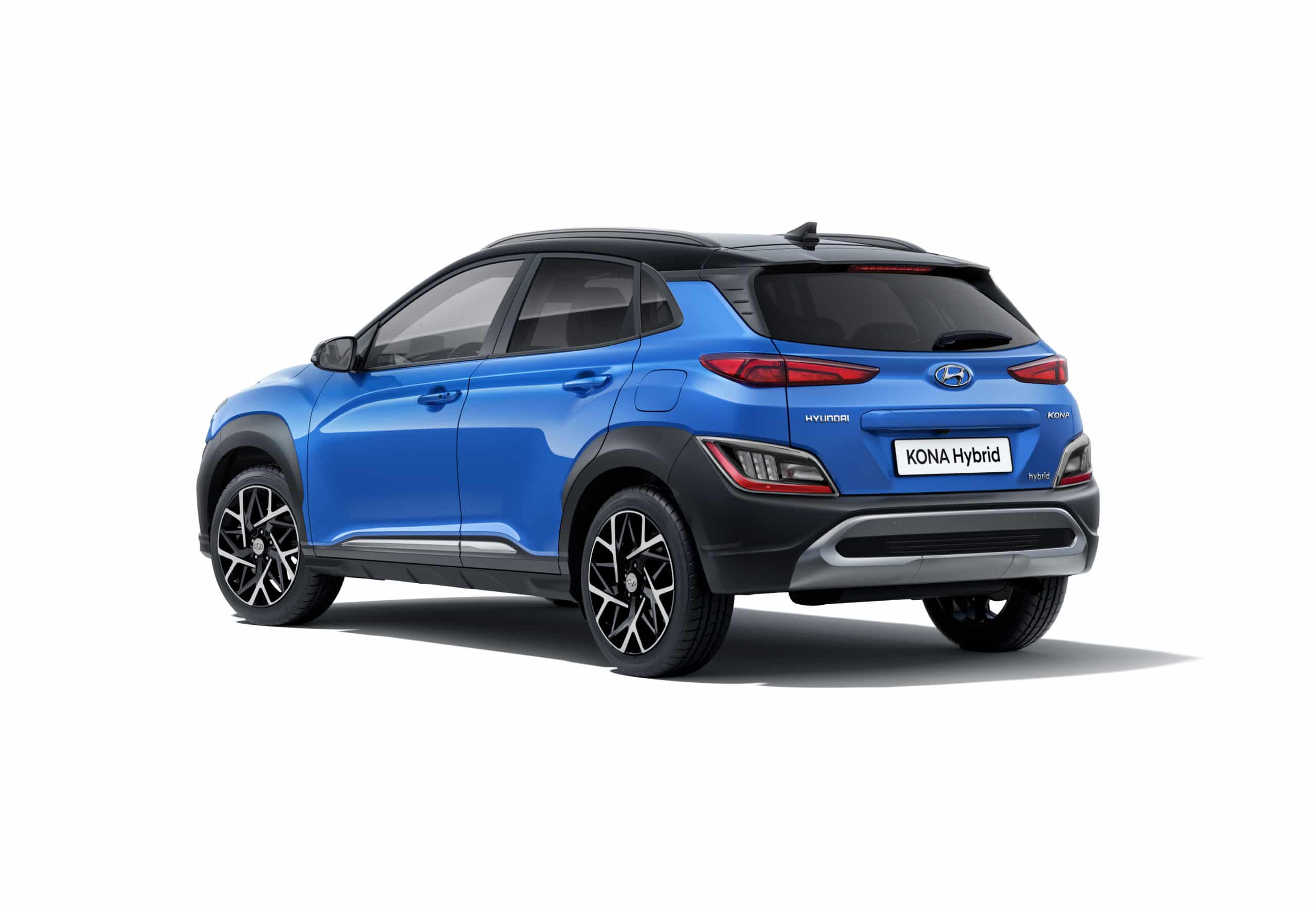 Rear Spoiler
The sleek rear spoiler also houses an integrated LED brake light.
LED Rear Lights
The Kona's twin rear-lamp design features incredibly slim brake lights which sit high on the body. These use efficient LED technology on higher trim variants.
Life in Motion
Versatile, comfortable and connected, the new Kona's interior is designed to express a more modern and refined look than its predecessor. Rugged, yet refined – perfect for an active lifestyle – the new design updates match the exterior flair every step of the way. And when it comes to smart tech, you can pick and choose from the very latest in cutting-edge connectivity and comfort features.
Ample Space
Kona fits around the ebb and flow of your life with a spacious 374 litre load area which expands to the 1,156 litres when the rear 60:40 split seats are folded down. it's been designed to be incredibly easy to load.
Cutting-edge connectivity meets refined comfort
Versatile, comfortable and connected, the new Kona's interior is designed to express a more modern and refined look than its predecessor. Rugged, yet refined – perfect for an active lifestyle – the new design updates match the exterior flair every step of the way. And when it comes to smart tech, you can pick and choose from the very latest in cutting-edge connectivity and comfort features
Ambient lighting cup holders
The new ambient light technology illuminates the redesigned center console, enhancing the elegance of the interior.
Heated seats
Warm in winter and cool in summer. The driver and front passenger seats are available with heating and ventilation.
ventilated seats
Ventilated Seats direct air through the seat unto the occupant for increased comfort especially on long journeys.
Paddle shifters
Paddle shifters behind the steering wheel ensure a smooth transition between gears while driving.
Full Auto Air Conditioning
It automatically maintains the desired cabin temperature for better comfort.
Front and rear USB
Stay charged up. The new Kona is available with front and rear USB ports to ensure that everyone on board can conveniently charge their devices when on the road.
Connect, listen and drive
Founded in 1980, Krell Industries is one of America's largest manufacturers of high-end audio equipment. Premium and Ultimate trim feature a Krell 8 speaker system, external amplifier and sub-woofer.
Connectivity is standard on the Kona Hybrid. Two Bluetooth® devices can be connected at once to stream music, plus Apple CarPlay™ and Android Auto™ are standard across the range.
Head-up display (HUD)
Hyundai's head-up display (HUD) projects key driving information into the driver's line of sight, letting them focus on the road.
The 10.25" Touch Screen
The 10.25" touch screen provides easy access to car features, infotainment, navigation, and your favourite apps and music via smartphone mirroring.
Wireless Phone Charging
Located in the center console, a wireless charging pad (Qi standard) lets you easily charge a compatible Qi-enabled smartphone without the use of cables.
Digital Information Cluster
Traditional dials and speedometers have been replaced with a smart 10.25" digital information cluster, making sure that crucial driving information is always visible and legible.
Bluelink® Connected Car Services
Bluelink® Connected Car Services bring seamless connectivity directly into the new Kona with online voice recognition and a wide range of features to make your drive more convenient and enjoyable. On top of the many clever features you can control with the Bluelink app and a free five-year subscription to Hyundai's LIVE Services is also included with the navigation system.
Hybrid performance
The new Kona Hybrid is equipped with both a petrol engine and an electric motor. They work together with the support of a powerful battery to deliver excellent fuel economy and cut down on emissions – switching seamlessly between the conventional engine and electric motor, sometimes using both. And as part of the regenerative braking system, the electric motor also helps slow the car while charging the battery.
Electric Motor
High torque and high efficiency are the principal attributes of the 42PS electric motor. It delivers impressive acceleration when starting, and can add extra power at higher road speeds.
Petrol Engine
A specially calibrated 1.6-litre GDI direct injection petrol engine delivers 105 PS with class-leading energy efficiency.
6-speed Automatic Transmission
The innovative Automatic Transmission delivers a smooth ride for a truly enjoyable driving experience and faster responsiveness
Lithium-ion polymer battery
The 1.56 kWh high-power battery has superior charge/discharge characteristics, maximising both electric driving and energy regeneration.
Confidence in performance
A chassis which is light and strong, suspension that delivers a more dynamic drive and engines that are efficient and fun to drive.
Start/Low speed
When starting or driving at low speed, the electricity stored in the battery powers the electric motor to accelerate the KONA Hybrid.
Acceleration/Uphill
During heavy acceleration or driving uphill, the electric motor and petrol engine work in pararell to maximise acceleration and minimise fuel consumption.
Constant speed
At constant speeds, power is provided by either the petrol engine or the electric motor, whichever is the most energy-efficient in that situation.
Deceleration/Downhill
The regenerative braking system charges the battery by using the electric motor to slow the car. When decelerating or driving downhill, the energy generated is stored in the battery.
Regenerative braking
When decelerating (e.g. through braking or when driving downhill) the electric motor operates as a generator and regenerates kinetic energy into electric energy, which is then stored in the battery.
Cutting-edge safety and Advanced Driver Assistance Systems
Because nothing's more important than the safety of your loved ones, we gave the new Kona Hybrid a safety upgrade. With Hyundai SmartSense, our cutting-edge Advanced Driver Assistance Systems, the new Kona Hybrid has been updated with the very latest safety and driving assist features for added peace of mind.
Smart Cruise Control - Stop & Go
You set the speed and SCC maintains it while keeping you a safe distance away from the vehicle ahead without requiring application of the accelerator or brake pedal.
Forward Collision-Avoidance Assist (FCA)
If there's danger of a collision with a car or a pedestrian, FCA's front camera gives you an early warning and, if necessary, FCA automatically applies the brakes to prevent the collision.
Lane Keeping Assist (LKA) / Lane Following Assist (LFA)
LKA/LFA keep you safely centered within the lane using its front view camera to monitor lane markers. On detecting an unintentional lane departure, a warning is triggered and, if necessary, LKA will automatically provide corrective steering input to keep you within the lane.
Blind-Spot Collision-Avoidance Assist (BCA)
BCA uses radar to monitor both of your blind spots. If a vehicle is detected in the blind spot while the turn signal is flashing, BCA will automatically apply left or right side front braking before your attempted lane change thus helping you avert an unsafe lane change and a potential collision.
Safe Exit Assist (SEA)
SEA blocks attempts to disengage the child safety lock and prevents the rear door from opening when it is unsafe to do so.
Parking Distance Warning (PDW)
Proximity sensors in the front and rear bumpers warn you if you're too close so you can avoid scratches and park safer.
ECall
eCall alerts rescue services and provides them with the car's location in the event of a serious accident. The system can also be deployed manually if required.
Driver Attention Alert (DAA)
This standard feature has raised safety and convenience to a new level by continuously observing and analysing driving patterns. When a pattern of fatigue or distraction is identified, the DAA system gets the driver's attention with an audible pop-up message suggesting a break.
Intelligent Speed Limit Warning (ISLW)
Recognises road speed signs and displays the speed limit in real time in both the navigation system display and instrument cluster.
| | |
| --- | --- |
| Feature | 1.6 GDI AT |
| Overall length (mm) | 4,205 |
| Overall width (mm) (Excluding Door Mirrors) | 1,800 |
| Overall width (mm) (Including Door Mirrors) | 2,070 |
| Overall height (mm) | 1,575 |
| Wheelbase (mm) | 2,600 |