A future you don't have to wait for
It's here. Now. Sleeker and more sophisticated, the new KONA Electric features an updated design, the very latest smart tech – and up to 484 km range on a single charge. And thanks to shortened delivery times in Europe – going electric in style has never been easier.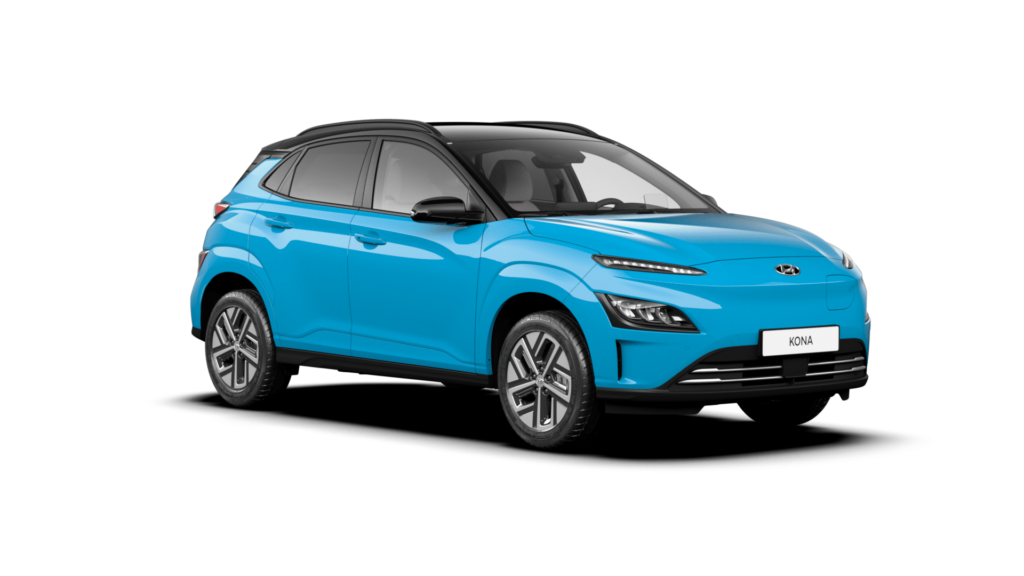 Hyundai Kona Electric
Key Features
Climate Control Air-Conditioning
Motor-Driven Power Steering
Hyundai Smart Sense
10.25" LCD Touchscreen w/Apple Car Play and Andriod Auto
10.25" LCD Driver Cluster
Wireless Smartphone Charging System
Reversing Sensors and Rear View Camera
17" Alloy Wheels
€27 500 (Including Government Grant)
5 year UNLIMITED mileage warranty
8 year Battery warranty
Check out the world of Kona
Energetic, Smart and Efficient
The Kona Hybrid small SUV exceeds expectations. Stylish and practical with cutting edge technology. It delivers all the benefits of conventional driving but with the economic advantage of an electric powertrain.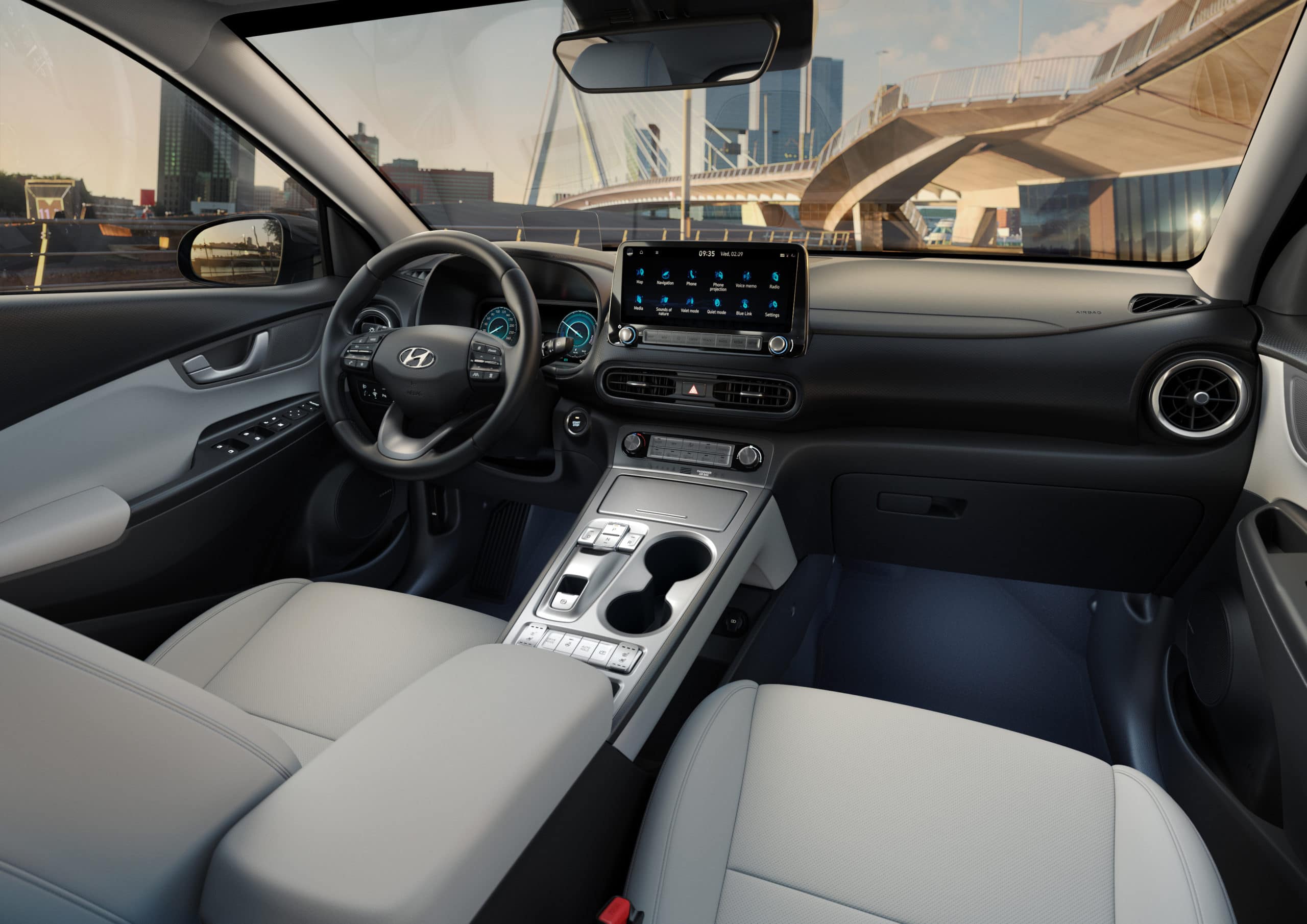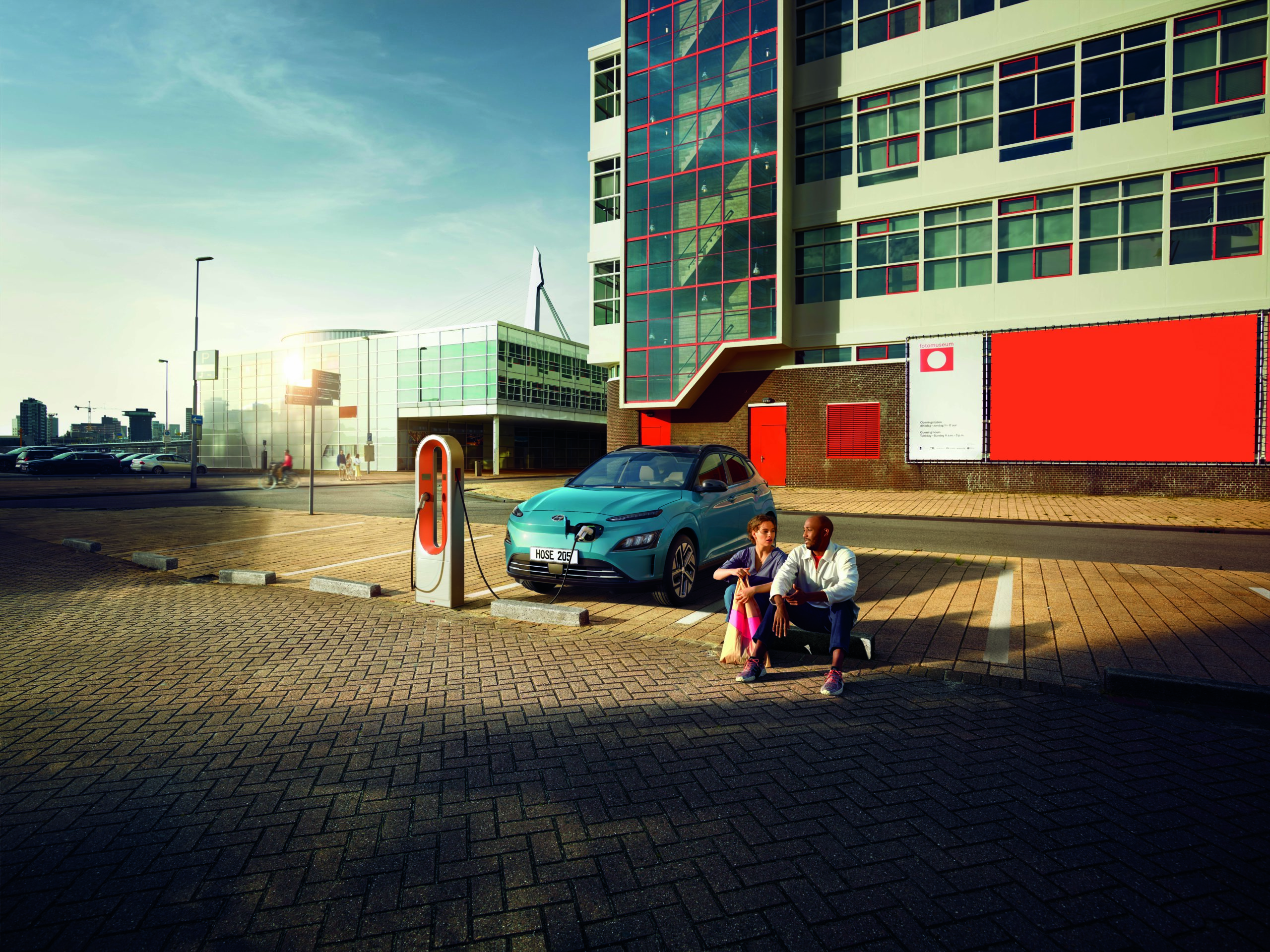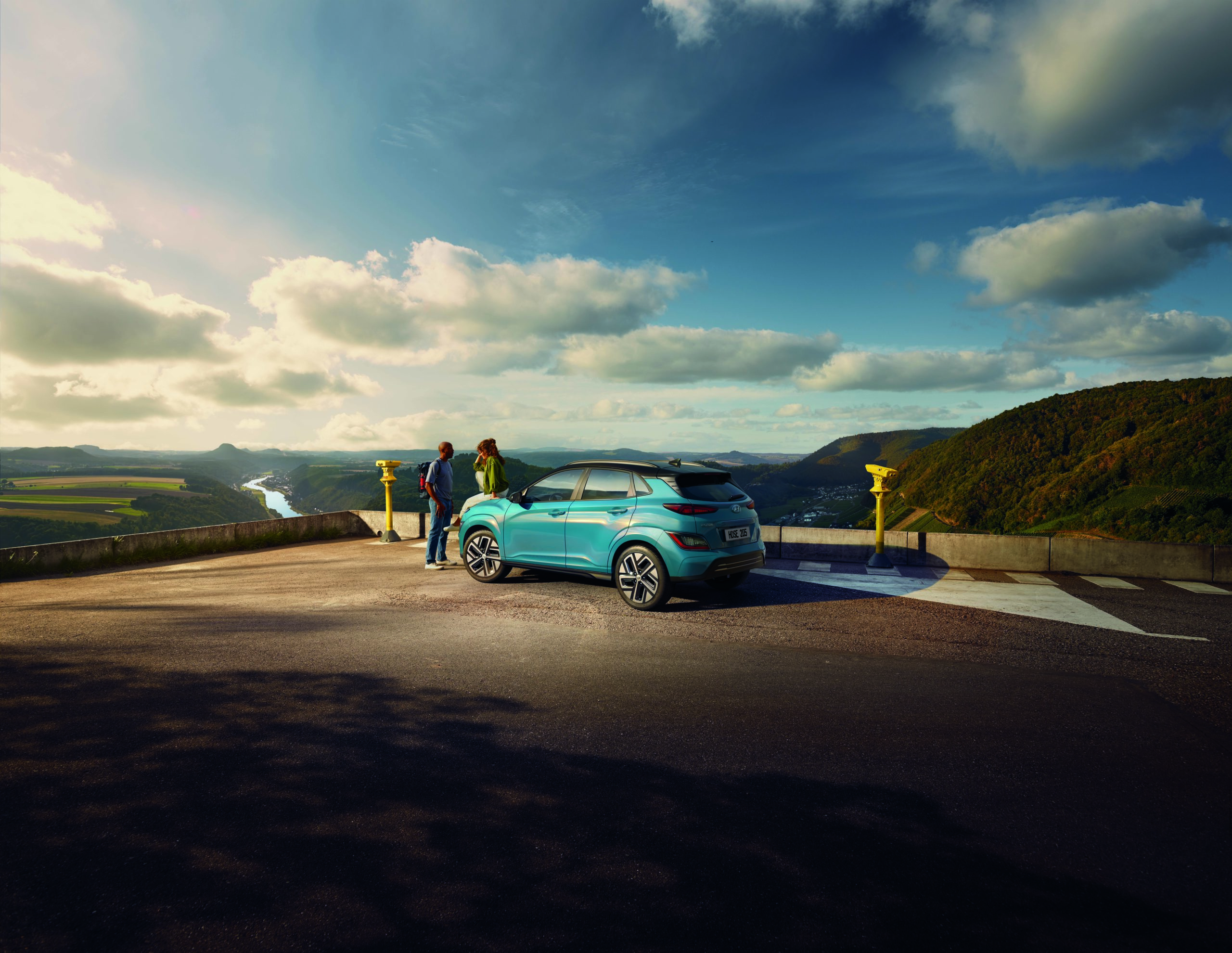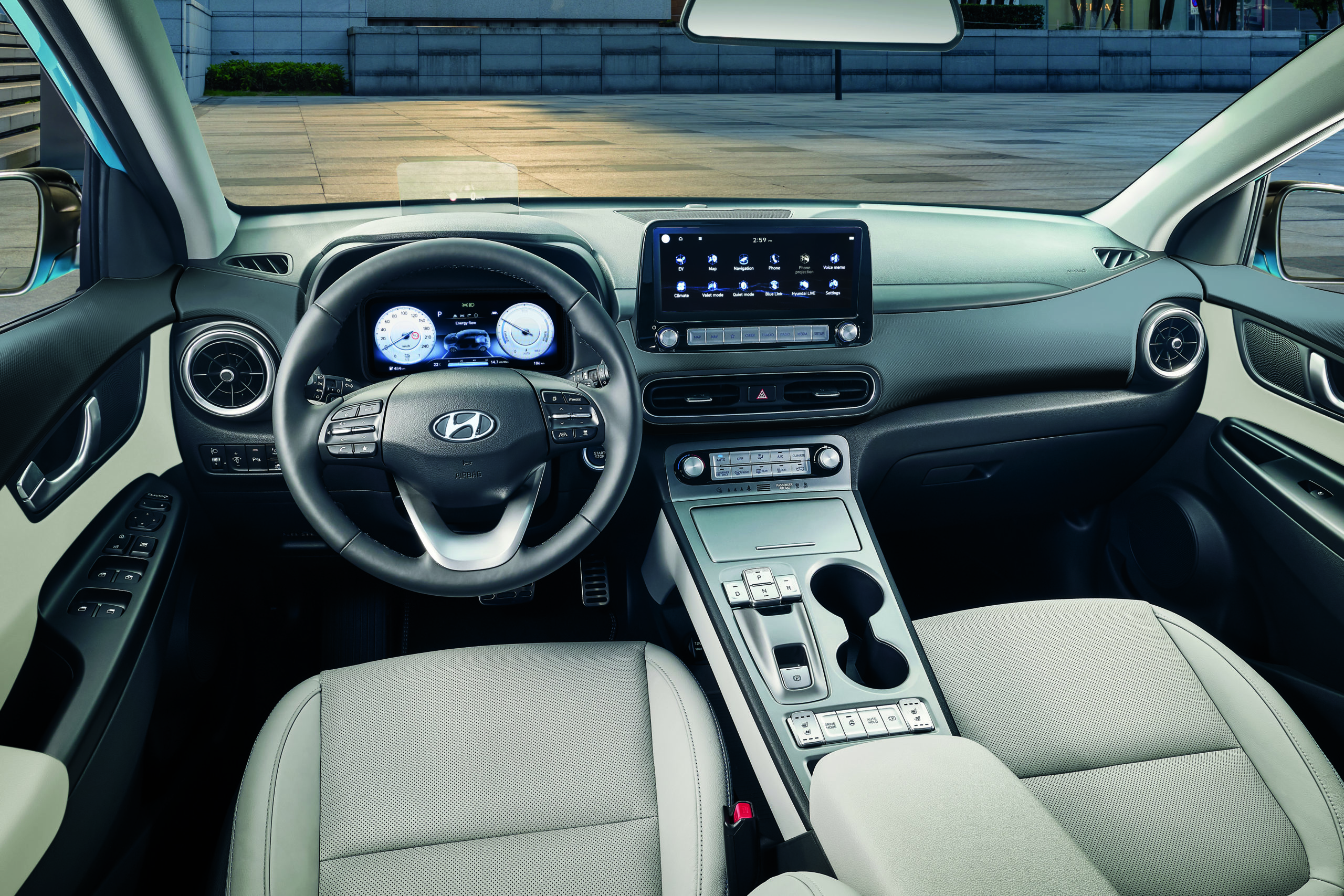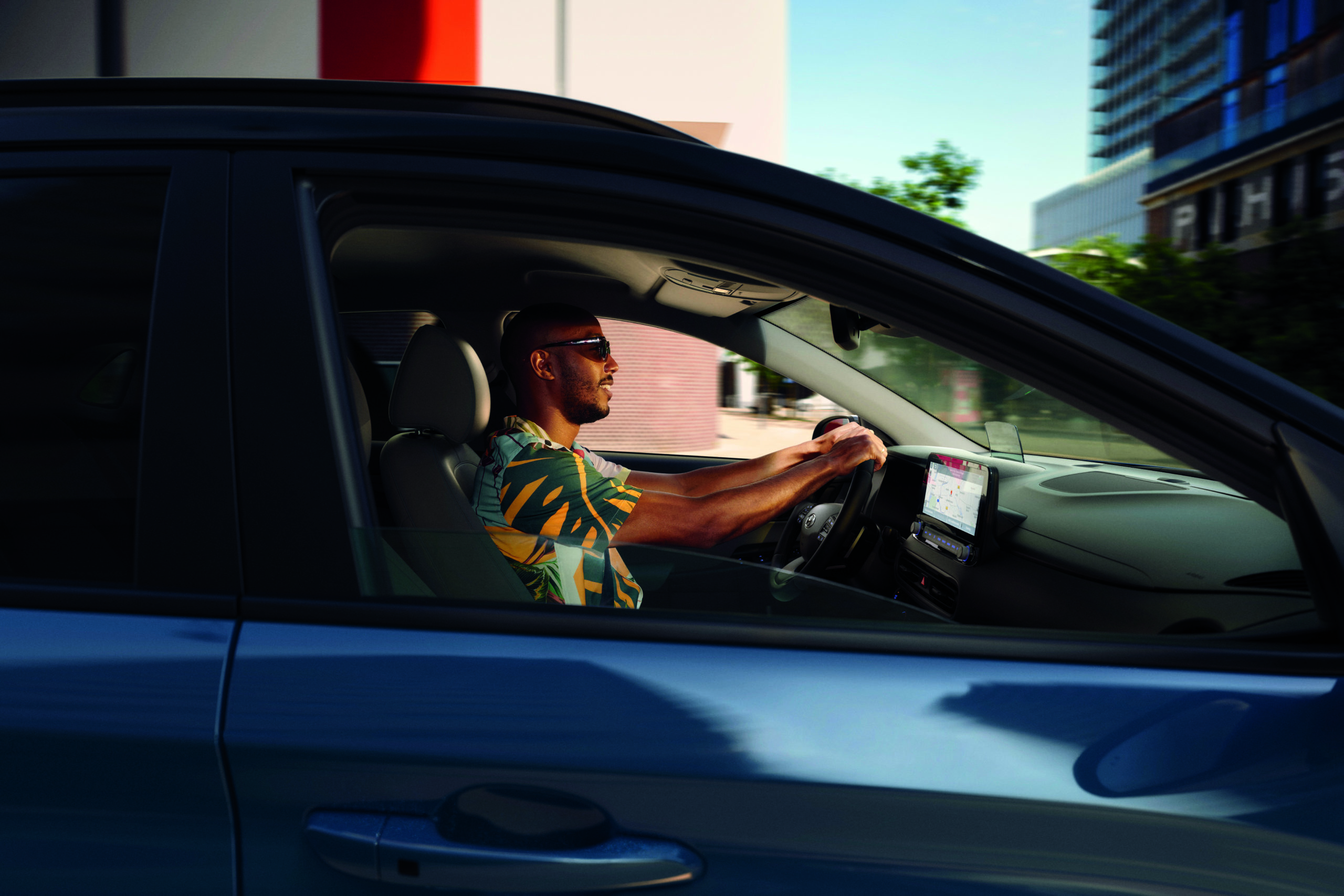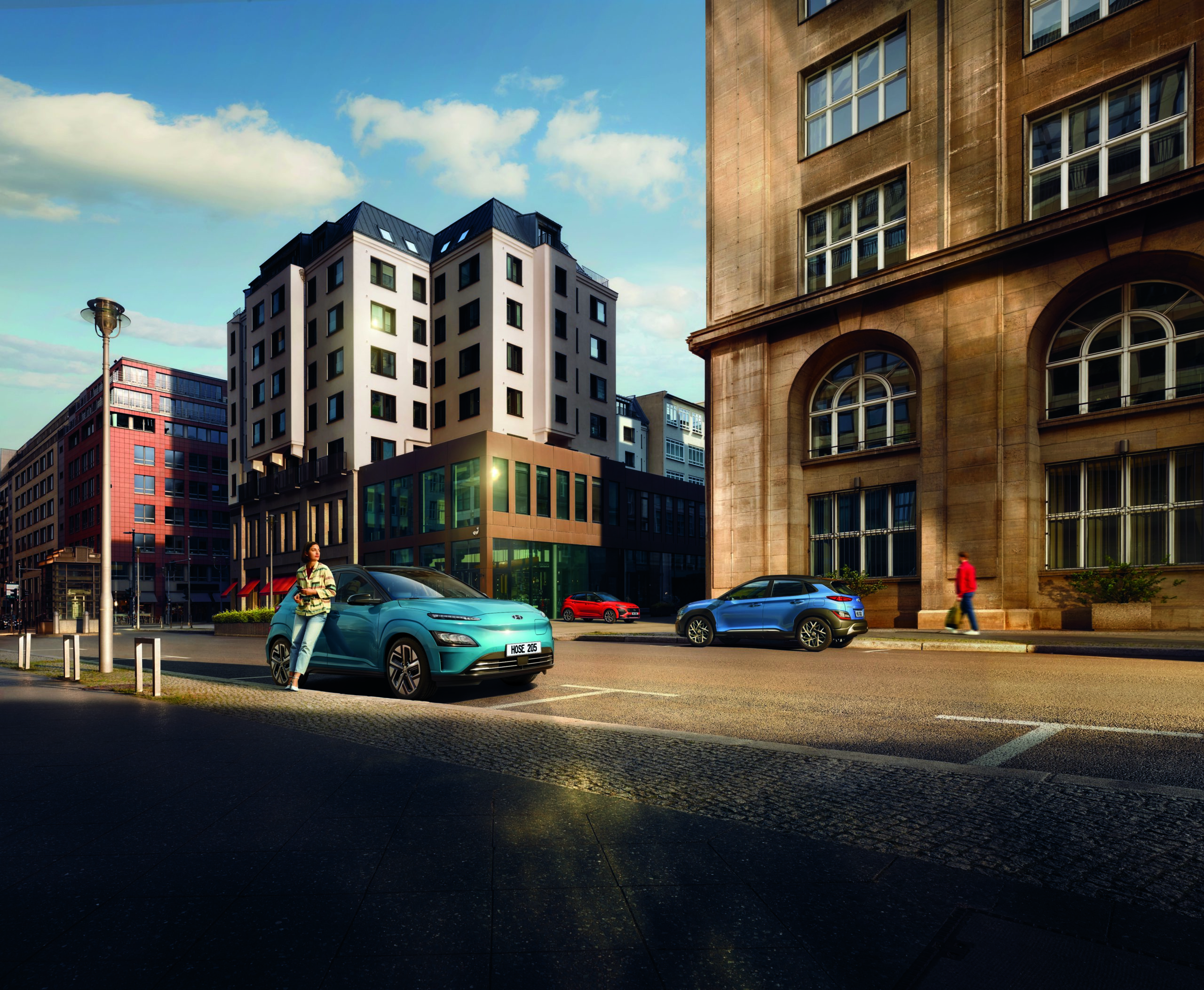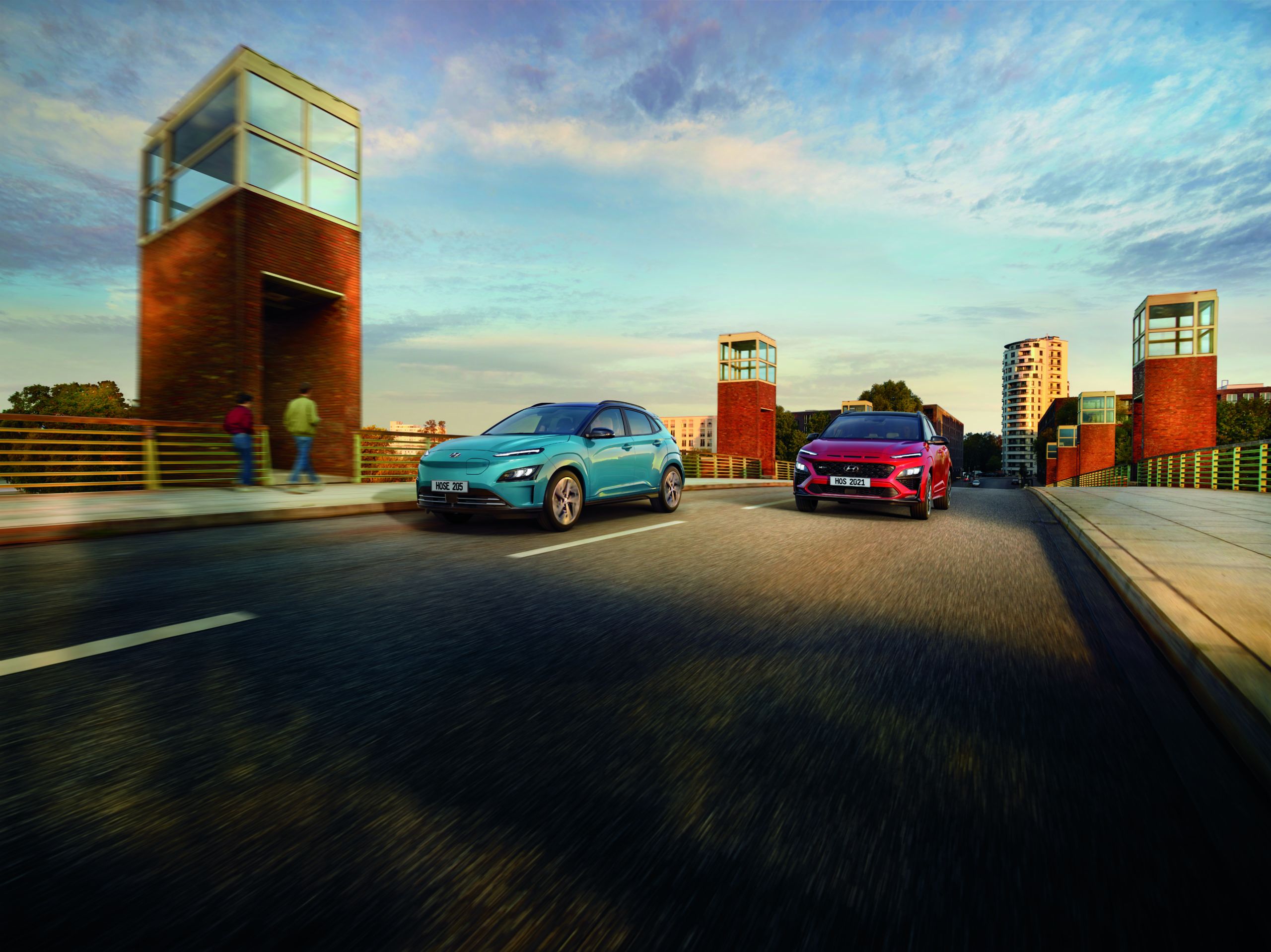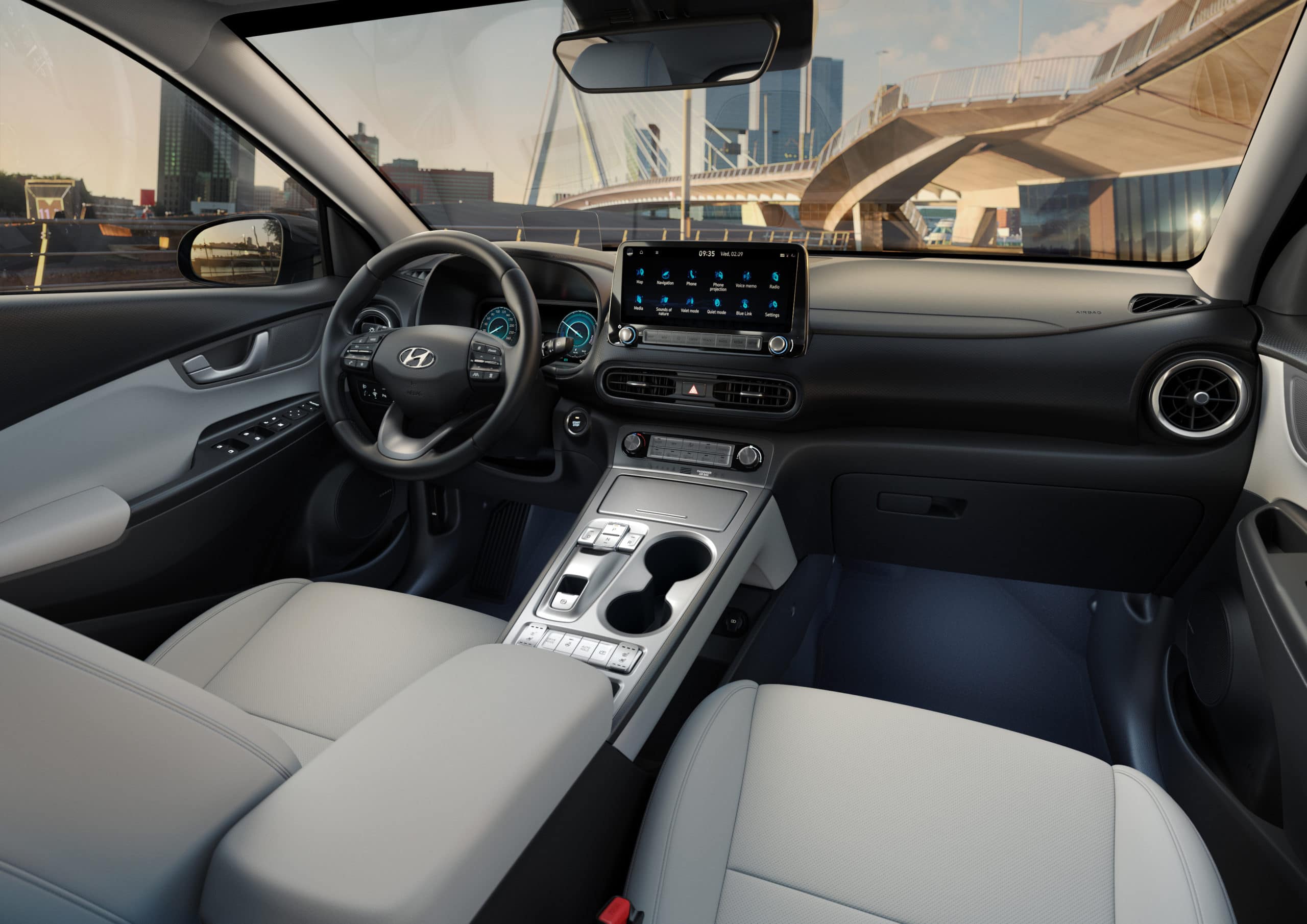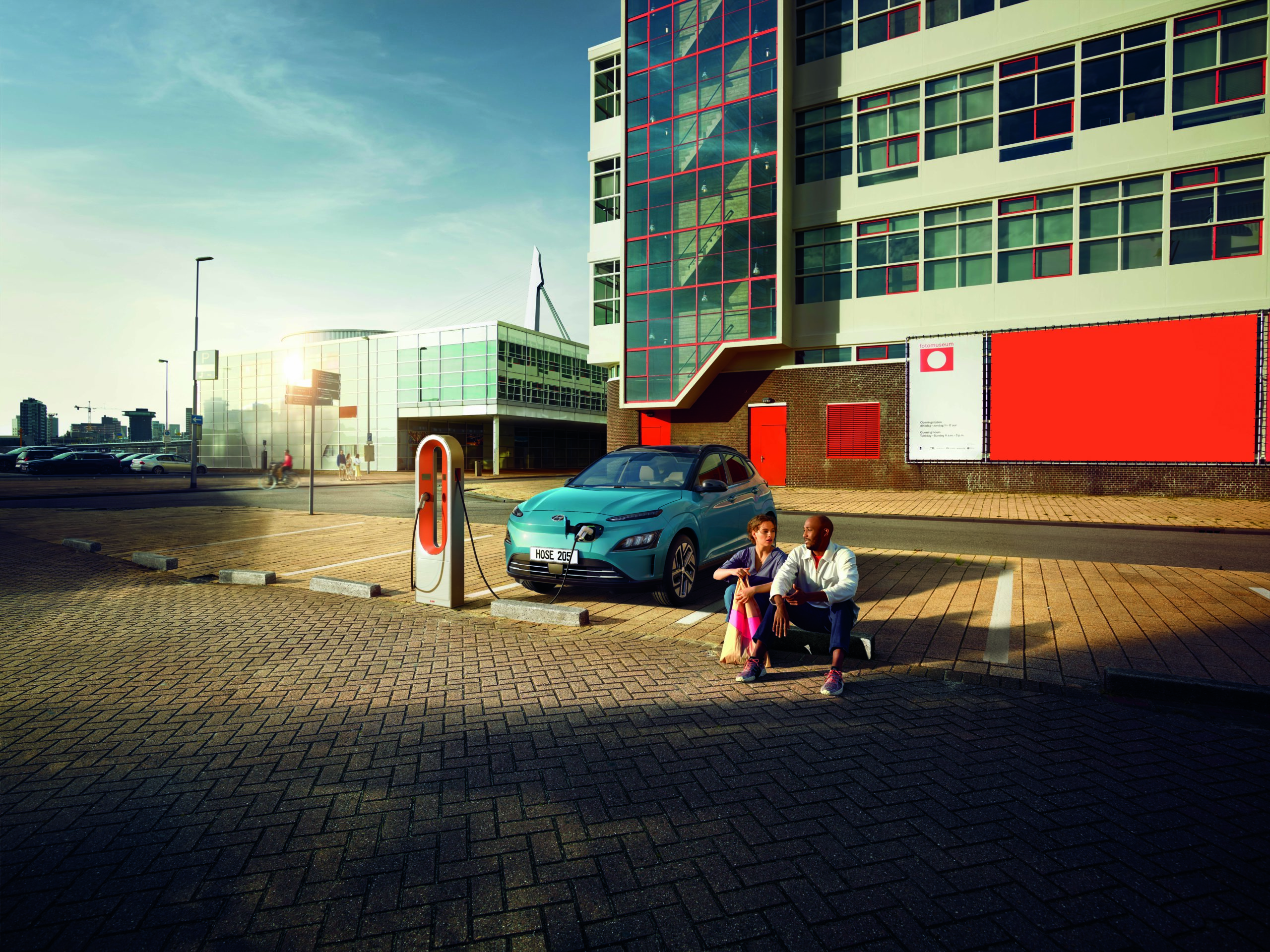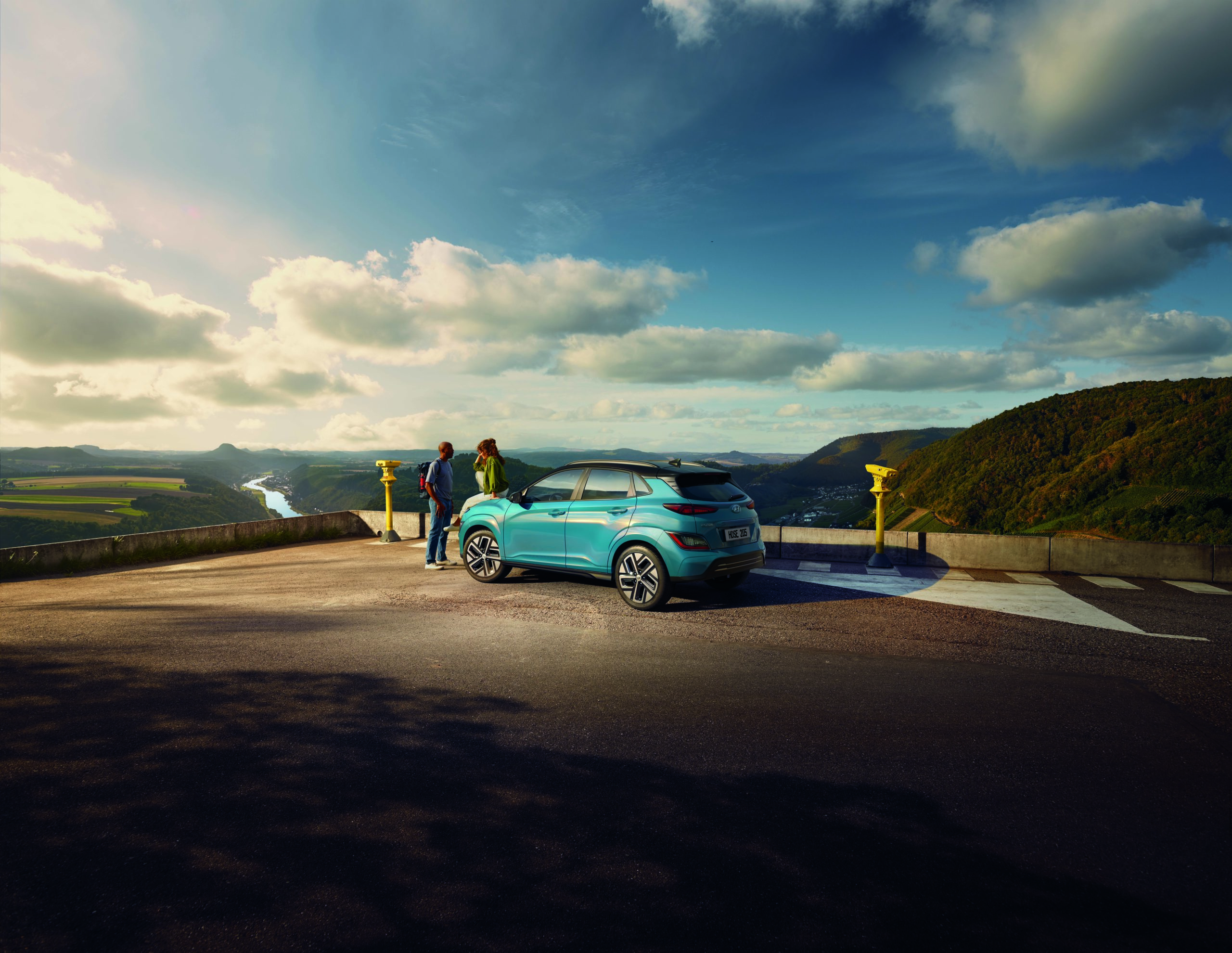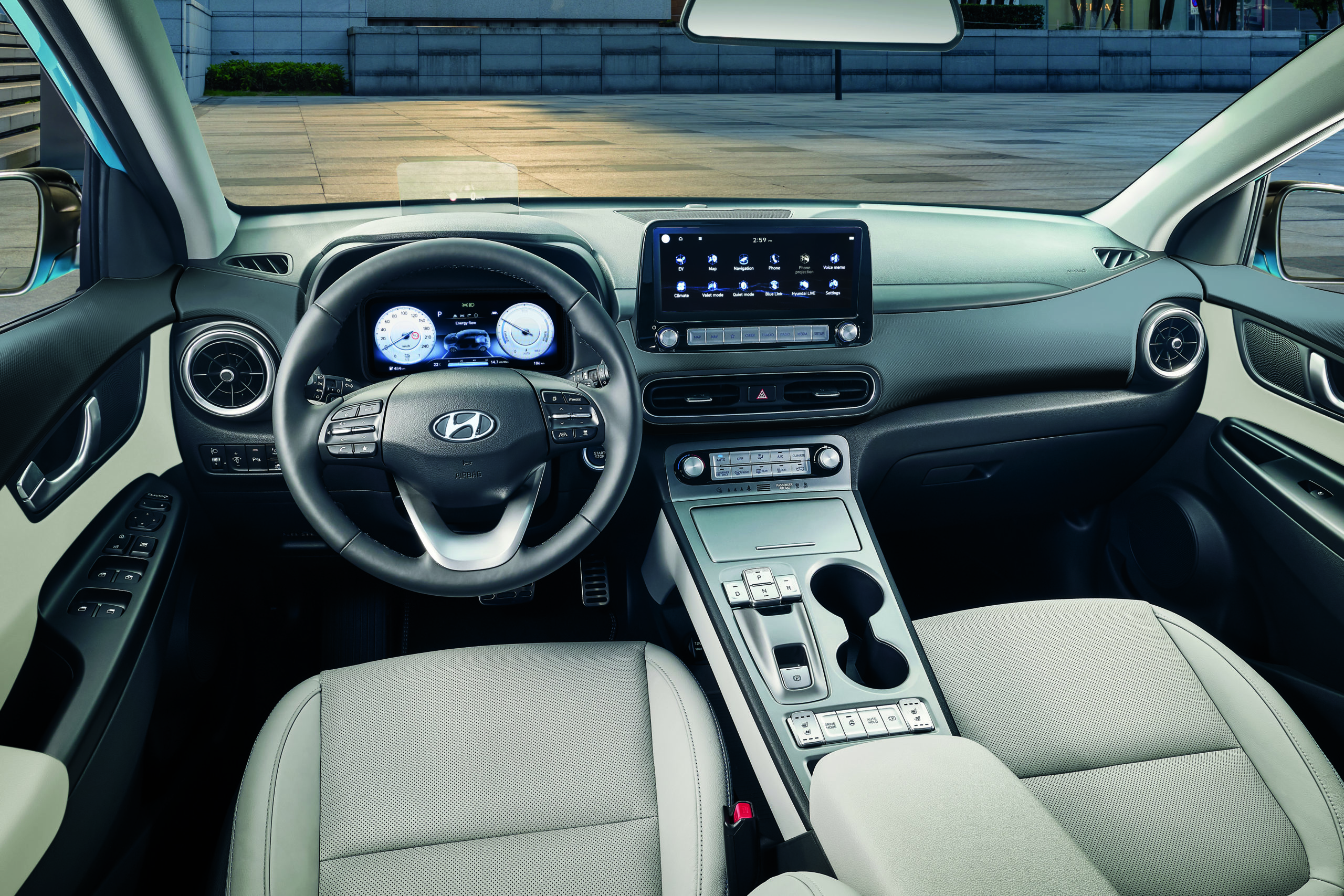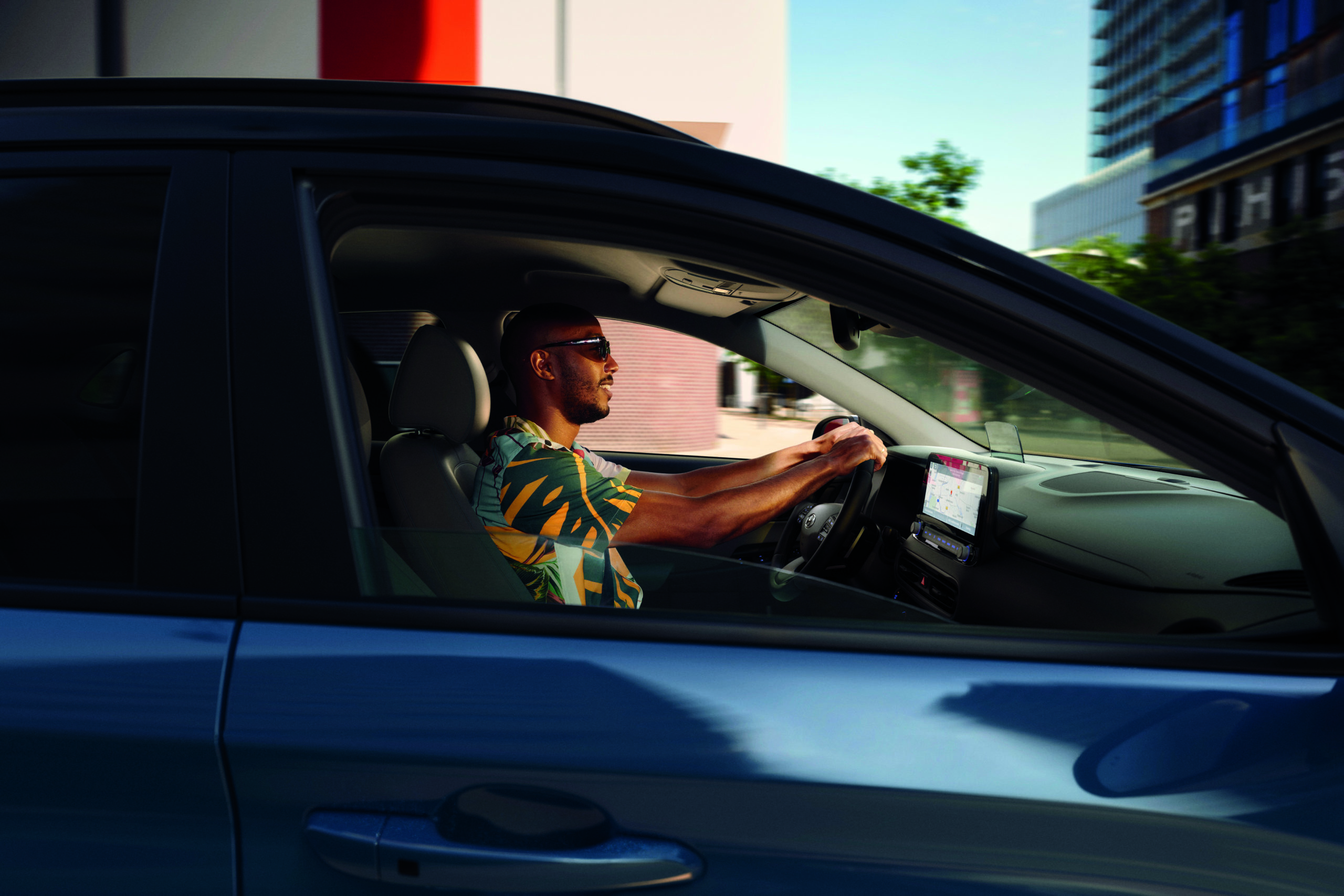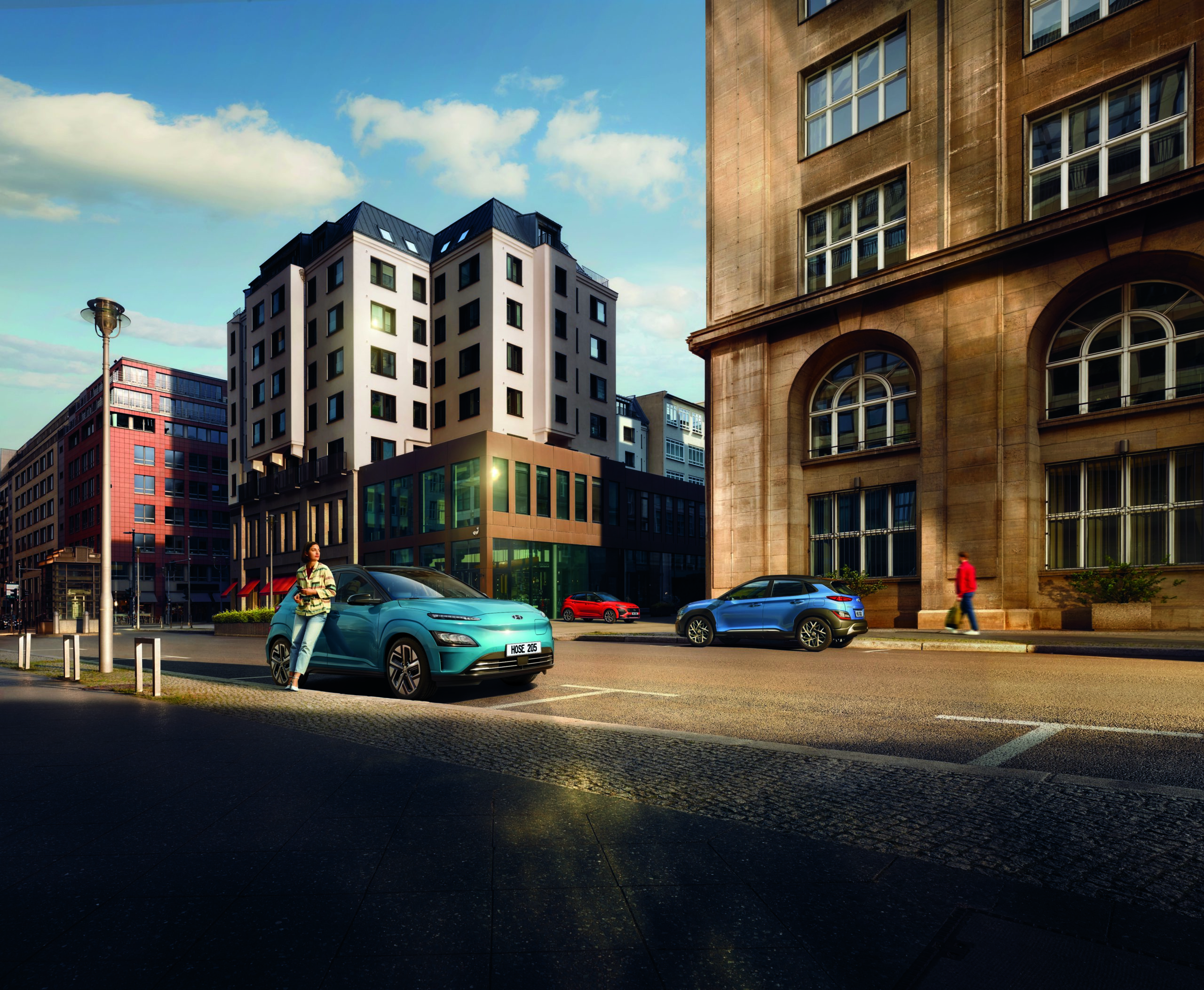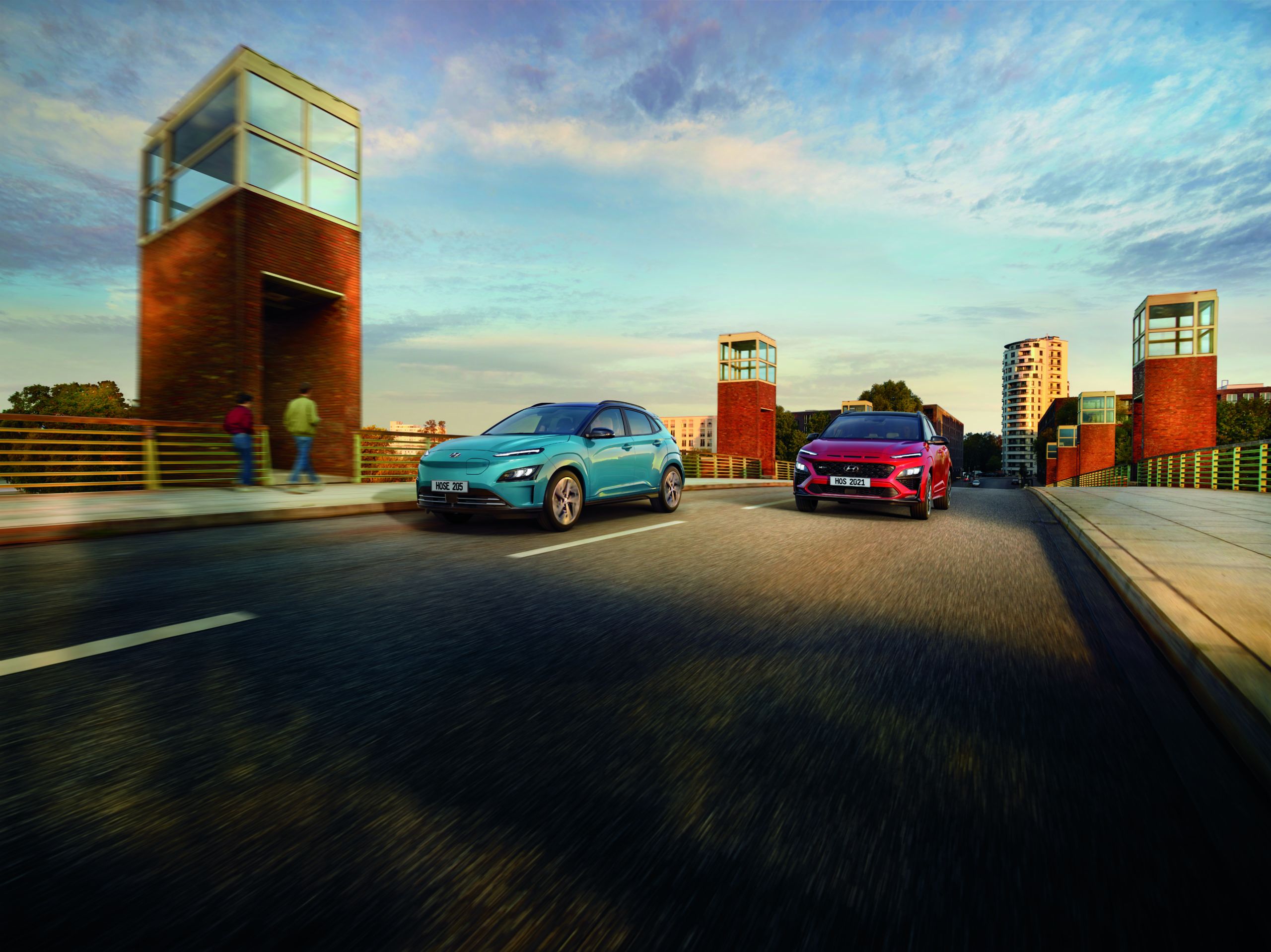 Images shown are for illustration purposes and may not be to Malta market specification.
Sleek, sculpted SUV style
The new KONA Electric's uniquely confident design has been given an even more streamlined, athletic look, while retaining its adventurous SUV flair. The redesign is characterised by smooth, aerodynamic shapes and sculpted lines that flow harmoniously into the body-coloured wheel arch claddings and new, exclusive 17" wheels.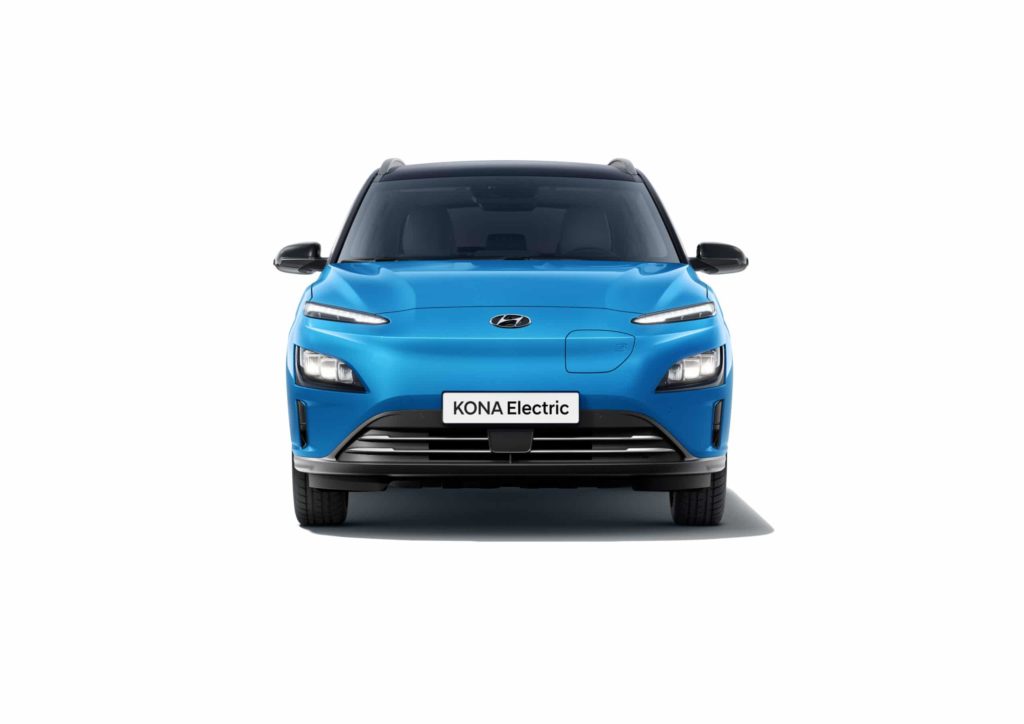 Sleek new LED headlamps
KONA Electric's lighting signature features distinctive new LED headlamps and slimmer Daylight Running Lights.
Flowing aerodynamic design
The clean, flowing front end is like nothing else on the road. The closed grille is the centrepiece in a design characterised by sleek, aerodynamically sculpted lines.
Body colour claddings
One of the more eye-catching design updates are the painted wheel arch claddings, giving the new KONA Electric a distinctive, athletic look.
New 17" alloy wheels
The exclusive new 17'' alloy wheels are optimised for aerodynamics, artfully combining efficiency and style.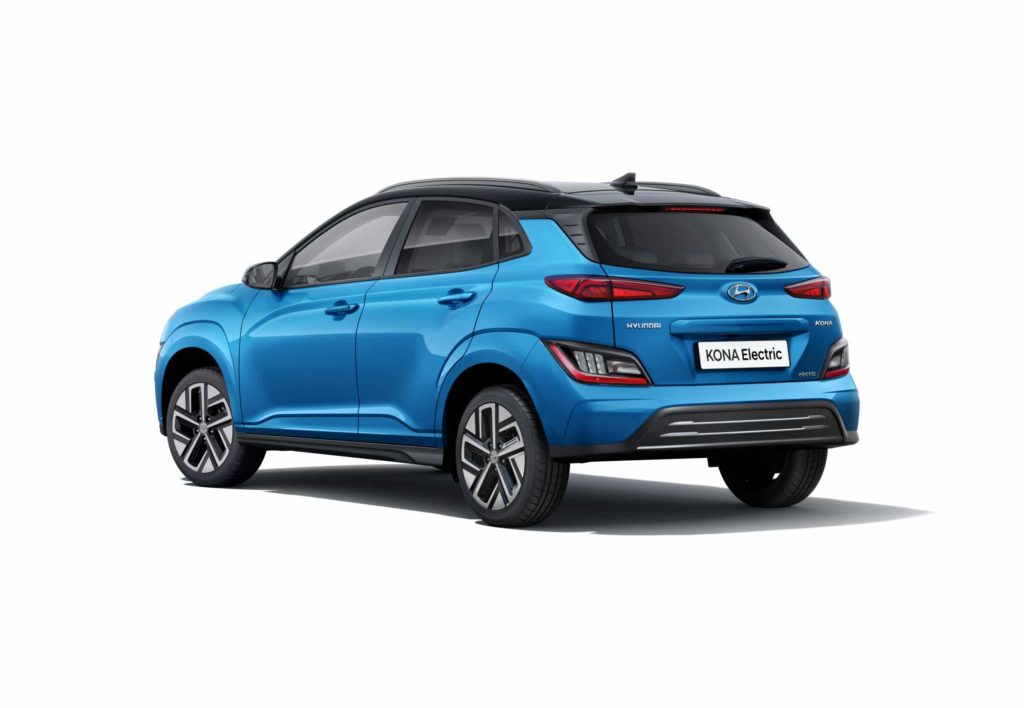 Sleek new tail lamps
The new tail lamps feature horizontally-stretched graphics, which mirror the unique look of the front end light signature
Rear bumper and skid plate
The rear bumper flows harmoniously into the body colour treatment of the wheel arch claddings. And mirroring the front, the accent lines draw the eye into the completely redesigned skid plate.
Roomy, connected and versatile
KONA Electric doesn't compromise on space – So sit back and relax, there's plenty of space for five adults. But it's also the attention to detail that makes it so special. Discover an exceptional level of comfort with high quality materials throughout for a sensuous and refined feel.
Ample Space
Kona fits around the ebb and flow of your life with a spacious 374 litre load area which expands to the 1,156 litres when the rear 60:40 split seats are folded down. it's been designed to be incredibly easy to load.
Cutting-edge connectivity meets refined comfort
Versatile, comfortable and connected, the new Kona's interior is designed to express a more modern and refined look than its predecessor. Rugged, yet refined – perfect for an active lifestyle – the new design updates match the exterior flair every step of the way. And when it comes to smart tech, you can pick and choose from the very latest in cutting-edge connectivity and comfort features
Heated and ventilated seats.
Warm in winter and cool in summer. The driver and front seat passenger seats are available with seat heating and ventilation.
Rear seat comfort.
The rear passengers will appreciate the heated second row seats and a convenient rear USB so they can charge their smartphone in comfort.
Shift-by-wire.
Nice and easy. Switch between drive, neutral, reverse and park by simply using the buttons conveniently located in the centre console
Maximise your range while driving with KONA
Electric's regenerative braking systems
which let you charge the battery by using the electric motor to slow the car.
Full Auto Air Conditioning
It automatically maintains the desired cabin temperature for better comfort.
Electronic Parking Brake (EPB).
An electronic parking brake can be found in the centre console as well. Convenient and easy to use, it also frees up space in the interior.
Connect, listen and drive
Founded in 1980, Krell Industries is one of America's largest manufacturers of high-end audio equipment. Premium and Ultimate trim feature a Krell 8 speaker system, external amplifier and sub-woofer.
Connectivity is standard on the Kona Hybrid. Two Bluetooth® devices can be connected at once to stream music, plus Apple CarPlay™ and Android Auto™ are standard across the range.
Head-up display (HUD)
Hyundai's head-up display (HUD) projects key driving information into the driver's line of sight, letting them focus on the road.
The 10.25" Touch Screen
The 10.25" touch screen provides easy access to car features, infotainment, navigation, and your favourite apps and music via smartphone mirroring.
Wireless Phone Charging
Located in the center console, a wireless charging pad (Qi standard) lets you easily charge a compatible Qi-enabled smartphone without the use of cables.
Digital Information Cluster
Traditional dials and speedometers have been replaced with a smart 10.25" digital information cluster, making sure that crucial driving information is always visible and legible.
Front and rear USB
Stay charged up. The new Kona is available with front and rear USB ports to ensure that everyone on board can conveniently charge their devices when on the road.
KRELL premium sound system.
Stay online in the city or get offline, go off-road and crank the music all the way up. The premium sound system from KRELL delivers a stellar sound performance so you can rock it in style.
Bluelink® Connected Car Services
Bluelink® Connected Car Services bring seamless connectivity directly into the new Kona with online voice recognition and a wide range of features to make your drive more convenient and enjoyable. On top of the many clever features you can control with the Bluelink app and a free five-year subscription to Hyundai's LIVE Services is also included with the navigation system.
Electric driving technology
The carefully matched components of the electric powertrain have been engineered to provide
excellent driving characteristics and a practical everyday driving range. The specially designed
platform enables a space-saving integration of the battery packs without compromising roominess.
Lithium-ion polymer battery.
The Kona Electric's lithium-ion polymer battery has a lower memory sensitivity and excellent charge efficiency compared to conventional batteries.
Electric motor.
The 64 kWh battery is paired with an electric motor which delivers 204 PS (150 kW). The 39.2 kWh battery comes with an electric motor delivering 136 PS (100 kW).
High power. Excellent range. Thrilling acceleration.
Nobody ever said that electric mobility had to be boring. Lightning-quick off the line thanks to 395 Nm of torque delivered by the all-electric powertrain, this sporty SUV is seriously fun to drive – accelerating from 0 to 100 km/h in only 7.9 seconds. Available with two different powertrain versions, you can pick your power and preferred range: the 39.2 kWh battery with up to 305 km driving range. Or the 64 kWh version that delivers up to 500 km range on a single charge.
Long range: 64KWH battery
Enjoy maximum power and range.
With the 64 kWh battery, you get a truly impressive range of up to 500 km* – and with a power output of 204 PS and 395 Nm of torque – plenty of oomph, too. And thanks to clever way the battery pack is integrated into the overall design, you don't have to compromise on interior space.
Sporty performance.
This sporty SUV is seriously fun to drive – accelerating from 0 to 100 km/h in only 7.9 seconds. The 64 kWh battery version delivers a top speed of 167 km/h.
Standard: 39.2KWH battery
The standard range version.
The 39.2 kWh battery version offers a range of up to 305 kilometres and 395 Nm of torque, making it fun-to-drive with full power available from the first second. And thanks to the clever integration of the battery pack, you don't have to compromise on interior space.
Sporty performance.
This sporty SUV is seriously fun to drive. The 39.2 kWh battery version delivers a top speed of 155 km/h. – accelerating from 0 to 100 km/h in only 9.9 seconds.
Smart technology for intelligent driving.
Maximise your range while driving with Kona Electric's regenerative braking systems which let you charge the battery by using the electric motor to slow the car.
Adjustable regenerative braking.
Braking is optimised to get the most out of the recuperative braking system, helping Kona Electric maintain a healthy state of charge (SOC). The driver can easily adjust the level of regenerative braking through the paddle shifters behind the steering wheel.
Recuperative braking levels.
Level 0: Recuperative braking is not in operation and the battery is not being charged. Level 1 to level 3: With each level higher, the car decelerates more using the electric motor, increasing the charging strength at the same time. The higher the level, the more the car slows and charges the battery when you take your foot off the accelerator.
1-paddle mode.
It is also possible to actively brake the car using the paddle shifter. Simply pull the left paddle shifter and hold. You can slow the car to a complete stop in this way without pressing the conventional brake pedal.
Hold.
Pull the left paddle shifter and hold to activate maximum strength recuperative braking. It is possible to stop the car in this way – without using the conventional brake pedal. Charging strength is the strongest in this mode.
Smart regenerative braking.
The smart regenerative braking system utilizes the on-board radar sensor to automatically control the level of recuperative braking to react to the traffic ahead. Additionally, it also detects if the KONA Electric is driving up or downhill and adjusts accordingly.
Charge fully overnight or top up on the go
The new KONA Electric offers a range of charging options to suit your grid connection at home and the types of charging stations you have access to throughout the day.
Domestic charging cable
KONA Electric is equipped with an in-cable control box charging cable that you can plug right into a normal wall socket. This charging cable is intended for emergency use only.

Charging time to 10% to 100%:
39.2kWh battery: 17 hours / 64kWh battery: 28 hours
Home charging station
Many drivers of electric vehicles choose to have a wall-mounted charging point installed at home for faster charging vs. a normal 'trickle charge' wall socket. These units are fused independently from the household circuit.
POD Point is Hyundai's preferred partner for domestic charge points, please contact local dealer for further details.

Charging time at 7.2kW:
39.2kWh battery: 6 hours / 64 kWh battery: 9 hours 15 minutes
Charging cable for AC charging
stations
The charging cable connects KONA Electric to public AC charging points. This cable can also be used to connect to a home wall box. Depending upon the service provider, public AC chargers can have
a range of outputs.
Rapid charging
For the fastest possible recharging, KONA Electric can be charged at direct current (DC) rapid charger stations.

Charging Time at 100kW (10% to 80% SOC):
39.2kWh battery: 47 mins/64kWh battery: 47 minutes

Charging Time at 50kW (10% to 80% SOC):
39.2kWh battery: 48 mins/64 kWh battery: 64 minutes
Programmable charging
The new KONA Electric's advanced battery management system gives you complete control over when and how you want to charge it. Pick a time that best fits your schedule and budget, with clear overview of remaining charging time.
Charging time reservation
A few taps is all it takes to save money. Use the Charging Time Reservation function on the centre screen to program start and stop charging times to make the most of off-peak electricity rates and wake up to a fully charged battery.
Charging limit.
Set a Charging Limit – for example 50% – to take advantage of a fast-charger station in the city for the drive home – and then fully charge the battery at home while you're sleep to take advantage of low electricity rates at night.
Cutting-edge safety and Advanced Driver Assistance Systems
Nothing's more important than the safety of your loved ones, so we gave the new KONA Electric an upgrade with advanced driver assistance features from Hyundai SmartSense.
Blind Spot Collision-avoidance Assist (BCA).
Using two radar sensors in the lower rear bumper, the system warns you of traffic in the blind spot area. Should you set the turn indicator in such a situation, it will sound an acoustic alert and brake to prevent collision.
Rear Cross-Traffic Collision-Avoidance Assist (RCCA).
When reversing out of areas with low visibility, the system not only warns the driver if vehicles approach from the side – it also applies the brakes automatically.
Lane Following Assist (LFA).
The new Kona Electric features Lane Following Assist (LFA). When activated, it keeps the car centred in its lane at speeds between 0 and 200 km/h on highways and city streets.
Forward Collision-Avoidance Assist with pedestrian and cyclist detection (FCA)
Sensing the road ahead with radar and a camera, the FCA system automatically brakes when it detects sudden braking by the car ahead, or pedestrians and bicycles on the road.
Smart Cruise Control with Stop & Go (SCC w/ S&G).
More safety and less stress. Maintains a set distance to the vehicle ahead, automatically reducing or increasing speed to a pre-set limit. In "stop & go" traffic, the set distance is maintained.
Leading Vehicle Departure Alert (LVDA).
This clever feature for city driving alerts the driver when the vehicle in front departs from an idle state, like at a stoplight or in a traffic jam.
Safe Exit Warning.
This clever feature helps avoid accidents by detecting vehicles approaching from behind and displaying a warning in the cluster and outside mirror as well as sounding an audible warning.
Intelligent Speed Limit Warning (ISLW)
Recognises road speed signs and displays the speed limit in real time in both the navigation system display and instrument cluster.
ECall
eCall alerts rescue services and provides them with the car's location in the event of a serious accident. The system can also be deployed manually if required.
Rear Seat Alert.
The new Kona Electric remembers if the rear doors were opened before you drove off. When you finish your drive, a message then pops up in the cluster accompanied by a warning tone to check the rear seat.
Driver Attention Alert (DAA)
This standard feature has raised safety and convenience to a new level by continuously observing and analysing driving patterns. When a pattern of fatigue or distraction is identified, the DAA system gets the driver's attention with an audible pop-up message suggesting a break.
| | |
| --- | --- |
| Feature | Kona EV |
| Overall length (mm) | 4,205 |
| Overall width (mm) (Excluding Door Mirrors) | 1,800 |
| Overall width (mm) (Including Door Mirrors) | 2,070 |
| Overall height (mm) | 1,575 |
| Wheelbase (mm) | 2,600 |