Hyundai Kona
You drive it. You define it.
The best moments in life are the ones in which the world doesn't shape us – but we shape it. That's why the KONA offers a cutting-edge combination of style, technology and performance to help you define it according to your rules.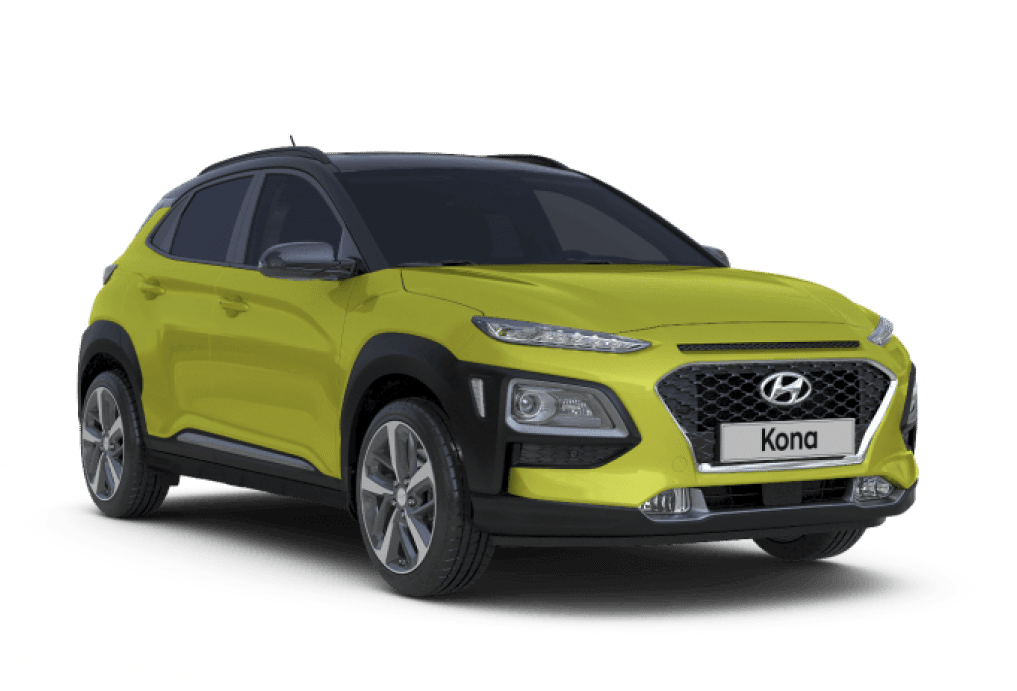 Hyundai Kona
Key Features
Air-Conditioning
Motor-Driven Power Steering
Bluetooth System w/Steering Wheel Controls
7" LCD Touchscreen w/Apple Car Play and Android Play
Reversing Sensors and Rear View Camera
16" Alloy Wheels w/205/60 R16 Tires
Highlights
Dare to be different
Sometimes the best moments are the ones where the world doesn't shape us - but we shape it. That's the essence and the spirit of Kona. A dynamic combination of style and performance featuring the finest of cutting-edge technology, this compact SUV deserves a closer look.
5 year UNLIMITED mileage warranty
Premium sound system
The premium sound system from KRELL delivers stellar sound performance so you can rock it in style.
Connectivity
The all-new Kona provides you with the seamless connectivity you expect and innovative tech that makes life easier. The 8" touch screen display makes everything easily accessible with Apple CarPlay™ and Android Auto™. Express yourself.
Check out the world of Kona
Real style is a matter of being yourself on purpose. Like the all-new Kona.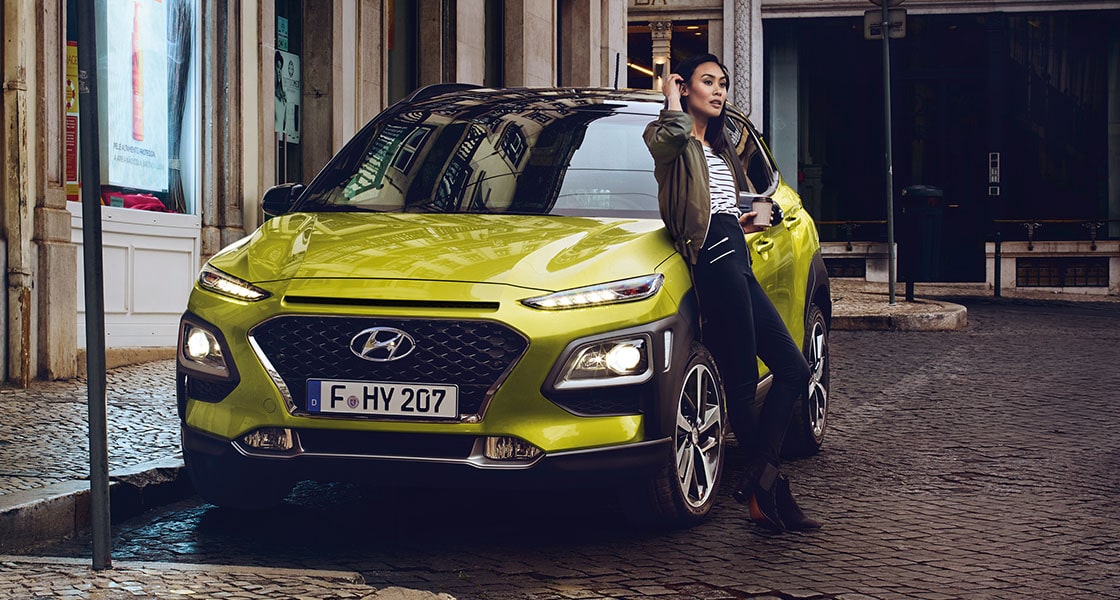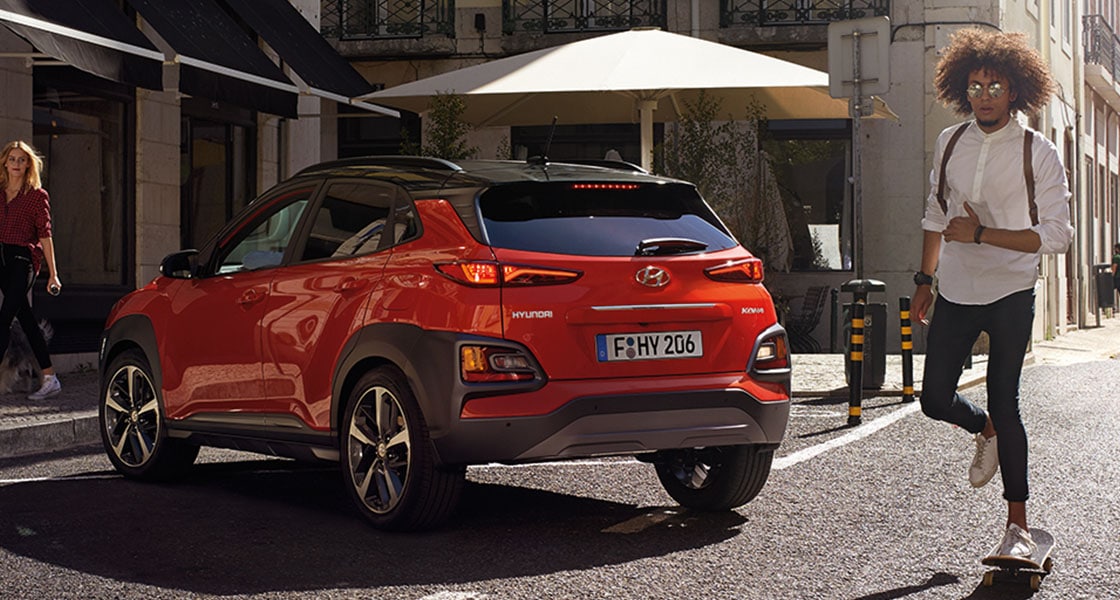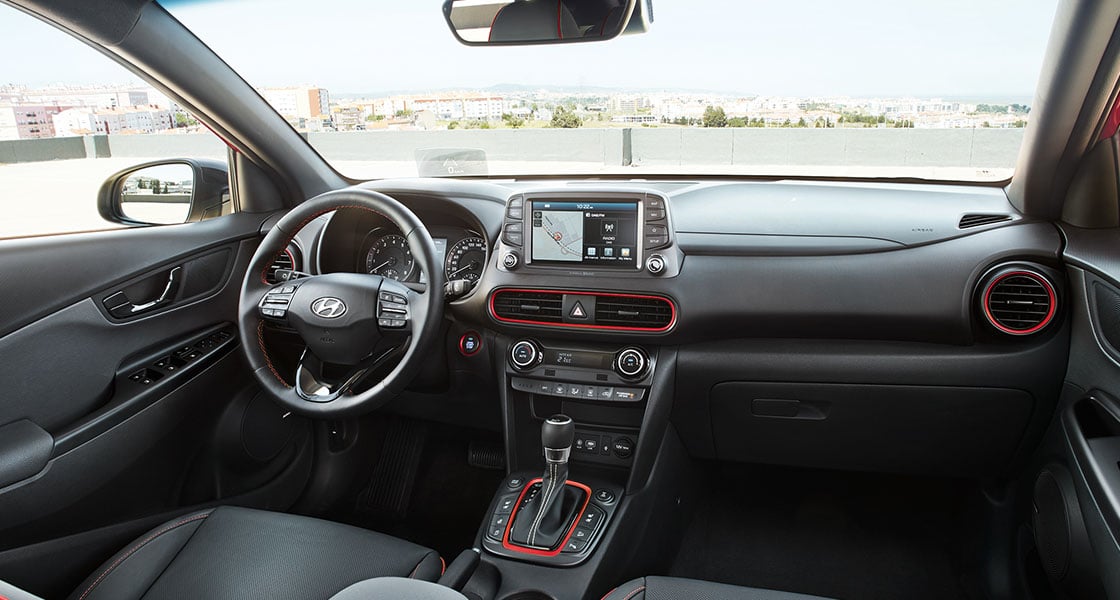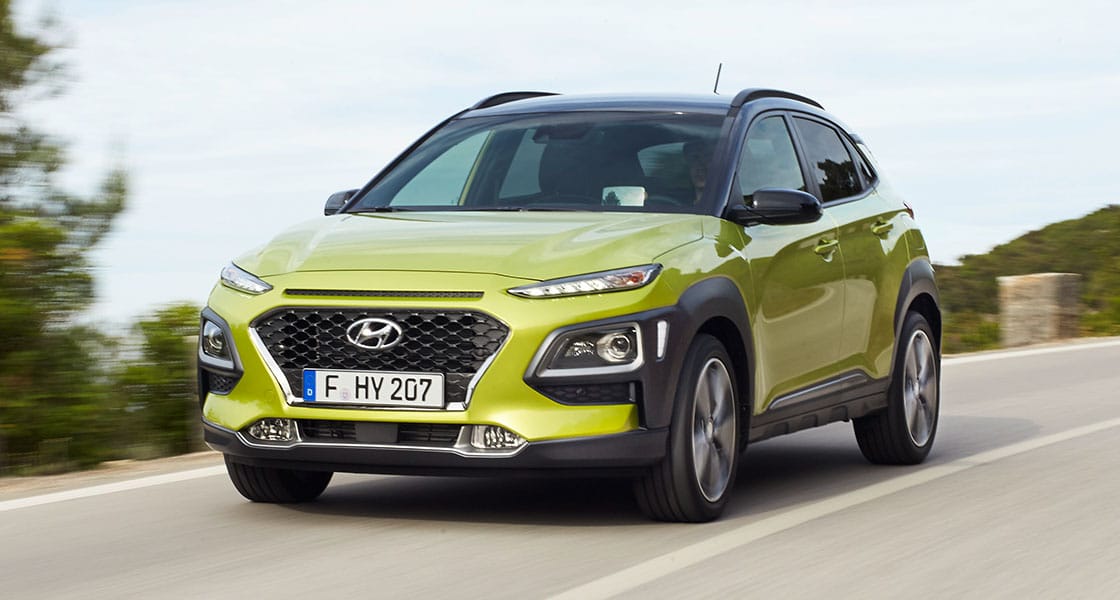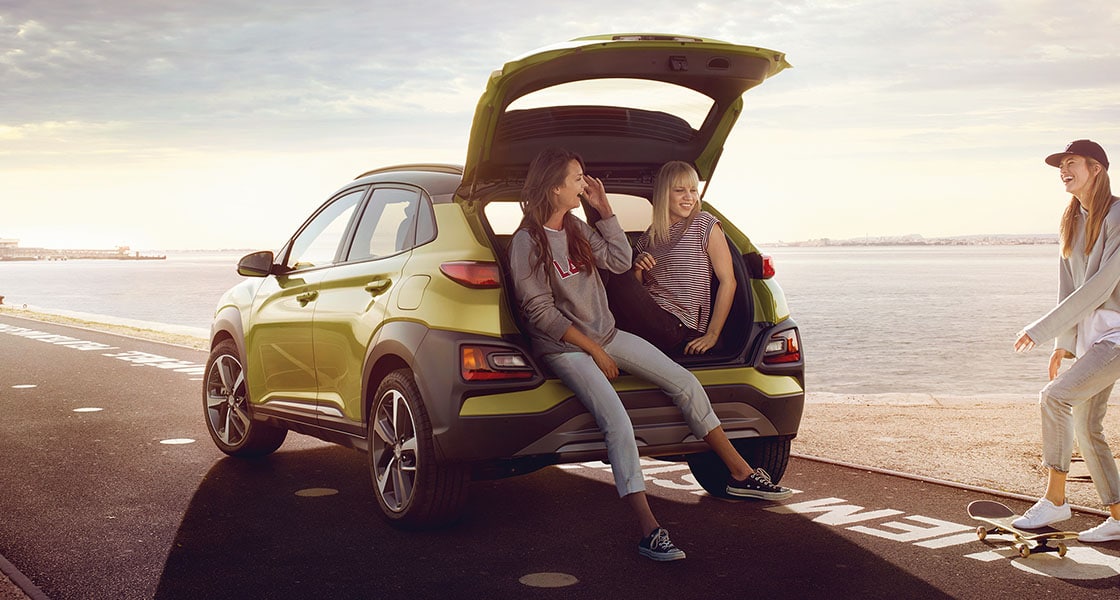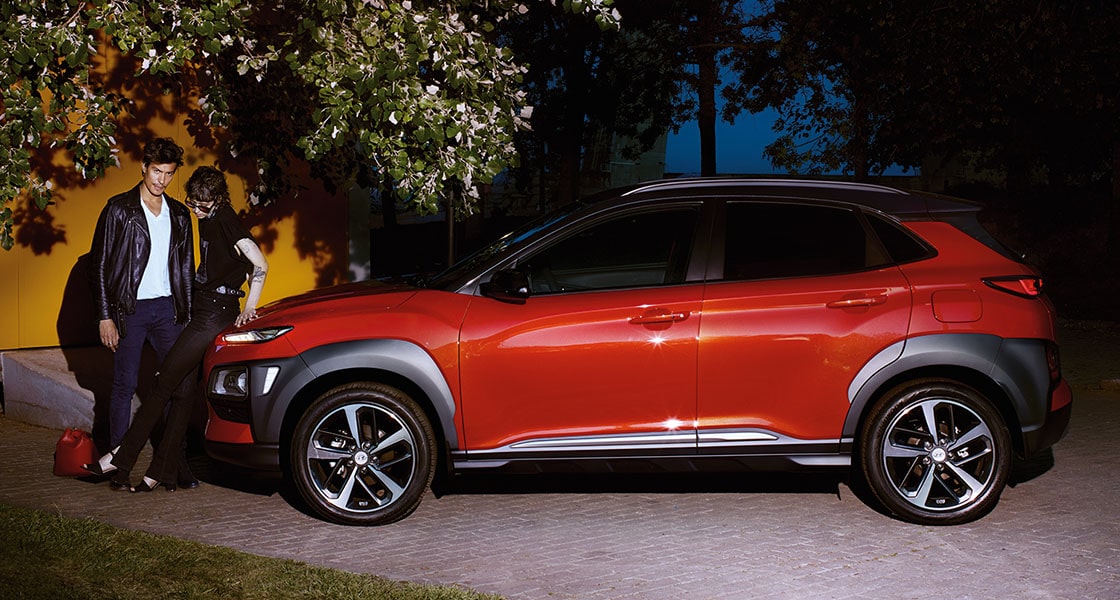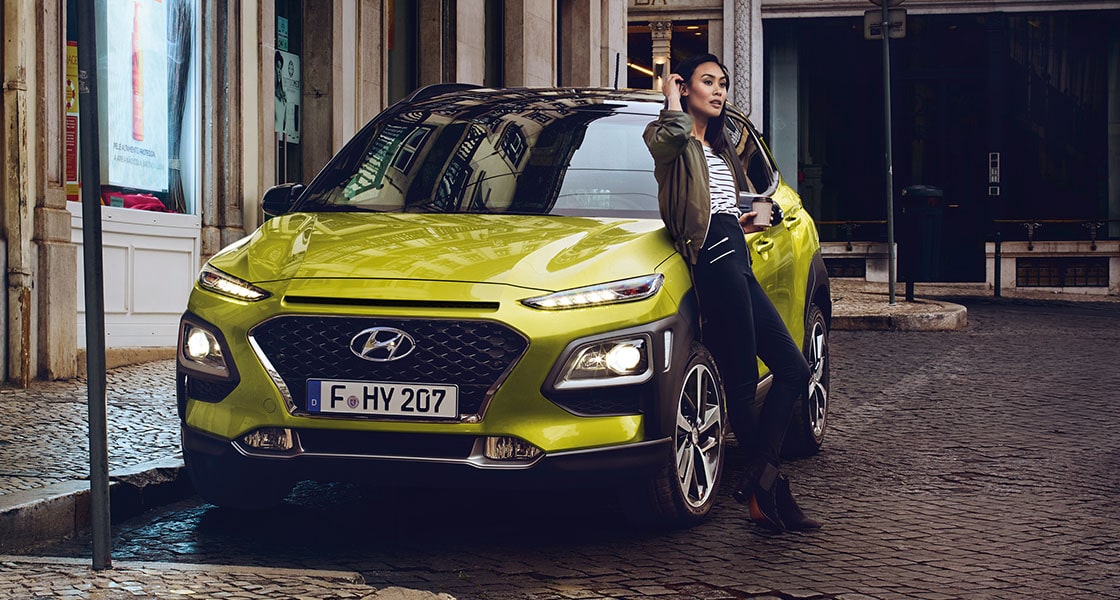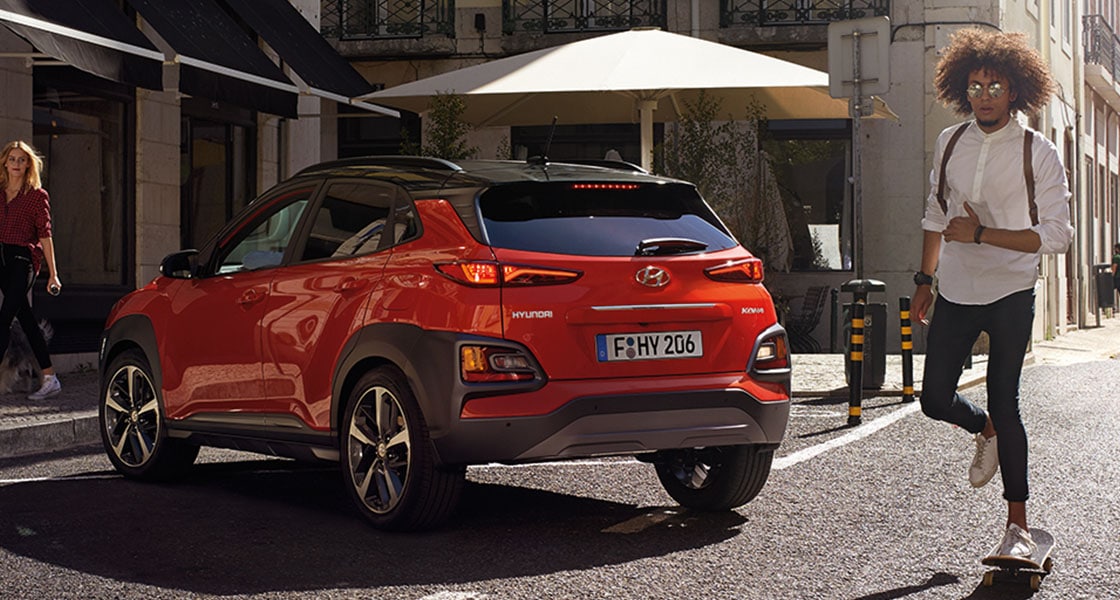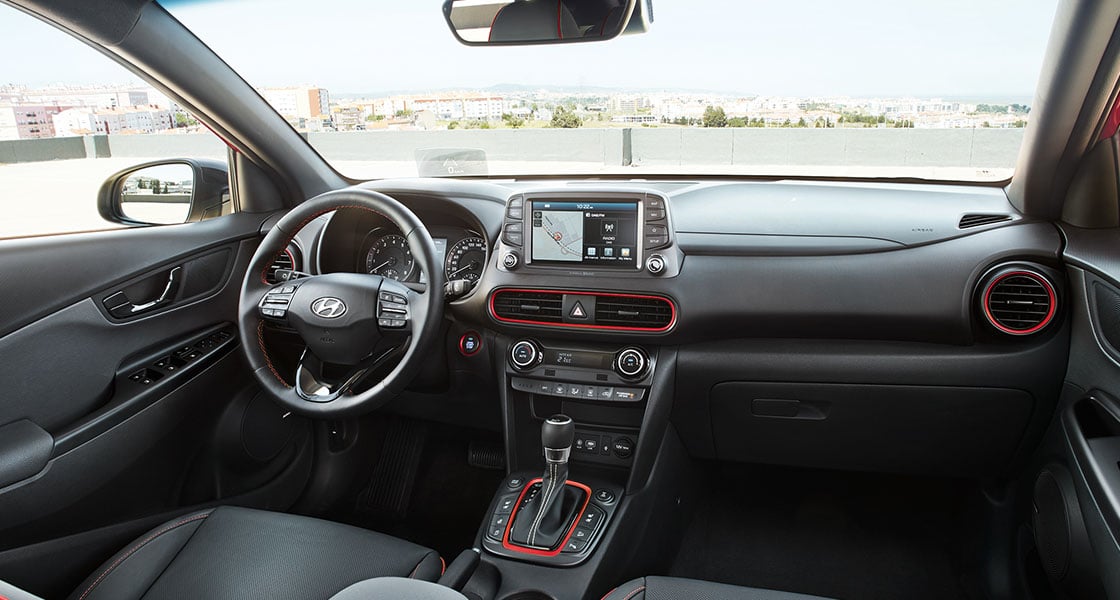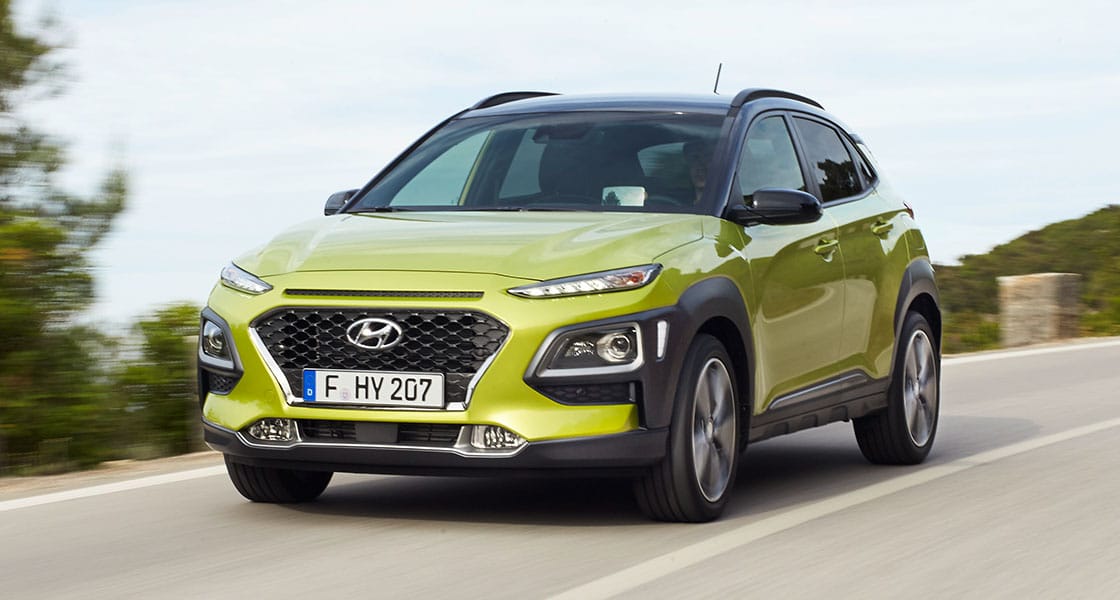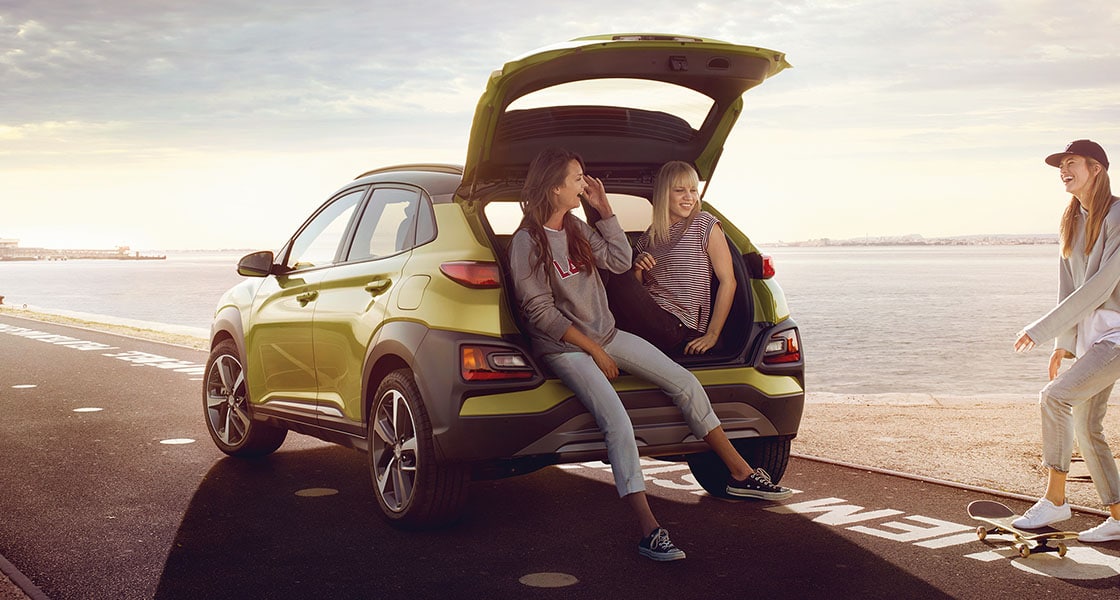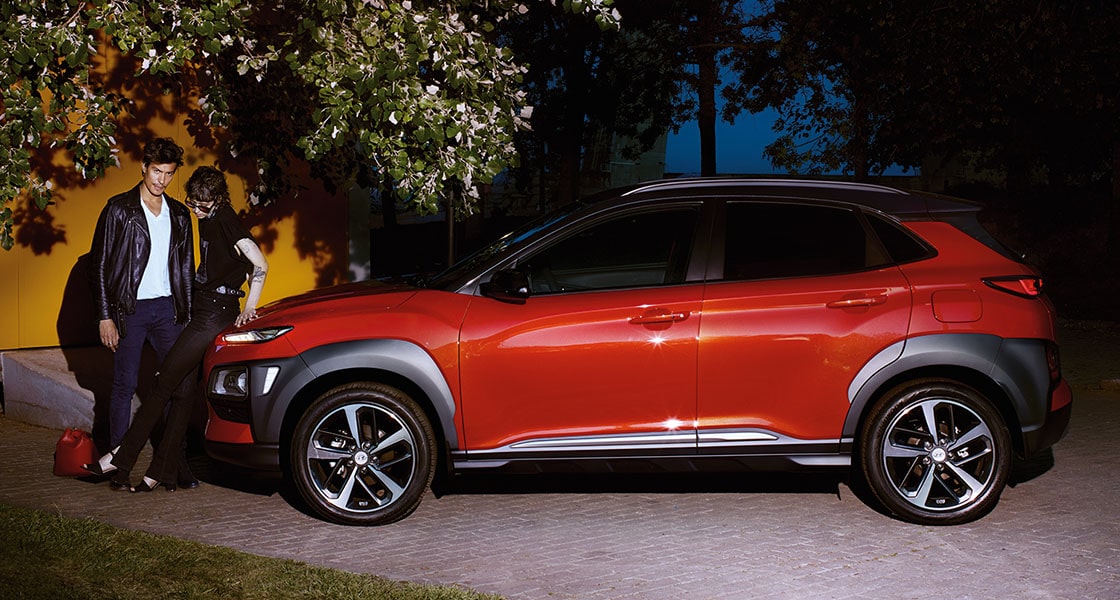 Images shown are for illustration purposes and may not be to Malta market specification.
Exterior
Expressive from every angle, the Kona's eye-catching design has heads turning.
Confident and unique
Expressive from every angle, the Kona's eye-catching design has heads turning.
LED Headlamps
Kona's unmistakable front light signature with LED Daytime Running Lights and full-LED headlights features Static Bending Light and Smart High Beam.
Grille
Hyundai's signature cascading grille and the unique twin headlight design combine for a bold look in front.
Confident and unique
Expressive from every angle, the Kona's eye-catching design has heads turning.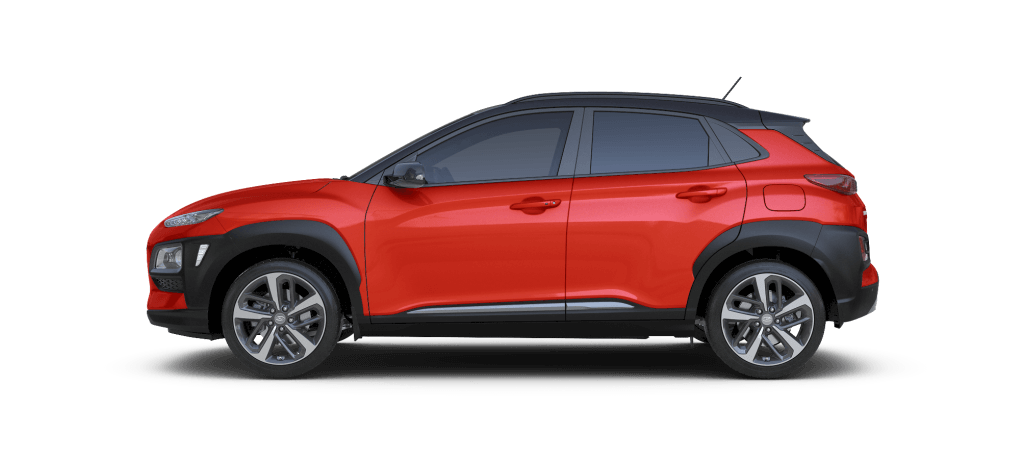 Mirrors
Body coloured door mirrors feature integrated indicators as standard. Opting for the colour-contrast roof on Premium and above changes the door mirror colour to match the roof.
Wheels
Stylish alloy wheels reinforce the Kona's road presence, with 16" alloy wheels on the S trim, 17" alloys on the SE, and 18" alloys (shown) on the Play trim and above.
Accent Lines
On Premium and above, painted anthracite accent lines on the side enhance the stylish edge.
Confident and unique
Expressive from every angle, the Kona's eye-catching design has heads turning.
Rear Spoiler
The sleek rear spoiler also houses an integrated LED brake light.
LED Rear Lights
The Kona's twin rear-lamp design features incredibly slim brake lights which sit high on the body. These use efficient LED technology on the Premium GT trim.
You match it
The refined, sophisticated interior of the Kona reinforces the stylish design and rugged exterior, while adding plenty of connected technology for good measure. Interior colour packs are available on Premium SE and Premium GT trims with vivid exterior paints, reflecting their dynamic appearance
You fit it
The spacious 334 litre load area (361 litres on S model), with the 60:40 split-rear seats up, expands to 1,116 litres (1,143 litres on S model) with rear seats folded down. And with a low loading height of 695 mm, plus a large rear opening width of 1,002 mm, it's been designed to be incredibly easy to load.
You discover it
The Kona provides you with all the advanced technology and seamless connectivity that modern life demands. Selected models also offer wireless smartphone charging, a head-up display and a high-mounted floating touchscreen.
Head-up display (HUD)
Hyundai's new head-up display (HUD) makes its debut on Premium SE and GT models of the Kona. It projects key driving information into the driver's line of sight, letting them focus more on the road, with class leading luminance.
Full auto air conditioning
It automatically maintains the desired cabin temperature for better comfort.
The 8" touch screen
The 8" touch screen integrates 3D navigation, media and connectivity features. It comes with a free 7-year subscription to LIVE Services, with real-time traffic, weather, speed control* and POI information.
Wireless phone charging
Located in the centre console of Premium models and above, a wireless charging pad (Qi standard) lets you easily charge a compatible Qi-enabled smartphone without the use of cables.
Digital Information Cluster
Optimally placed and easy to read, a 4.2" LCD screen on Premium GT models shows you important driver information like: the status of active safety features, remaining range and fuel consumption, navigation instructions, outside temperature and more.
You power it
You're the driver of your life, so take the wheel and experience it. Light up the city or discover new horizons. Open your mind and push your limits. The Kona offers the choice between two highly efficient turbocharged petrol engines.
1.0 T-GDI gasoline engine
For more economical mobility, you can choose the downsized 1.0-liter T-GDI 3-cylinder turbocharged petrol engine with 120 ps (88 kW) and 17.5 kg·m. Enjoy improved fuel efficiency with the help of an electronically-controlled waste-gate actuator which lowers pumping losses as well as improving throttle response and low-end torque. The GDI injector, pressured to a higher-than-average 200 bar, secures clean combustion and improves fuel economy and emissions. The engine is offered with front-wheel drive and 6MT.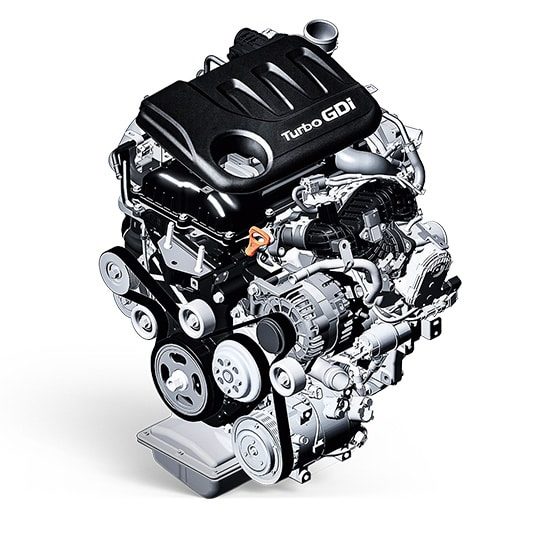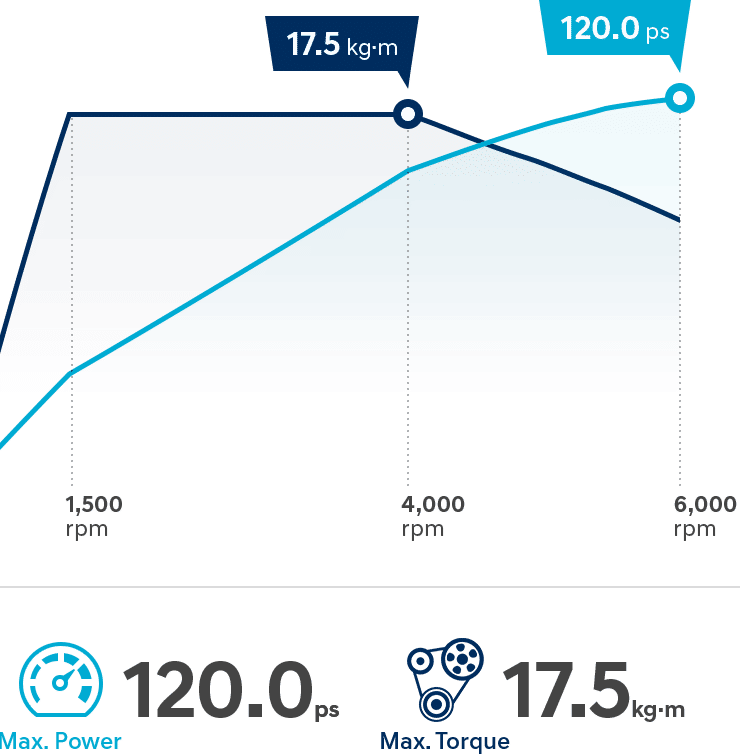 1.6 T-GDi
Petrol engine - DCT transmission
The 1.6 turbocharged engine available on the Kona Premium GT takes you from 0 to 62 mph in under 8 seconds. This in-house developed, downsized 1.6 T-GDi four cylinder turbo delivers 177 PS and 265 Nm of torque, giving you the power and poise to handle city streets and country roads with ease. It comes paired with a newly developed, compact four-wheel drive system and smooth-shifting 7-speed Dual Clutch Transmission.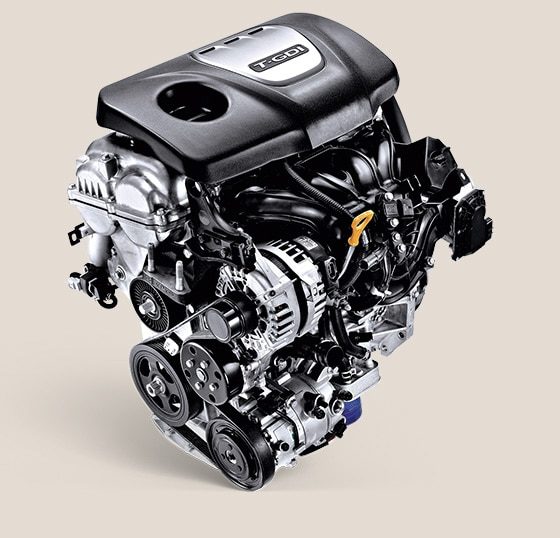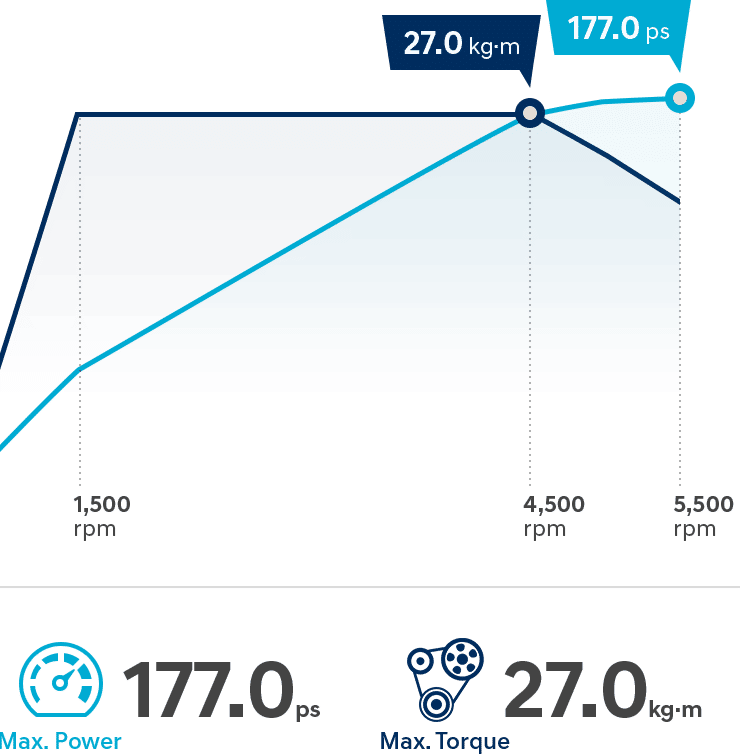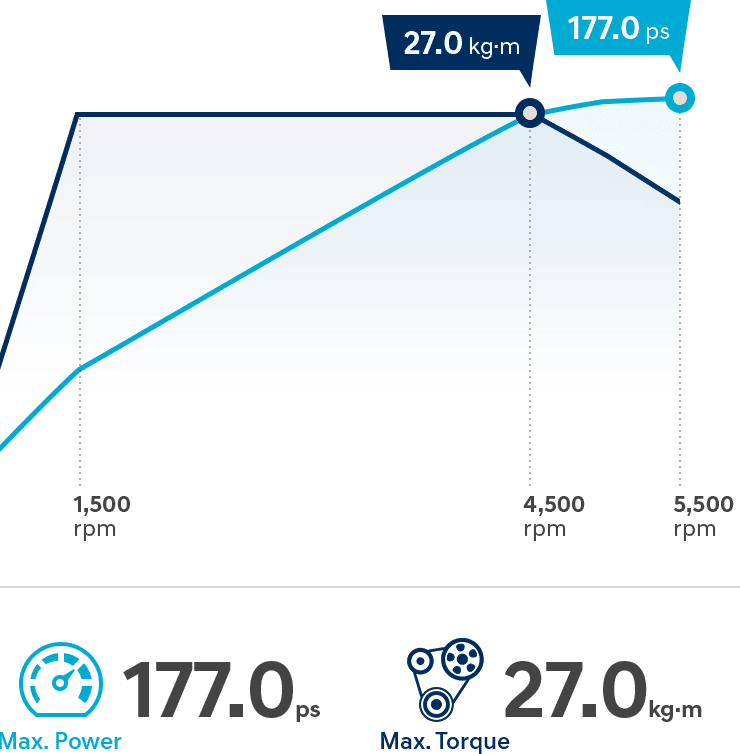 4 Wheel Drive
The Kona Premium GT offers 4WD for enhanced handling and cornering. Advanced Traction Cornering further improves Kona's agility and stability, actively distributing torque while accelerating in curved sections.
You trust it - Hyundai SmartSense
Hyundai SmartSense is our cutting-edge driver assistance system, built to provide you with more safety and peace of mind. From braking to avoid collisions, to detecting vehicles in your blind spot, the Kona is constantly monitoring your environment to protect you from potential hazards while driving.
Autonomous Emergency Braking (AEB) with pedestrian recognition
Optional on selected trims, and standard on Premium GT, the AEB system uses a front mounted camera and radar sensor to monitor the traffic ahead. If the system detects a potential collision with a vehicle or pedestrian, it will warn the driver, automatically slowing or stopping the vehicle if required.
Lane Keep Assist (LKA)
The Lane Keep Assist system uses the front camera to monitor the lines of the road. In the event of an unintended lane departure, it will first alert the driver and then apply counter-steering torque to get the car back on the correct course if necessary.
The 8Blind Spot Detection" touch screen
Standard on Premium SE and Premium GT trims, this smart system uses two radar sensors in the rear bumper to keep track of traffic in your blind spot. An alert will sound if you indicate to change lanes when a vehicle is occupying your blind spot.
Full LED Lighting Technology
The Kona Premium GT features powerful and efficient full LED headlights. Plus High Beam Assist which automatically detects on-coming drivers and changes from high beam to low. A Static Bending Light system illuminates the area to the front and side of your car when cornering in low light.
Rear-Cross Traffic Alert (RCTA)
Fitted on Premium SE trims and above, the Rear-Cross Traffic Alert system reduces the risk of a collision when reversing by monitoring the area to the rear of the car with two radar sensors.
Driver Attention Alert (DAA)
This standard feature has raised safety and convenience to a new level by continuously observing and analysing driving patterns. When a pattern of fatigue or distraction is identified, the DAA system gets the driver's attention with an audible pop-up message suggesting a break.
Parking distance warning-forward
Parking can trigger anxiety in some drivers but this handy system will have you parking like a pro. Sensors gauge the remaining distance and issue a series of audible alerts as the car gets closer.
Metallic / Pearl Paint: Please note Galactic Grey metallic paint is included as standard, at no additional cost. Two Tone Roof available on Premium GT only
Figures shown are for comparability purposes; only compare fuel consumption and CO2 figures with other cars tested to the same technical procedures. These figures may not reflect real life driving results, which will depend upon a number of factors including accessories fitted (post-registration), variations in weather, driving styles and vehicle load. * There is a new test used for fuel consumption and CO2 figures. The CO2 figures shown however, are based on the outgoing test cycle and will be used to calculate vehicle tax on first registration. Find out more here
| | | |
| --- | --- | --- |
| Feature | 1.0 T-GDi 120 PS Petrol 2WD Manual | 1.6 T-GDi 177 PS Petrol 4WD DCT |
| Overall length (mm) | 4,165 | 4,165 |
| Overall width (Excluding door mirrors) (mm) | 1,800 | 1,800 |
| Overall width (Including door mirrors) (mm) | 2,070 | 2,070 |
| Wheelbase | 2,600 | 2,600 |
Figures shown are for comparability purposes; only compare fuel consumption and CO2 figures with other cars tested to the same technical procedures. These figures may not reflect real life driving results, which will depend upon a number of factors including accessories fitted (post-registration), variations in weather, driving styles and vehicle load. * There is a new test used for fuel consumption and CO2 figures. The CO2 figures shown however, are based on the outgoing test cycle and will be used to calculate vehicle tax on first registration. Find out more here